The Divorce Bucket List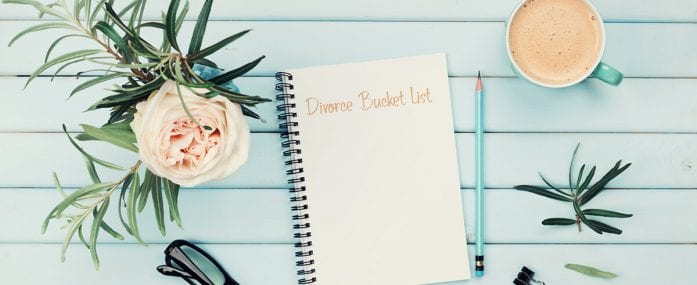 Most people think of a bucket list as something to accomplish before achieving a major milestone. Initially, the concept was applied to what a person wished to do before "kicking the bucket". The to-do list in one's bucket might include such tasks as visiting Paris or hiking the Grand Canyon, learning a new language, visiting long lost friends or relatives, skydiving, or finishing a major accomplishment, like writing a book or earning a degree before dying.
The creation of a bucket list is no longer a sign of impending death. It's now no longer uncommon for people to develop a bucket list for reasons such as preparing to exit their 20's, and I've even seen suggestions for a summer bucket list or things to do before the end of autumn.
What should a person experience before turning 30 or before the first snowflakes of winter begin to swirl in the air? Your version of what makes a life complete and well-lived may differ from my own, but I think all of us have at least a mental list of wishes just waiting to come true and things that we feel are mandatory to check off our list before it's all done.
If you're divorced or divorcing, the end of one major chapter of life has already occurred. Most likely it's too late to consider what could or should be experienced before the end of our marriage. But, what if we looked at the idea of a bucket list as a blueprint for beginning anew instead of a sort of countdown to some sort of finish line? Divorce is one of those rare times when life starts over. Some familiar aspects of life may linger; but, probably more things are different about our situation than not.
Divorce is the ideal time to consider new perspectives, awaken the spirit, reclaim what has been lost, and redefine our priorities. It's as if we're reborn, only we now have the maturity and wisdom not privy to an infant with which to start a new journey, and where do we begin?
Divorce is the ideal time to consider new perspectives, reclaim what has been lost, and redefine our priorities.
A divorce bucket list might be the best type of all because life is in reset mode and the possibilities are not limited by the length of a season, a decade, or the anticipation of death. A typical bucket list might be limited to what we think we can accomplish with what we have left. Kind of like having a bucket half empty! A divorce bucket list could be more of a bucket half full–even overflowing–simply because we have a clean slate and the sky's the limit!
So, where do we begin?
All of us have been faced with a situation that is so overwhelming that we just don't know where to start. How about cleaning up all those dishes after Thanksgiving dinner or tackling the organization of a closet that's gotten out-of-control? Ugh, we know it has to be done, but there are so many things to do that we may freeze (or run) because all of it needs to be done and there's no clear starting place.
Starting a divorce bucket list is similar because of the seemingly unlimited options, but a much more pleasant endeavor! Your bucket will become your instructions for your new life. Some of it may be practical, and some of it fanciful; but, you will be the one to call all the shots, and what you do (or choose not to do) will be completely yours to fuel growth, bring joy, and set the stage for what is yet to come!
Life after divorce is about you. Your status as part of a couple is no more, so whatever defined and mattered the most before may no longer resemble the person you are or the life you will lead now. Giving yourself the assignment of completing tasks can help you fully accept your new situation and recognize what you want your life to be like as you move forward.
Some items on a bucket list may be purely in the pursuit of giggles and adrenaline. How about parasailing, taking the stage for open mic night, salsa dance lessons, or conquering your fear of roller coasters?
Other divorce bucket tasks might involve finding ways to make peace with the past to make way for a brighter future. Have you considered asking forgiveness where due, sharing appreciation, going to counseling, working on overcoming flaws and addictions, or saying a proper farewell to the people and situations that will not accompany us for the rest of your voyage?
Still others may focus on positioning yourself to be more secure and independent as you face the unknown. Would this be a good time to work on your credit or educate yourself about investments? Could a new job bring more fulfillment and stability? Where do you want to live and what do you need to be prepared to take on the future?
To guide the creation of your bucket list, consider some of the following:
What tales of your life have been left unwritten that you now have a chance to finish?

What dreams have you held onto that you never before had the courage or motivation to make come true?

What steps could you take to help become re-acquainted with yourself so that your life can be as meaningful and joyous as possible?

What do you need to feel like yourself again and to be engaged with life?

Is a divorce bucket list what you need to propel yourself into post-divorce life? It could be just what you need to organize your thoughts, prioritize your actions, and breathe life into wishes and lists. A divorce bucket list can be a catalyst to change, growth, and healing. Look at one as a recipe for adventure and the keys to opening the door to the future!
//= get_template_directory_uri() ?> //= get_template_directory_uri() ?> //= get_template_directory_uri() ?> //= get_template_directory_uri() ?> //= get_template_directory_uri() ?> //= get_template_directory_uri() ?>
©2011-2023 Worthy, Inc. All rights reserved.
Worthy, Inc. operates from 25 West 45th St., 2nd Floor, New York, NY 10036