Filing an Online Divorce: The 4 Most Common Questions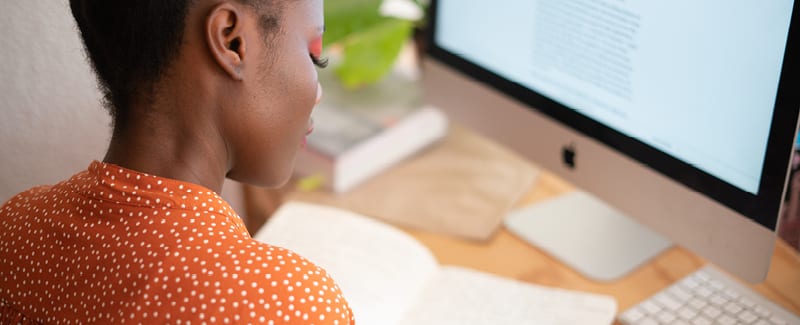 Arriving at the decision to initiate a divorce can take some time. As you consider your options, we want you to know what's ahead of you.
To help set you on a path for success, here are the 4 most common questions people have about online divorce: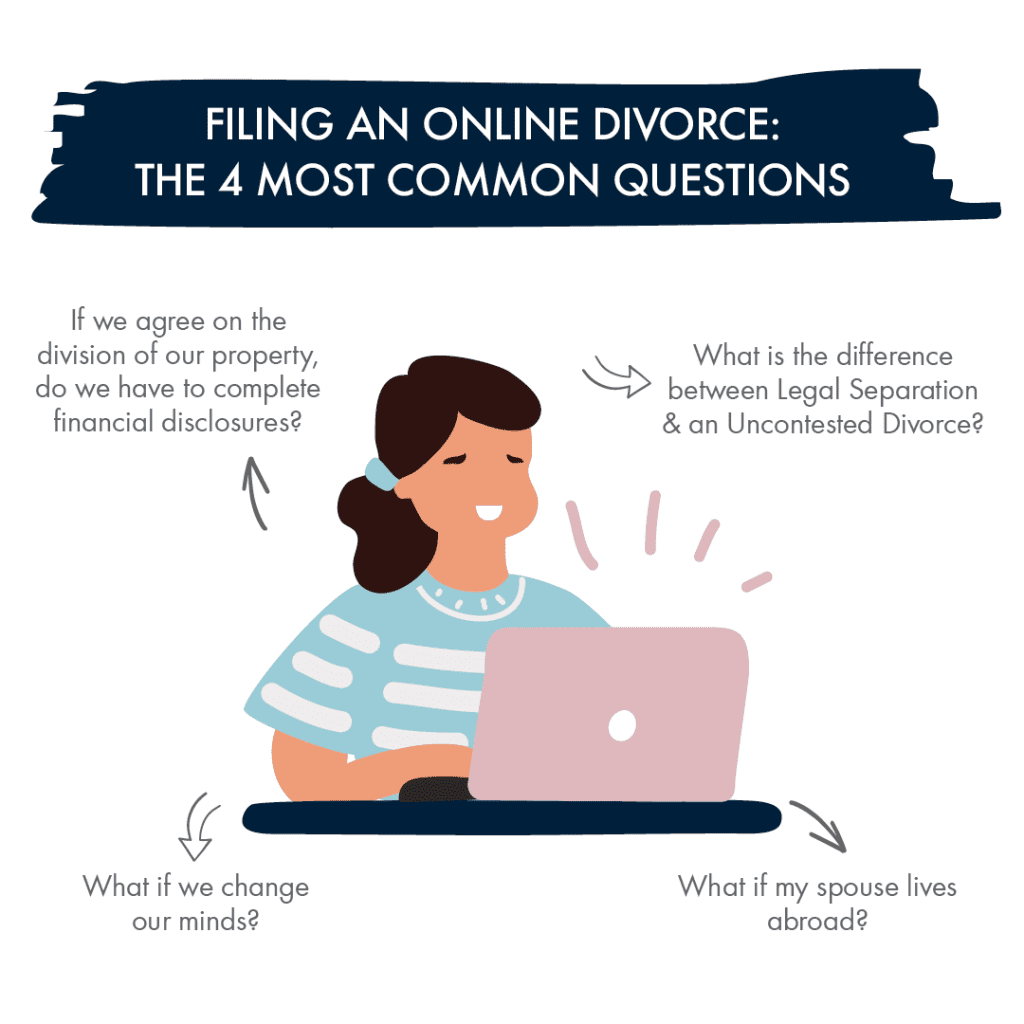 1. What is the difference between Legal Separation and an Uncontested Divorce?
Understanding this difference will enable you to decide which option is right for you. But don't worry, it's over easy and our intuitive online divorce platform can help you with both!
There is essentially only one key difference between the two: with Legal Separation, you and your spouse are still lawfully married and therefore cannot marry another individual. On the other hand, with an uncontested divorce, your marriage will be legally dissolved in the eyes of the court.
So why Divorce vs. Legal Separation?
Religious reasons. Some religions don't allow divorce whereas legal separation allows for couples to separate without going against their religious beliefs.
Insurance benefits. After a legal separation, you and your spouse can continue to obtain health benefits from each other's insurance plans; however, that is not the case once you are divorced.
Financial reasons. A legal separation, unlike a divorce, will allow you and your spouse to remain eligible to receive Social Security Benefits from the other and/or you and your spouse may attain tax benefits if you remain married.
Those are just a few of the most common reasons why one may choose a legal separation over a divorce.
However, there are many other reasons why one may choose Uncontested Divorce instead of Legal Separation. If you are contemplating legal separation, you may wish to speak to an accountant or a financial planner to better help you understand any financial ramifications it may have.
2. What happens when my spouse lives abroad?
It's important that you understand your state's laws on serving your spouse abroad, but it is also equally important to understand the legal regulations regarding service of legal documents in your spouse's country of residence. Although most states mandate that you must serve and lawfully provide your spouse with the appropriate court documents, each state has different rules when one partner lives outside the United States.
In California, Texas and Nevada, if you meet the residency requirements in that state, you can still file for divorce in your state and it's over easy will handle service for you. This is because these states allows service via mail. So, as long as your spouse is willing and able to accept service via mail, the divorce process remains essentially the same.
However, in New York, the process can be more complicated. New York requires service of divorce documents to be made in-person and it cannot be a party involved in the case. This applies regardless of where your spouse lives. The more laborious part of in-person service abroad is complying with the foreign country's regulations. For example, in Italy, all the documents must be translated to Italian and served through an Italian government agency.
3. What if we change our minds and decide not to get divorced?
We are hopeful romantics and we believe in love. We're not promoting divorce, but it's happening and if reconciliation isn't possible, you have options. If you decide to take a step back from the process and wait a beat, you can put your divorce on hold.
If you file your divorce online with it's over easy and serve your spouse, but then decide that you want to remain married, let us know, and we can put your case on pause. If you decide to give your marriage another shot, it's over easy can help dismiss your case from courts, no problem! On the other hand, if you wish to continue your divorce, we can simply un-pause and continue your existing case.
Keep in mind though, once a case is opened, the court will consider your divorce to be pending until further action is taken. So, if you wish to continue your marriage, your divorce case must be withdrawn from court. Don't worry, it's over easy will help you through this step!
4: If my spouse and I agree on the division of our property, do we still have to complete financial disclosures?
The answer is yes, no matter if you're filing an online divorce or you've paying a high-priced lawyer to file on your behalf.
Courts generally mandate that you complete financial disclosure forms that lists all your financial information in its entirety. Both parties are then required to exchange this information with each other along with relevant supporting documentation.
Although each state may vary in the extent of what financial information is required to be disclosed and exchanged, this step is necessary and essential in the divorce process for the courts to ensure that settlement agreements are reasonable and fair.
We get it, this can be exhausting and overwhelming since you are required to list everything, including student loans and monthly income and provide all financial documents from property deeds to bank statements. But it is a necessary step in your divorce process and the court will not grant your divorce unless you complete it!
Originally published on It's Over Easy.
//= get_template_directory_uri() ?> //= get_template_directory_uri() ?> //= get_template_directory_uri() ?> //= get_template_directory_uri() ?> //= get_template_directory_uri() ?> //= get_template_directory_uri() ?>
©2011-2023 Worthy, Inc. All rights reserved.
Worthy, Inc. operates from 45 W 45th St, 4th Floor New York, NY 10036