How To Handle the Emotional Triggers of Your Divorce with Theresa Lear Levine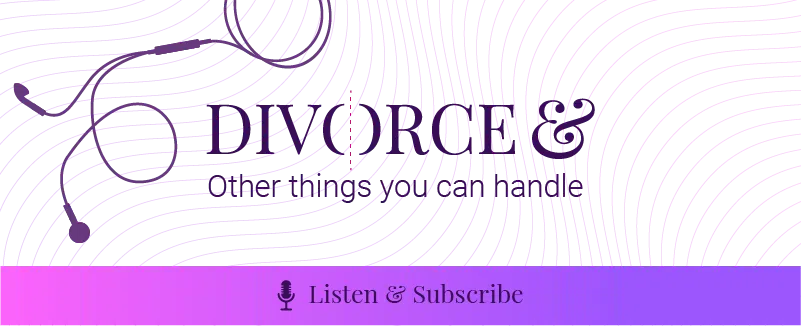 In this episode of Divorce & Other Things You Can Handle, I discuss the Emotional Freedom Technique, or Tapping, with Author and Energy Strategist Theresa Lear Levine.

Theresa is an EFT Master Practitioner, Law of Attraction coach, and Energy Strategist. She's the founder of Becoming More Me where she helps professional women to get out of their own way and resolve their innermost pains, traumas, and challenges so they can fully enjoy their success and present moments.
Why is Emotional Freedom helpful?
Divorce is fraught with emotions. While it may be tempting to just turn them off, they may be telling us something.
There is a lesson to learn from every emotion we experience, even the negative ones, such as anger. Anger can be focused into something positive and powerful, contrary to how we may have been raised or taught to think about it.
Emotional Freedom helps you work through those tough emotions and high intensity situations so that you can move forward with a clear mind.

The Emotional Freedom Techniques (EFT) are based in finding love, acceptance, and forgiveness for yourself and the emotions you're feeling. EFT examines emotions from a neurological perspective. If you can calm those neurological distresses, you will change how you are feeling. There are other health benefits to EFT, such as lowering your cortisol levels and improving the resilience of your nervous system.
Do you need to be able to pinpoint the source of your pain or emotional distress in order for EFT to be effective?
Not necessarily. You can use EFT for a specific or general feeling and still feel the positive effects. While using EFT you may increase your awareness and even reveal the true cause of the problem or stress.
Emotional Freedom Technique = "Tapping"
EFT is a blend of ancient Chinese wisdom, using the Meridian System, which is also used in acupuncture, and modern psychology.
The Meridian System is made up of channels where energy flows, and there are 9 points where this energy can be blocked. By tapping these points, you can unblock and release the energy.
In conjunction with tapping, repeat a statement that states the problem, such as, "Even though I am frustrated right now, I want to love, accept, and forgive myself."
Repeat the three taps and the statement on each of the 9 Meridian Points. After moving through the different points, and if you are feeling the tension release, try modifying your statement. For example, "I'm open to the idea that I can let this anger go." and continue tapping through the 9 Meridian Points.
Continue this process until the emotion has subsided, or until you feel ready to address the situation with a calm mind.

When can you use EFT?
Tapping can be used while preparing for a high stress conversation, or a situation where you may not have full control of the outcome.
EFT will allow you to open yourself up to the possibilities of how the conversation could go. This also helps you approach the situation more rationally, and you are likely to improve the overall outcome.
If you are unable to go through all 9 Meridian Points, you can also use just your hands and tap on the points on your fingers instead.
Real Time Use of Tapping
Before tapping, rate the intensity of your emotion on a scale of 1-10, then do a round of tapping, and rate it again.
You should be able to feel the effects quite quickly, within seconds in some cases.
After tapping, you will have more clarity which allows you to analyze the specific emotion or fear that was initially activated if you were unable to do so beforehand.
You may also be able to dig deeper into the problem beyond the surface level to find the root cause.
One Point Tapping
This technique is used to release any blockages that may have formed over time.
Tap on the specific Meridian point, while talking through the situation with someone.
This technique can also be used in real time, if you are having a heated conversation to prevent any energy blockages from occurring.

If you'd like access to the exclusive EFT tapping session that Theresa and I did after the show recording, simply visit theprivatesessions.com and she'll send it to you immediately!
Tapping along with us is just like working with Theresa and it's jam-packed with value, nervous system regulation, and breakthroughs!
More ways to connect with Theresa Lear Levine:
Website: theresalearlevine.com
The Becoming More Me Podcast Becomingmoreme.com
Instagram: @theresalearlevine
//= get_template_directory_uri() ?> //= get_template_directory_uri() ?> //= get_template_directory_uri() ?> //= get_template_directory_uri() ?> //= get_template_directory_uri() ?> //= get_template_directory_uri() ?>
©2011-2023 Worthy, Inc. All rights reserved.
Worthy, Inc. operates from 45 W 45th St, 4th Floor New York, NY 10036