Creating A Plan For Financial Freedom with Leah Hadley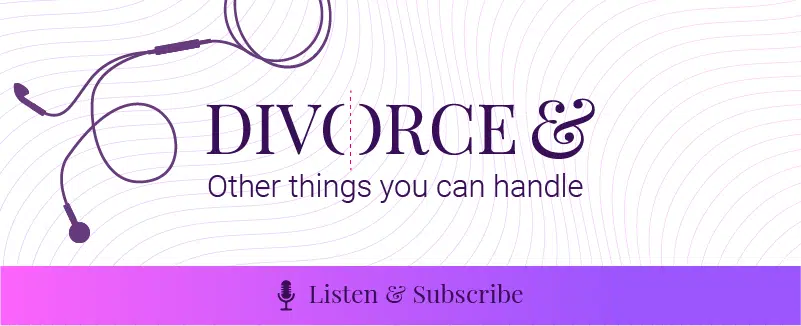 "Budget" can sometimes feel like a scary word, or perhaps it just seems overwhelming. During divorce, it is important to come up with a plan that will help you reach financial freedom, as the reality of your financial situation changes. Financial freedom can mean different things to different people. Primarily, it is about having control over your finances and being able to manage your money by decisions you make as opposed to operating out of necessity.
Leah Hadley is a nationally recognized financial empowerment expert, committed to providing personalized compassionate financial guidance through life transitions. In this episode of Divorce & Other Things You Can Handle, we discuss what financial freedom looks like, how you can get started, and share helpful tips on saving money.
Divorce Is a Very Common Time to Reassess Finances
During divorce, you have the opportunity to examine what you are spending, what assets you have, and determine the level of income you need or want based on your goals. These things often change over the course of the divorce, so it makes divorce an opportune time.
How to Start the Financial Conversation
Determine what is important to you. Identifying your values and priorities will help establish financial goals. Finding a Financial Counselor may be more beneficial than a traditional Financial Advisor, depending on your situation and needs. Financial Counselor will get more personal with you and have those potentially difficult conversations, while meeting you where you're at.
What May Prohibit You From Financial Freedom?
People often feel a cash flow crunch after divorce because of high fixed expenses. Fixed expenses are expenses that do not fluctuate over time and are a constant part of your budget, such as a mortgage or car payment. Lowering fixed expenses where it's possible can go a long way in achieving financial freedom.
Paying Off Debt vs Saving
By putting money into a savings account, you ensure that the next time an emergency or unplanned expense occurs you are prepared and won't have to rely on a credit card to cover the cost. This also helps establish a habit of saving consistently, which will help in the long run. You can also plan for specific occasions or events that you know are incoming so that you have funds set aside already. You may benefit from having different savings accounts for different purposes, so that when an emergency arises you know exactly where to go in order to pay for the necessary expenses.
Getting Divorced Checklist
Many people waste time and money simply due to a lack of organization. The Getting Divorced Checklist will help you get everything documented in one spot, so you are ready for the financial conversations that occur during divorce. You can find a link to the free download here.
About Leah
As the Founder/CEO of Great Lakes Divorce Financial Solutions and Great Lakes Investment Management, Leah strives to help clients secure their financial independence through a strategic financial planning process.
Leah is a sought-after speaker on overcoming financial setbacks, avoiding financial mistakes in divorce, and overcoming financial abuse. She has contributed to numerous books and online publications and is the author of When It's Just Not Working: A Practical Divorce Guide for Stay-At-Home Moms. She earned her BA from Bryn Mawr College and holds an MA from Ursuline College. In addition to being an Accredited Financial Counselor (AFC) and Certified Divorce Financial Analyst (CDFA), Leah is a trained mediator with 100+ hours of training in conflict resolution.
Above all, Leah truly enjoys helping her clients succeed and reach their most cherished goals. Actively involved in her local community, she is a longtime member of the Rotary, the National Association of Women Business Owners (NAWBO), and the PTA. Leah enjoys reading, hiking, and spending time with her three children and four dogs in her spare time.
How to Reach Leah
Website: Great Lakes Divorce Financial Solutions
Free Download: Getting Divorced Checklist
Other Resources:
Watch Her Thrive
Great Lakes Investment Management
//= get_template_directory_uri() ?> //= get_template_directory_uri() ?> //= get_template_directory_uri() ?> //= get_template_directory_uri() ?> //= get_template_directory_uri() ?> //= get_template_directory_uri() ?>
©2011-2023 Worthy, Inc. All rights reserved.
Worthy, Inc. operates from 45 W 45th St, 4th Floor New York, NY 10036