Is It Really Possible to Have a Stress-Free Divorce?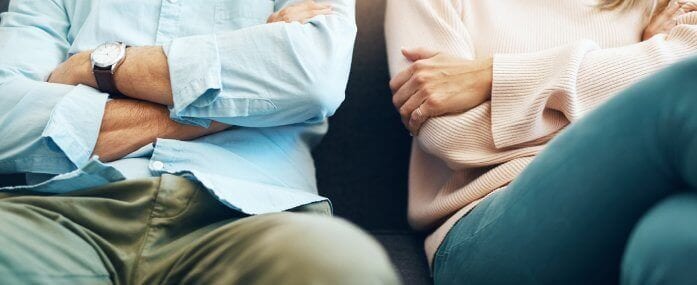 For the last 14 years, I've been assisting people transition out of relationships with grit and grace. First, as owner and managing attorney of Oakland-based, Levine Family Law Group, and now I've launched Hello Divorce, an online platform offering on-demand legal help and wellness support.
The reason I'm a lawyer today stems from a disempowering and lonely experience I had with the legal system as a late teen. I felt trapped, scared, and confused in my attempts to navigate the law while honoring my emotional well-being throughout the legal process. This moment in my life was pivotal, as I became clear that I never wanted anyone to feel the way that I felt. Today, I am given the chance every day to use adversity as an opportunity to support others in their growth.
When I think about it now, I am convinced that one of the greatest gifts we can give ourselves in this life is the chance to turn our obstacles into opportunities — our breakups into breakthroughs.
But divorce is complicated. The system is complicated. We simply can't view it in a "vacuum" compartmentalizing legal from life or emotional pain from practical issues like finances and parenting. Creating Hello Divorce is my attempt to change the experience of divorce itself and the culture around divorce. I believe that divorce is so much more manageable when we let go of our shame, prioritize our relationship with self and have access to the information, resources and legal help we need.
Hello Divorce is a new type of path to your next chapter. Our platform gives you access to an ever-growing collection of tools, resources, articles and worksheets to demystify the divorce process and to help you navigate it on your own, while keeping your sanity (and your pocketbook) intact. If you find that you want access to a little bit of legal help along the way, we offer affordable, flat-rate assistance from our team of stellar lawyers with big hearts – so you'll always know where you stand. Or if you're like most of our users and want an extra layer of support from our legal team, who will help you prepare, file and process your divorce documents, you might consider our Divorce Plus service. Our goal is to help you feel empowered and in control of your divorce, and to remind you that you are not alone. You can do this. You will get through this process to a new, better version of yourself.
Divorce is so much more manageable when we let go of our shame, prioritize our relationship with self and have access to the information, resources and legal help we need.
But, that's just one part of what we are. When you register as a free Starter Member, you'll see quickly that we view the other part of our job as being a regular voice in your ear reminding you to take care of you. This process can take so much out of you, and I cannot stress enough how important it is to plan time for self-care. Whatever that looks like for you, from green juice to a walk in the woods to a bottle of wine to a Netflix binge. Plan it and do it. Giving yourself a mental break from your divorce will do wonders for your emotional health and help you come out on the other side even stronger. (Trust me: I've been doing this for a long time.) We've made a point to fill Hello Divorce with guest blogs, articles and worksheets focused on self-care written by therapists, coaches and wellness experts, to help you find the right ways to take care of yourself as your needs shift throughout this process.
Finally, if you're divorcing in California, I encourage you to check out our free Divorce Navigator, which breaks down the divorce process into four understandable, manageable steps, with lists of documents you must complete and instructions for how to complete them, as well as filing instructions. Super helpful, but better yet: it's totally free.
Make sure to tune into Erin Levine discussing the legal process of divorce on our podcast, "Divorce and Other Things You Can Handle"

In fact, our Divorce Navigator turned #1-year-old last month! To celebrate, we're offering one free month of Hello Divorce's DIY Divorce membership (a $99 value!), which comes with:
Unlimited access to our curated library of resources.

A 15-minute strategy session with one of our stellar divorce lawyers.

Unlimited access to DIY videos where we break down the divorce process step-by-step.

Unlimited downloads of all our forms & document templates.
As an added bonus, we will soon be launching automated forms that will provide users a guided interview that ends with your divorce forms – instantly provided and ready for filing! (I can't even begin to tell you how excited I am about this!)
To take advantage of your free month (and to join us in celebrating!), sign up for a DIY Divorce membership using coupon code DIVNAVBDAY through September 27, 2018.
So, now you know what Hello Divorce is all about: you. As you work through your divorce, remember that you have options. Whether you do decide to work with an attorney, go the mediation route or work with a service like Hello Divorce that can help you through your divorce at your pace and on your terms, give yourself the gift of time to look at all of your options so you truly understand what's best for you and your specific situation. (And don't forget: there are plenty of free articles on Hello Divorce that help you understand each of those options!)
I hope to see you soon at www.HelloDivorce.com.
And one more thing: we're expanding! To find out when Hello Divorce will be available in your state, email me at hello [at] hellodivorce.com and let me know where you're located, and I'll send you an email if/when we launch in your state. (But in the meantime, our free Starter Membership will provide you with articles and resources that will still help as you work through your divorce case.)
//= get_template_directory_uri() ?> //= get_template_directory_uri() ?> //= get_template_directory_uri() ?> //= get_template_directory_uri() ?> //= get_template_directory_uri() ?> //= get_template_directory_uri() ?>
©2011-2023 Worthy, Inc. All rights reserved.
Worthy, Inc. operates from 45 W 45th St, 4th Floor New York, NY 10036