The 7 Worst Moving Mistakes (And How to Avoid Them)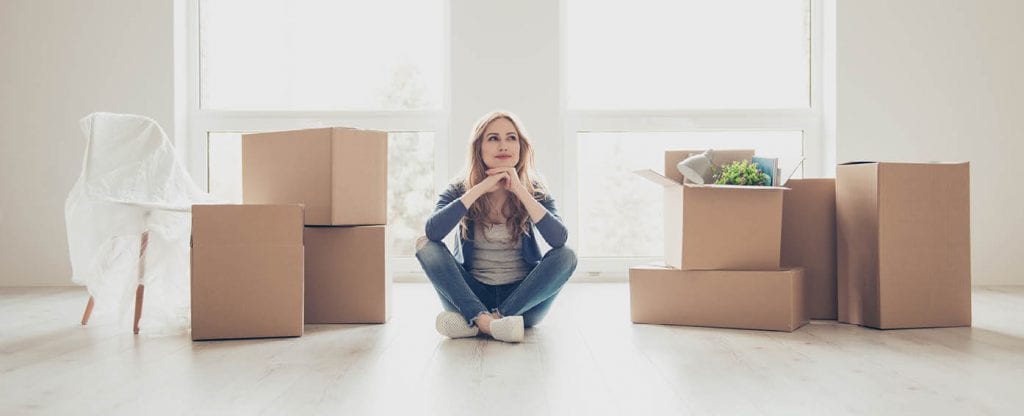 I still have nightmares about my last move – and that was 6 years ago.
I wake up sweating, as the movers arrive before my last box is packed. Or there's the nightmare where my box labeled "fragile" gets dropped and all my favorite things break.
Oh, moving. That horrific day when so many things can go wrong – and when most do.
Studies found that moving is one of the most stressful life events because there are so many aspects of your life involved: the packing, the reason for the move, the actual physical move (Where's my new favorite coffee shop? Where's my underwear?), and more. In fact, 60% of people say moving is more stressful than a divorce or a break-up. Just imagine if the divorce or break-up is the reason for the move!
Fortunately, there's action you can take to make the day run a little smoother.
Use small boxes
Giant boxes may seem like the hail mary of packing, but they can actually create problems, says Ben Soreff, a Connecticut-based professional organizer. "A huge moving box has to be carried by a human being," Soreff says. Sometimes, that box can get too heavy for a single person, or it will take more time to navigate than two medium or small boxes. Also, if you pack too much into one large box, your items can fall right through the bottom.
Move by inventory, not by the hour
Price your move on your inventory, not on an hourly basis, says Sharone Ben-Harosh, founder and CEO of FlatRate Moving. "You can control your inventory, but you can't control the amount of time that your move will take," Ben-Harosh says. "Movers generally take longer than expected, which means hourly movers charge their customers more money."
Use professional moving boxes
When you skimp on boxes, your items are more likely to get damaged, Ben-Harosh says. "Professional boxes are designed to stack; the boxes that you found at the back of your supermarket are not," he says.
Pack medication and living essentials separately
Always have your most important items readily available in case your move is delayed, Ben-Harosh says. Avoid having your daily-use items, such as medicine and toothbrushes stuck inside the back of a moving truck.
Avoid busy days
Start complicated moves earlier in the week, as freight elevators close at 5 p.m. typically, and are usually completely closed during weekends and holidays. "So if your entire move isn't completed by 5 p.m. on a Friday, your stuff will be in between places until the move resumes on Monday," Ben-Harosh says.
Reserve your elevator Freight – elevators are in high demand on Fridays. That means that you may only have a two-hour window for a five-hour move, which will likely push your completion to Monday.
Declutter before packing
People often pack first and ask questions later, says Tracey Lawrence, founder of Grand Family Planning LLC. This can be a costly mistake. "The more stuff you transport, the more it costs," Lawrence says. "If you run out of room at your new place, you might be inclined to rent a storage unit, which is costly."
Moving will never be easy. But hopefully, it won't be your most stressful moment.
//= get_template_directory_uri() ?> //= get_template_directory_uri() ?> //= get_template_directory_uri() ?> //= get_template_directory_uri() ?> //= get_template_directory_uri() ?> //= get_template_directory_uri() ?>
©2011-2023 Worthy, Inc. All rights reserved.
Worthy, Inc. operates from 45 W 45th St, 4th Floor New York, NY 10036