Is LinkedIn Singles' Newest Solution for Finding Love?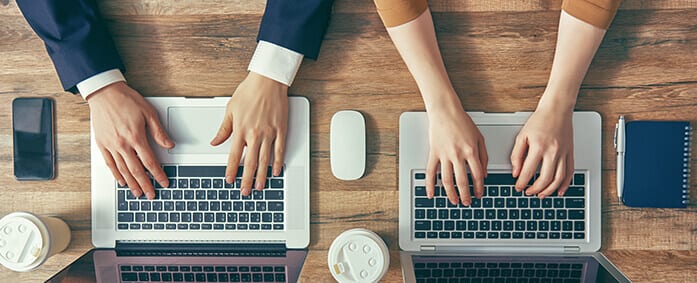 When I returned to work as a professional writer following my divorce, I received two pieces of valuable advice, which I immediately took to heart: become an entrepreneur and open a LinkedIn account. LinkedIn, my mentor explained, is a professional site where I could attract new clients while networking with writers interested in registering with my growing database of freelancers seeking paid opportunities. That part proved to be true, as evidenced by the steady growth of my company almost immediately after setting up my profile. A pleasant surprise for sure. What also came as a surprise was that, shortly after joining the business site, I began attracting something else as well: guys interested in dating me. But should it have been the shock it was?
From exes looking to reconnect to strangers seeking a more personal connection, I know I'm not alone in this experience, despite vehement protests from users that LinkedIn isn't a dating site. And it isn't, per se. However, much like a virtual office, it's hard to avoid an occasional passing glance, flirtation, or romance from sparking when someone's headshot and professional bio catch your eye, and you can't help but want to learn more about them. So instead of meeting that individual at the water cooler, you instead shoot them an email, one that's aboveboard (hopefully), just in case you get it wrong. No harm, no foul, right? That all depends if the recipient of the said email is: (a) open to the not so professional undercurrent and (b) is clear on what the sender's real intent is. On a site that purports to be strictly business in the same way that a brick and mortar office is, it's sometimes difficult to know for sure.
READ ALSO: 5 Tips for Writing a Successful Online Dating Profile
As if the line between work and play wasn't nebulous enough, a few app developers are sending a new message. The message is that an individual's digital résumé may provide a more expedient way for professionals to find love than do traditional dating apps such as Bumble and Tinder, which are open to everyone and curated almost solely by proximity. Both The League and The Inner Circle, in contrast, select applicants based on their LinkedIn profiles before permitting them to register. The presumption is with fewer prospects to weed through, i.e., those dating candidates who would never make the grade on these targeted alternatives, compatible matches will be more apparent.
Can a relationship deepen solely on the detail that one or both parties hold a degree from a top-tier university and work in finance?
This strategy may, in fact, prove right, at least during the early stages of a budding relationship when couples search for common ground on which to build rapport. But can a relationship deepen solely on the detail that one or both parties hold a degree from a top-tier university and work in finance? I remain skeptical. As the now viral Modern Love essay, "To Fall in Love With Anyone, Do This," suggests, falling in love may be as simple (or complicated, depending on how you look at it) as allowing yourself to be vulnerable with a potential partner. Introspection and discussion on a range of topics from attitudes about family to hopes and dreams, research indicates, is what bonds couples, not merely where they studied or what they do for a living.
The beauty of love is that people can find it in any place where they open up to others. That's why so many discover love at the office, these days even a digital one. So really, it's not a matter of whether LinkedIn should double as a dating app. Instead, it's a question of when it will.
//= get_template_directory_uri() ?> //= get_template_directory_uri() ?> //= get_template_directory_uri() ?> //= get_template_directory_uri() ?> //= get_template_directory_uri() ?> //= get_template_directory_uri() ?>
©2011-2023 Worthy, Inc. All rights reserved.
Worthy, Inc. operates from 45 W 45th St, 4th Floor New York, NY 10036