Introducing Season 3 of Divorce & Other Things You Can Handle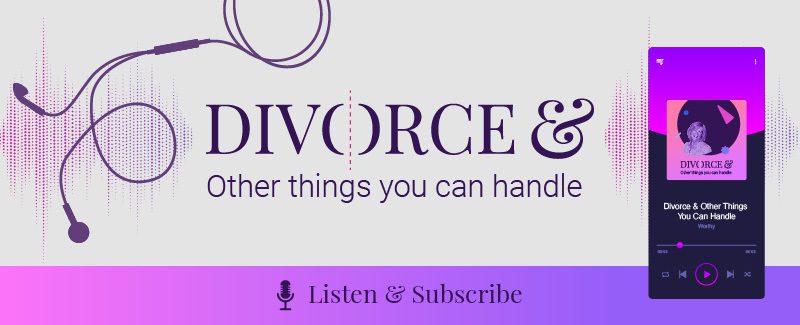 We are thrilled to announce that, after a 2-year hiatus, our podcast, Divorce & Other Things You Can Handle is back! And we're even more excited to tell you that our good friend Mandy Walker is joining us as our host for season 3!

As in seasons 1 and 2 of our podcast, each week will feature a guest to discuss divorce-related topics to help you heal and thrive! Topics include helping your children through the hardships of divorce, overcoming heartbreak, financial independence, dating, restarting your career, and anything else you can think of.
Let's kick off the season by getting to know our new host a little better. Here's a Q&A with Mandy:
Q: Where are you from originally? Where do you live now?
A: I'm originally from England and now live in a small town called Niwot, which is just outside Boulder, Colorado. Niwot reminds me of the village where I grew up in England – it has a town center, there are sidewalks everywhere, great open space. The weather here however is much better than England.
Q: How did you choose this career path?
A: I wish I could say I chose this career path – I'm envious of people who have this clear idea that they want to be this or that. Mine has been an evolution. I think what I'm doing now is a fabulous match for my skills – I love helping people, I like finances and I'm good at sorting through technical challenges and problem-solving.
Q: If you weren't a divorce coach, what would you be?
A: If I got do-over I think I would be an attorney or a journalist.
Q: What's your favorite part about your job?
A: Big picture, when I'm mediating and my clients have received a full agreement on parenting and finances. On a micro level, it's when the parties aren't able to agree on an issue and I can make a suggestion that solves the deadlock.
Q: What are you reading/watching/listening to right now?
A: I've just finished reading Richard Powers' "The Overstory" and am now reading Michael Ondaatje's "Running In The Family." Watching is in a bit of a lull … can't wait for the next seasons of Ted Lasso, The Queen and Bridgerton. Listening … I'm a big fan of NPR.
Q: What did you do with your engagement ring after your marriage ended?
A: Ah, well that's an interesting story. When my marriage was ending, my engagement ring was broken and had been in my jewelry box for several years. I decided I would have it reset and chose a setting that was less like an engagement ring. I've often thought that moving ahead with resetting my ring was symbolic of my readiness to end my marriage. I still have the ring and wear it every day on my right hand.

The first episode of season 3 will be LIVE on Tuesday, February 8th at 5:40 AM and new episodes will be available every other Tuesday thereafter at the same time. Make sure to subscribe on our podcast page or where you like to listen so that you don't miss an episode. Divorce & Other Things You Can Handle is available on Apple Podcasts, Spotify, Stitcher, and many other platforms so there are plenty of places to listen.

We've got a lot of great episodes in store for you in this season and, as always, we'd love to hear from you about what you're interested in! Feel free to drop us a note at [email protected].

We can't wait for you to hear our first episode with Mandy! Tune in on Tuesday!

//= get_template_directory_uri() ?> //= get_template_directory_uri() ?> //= get_template_directory_uri() ?> //= get_template_directory_uri() ?> //= get_template_directory_uri() ?> //= get_template_directory_uri() ?>
©2011-2023 Worthy, Inc. All rights reserved.
Worthy, Inc. operates from 25 West 45th St., 2nd Floor, New York, NY 10036