Celebrating Earth Day With Your Diamond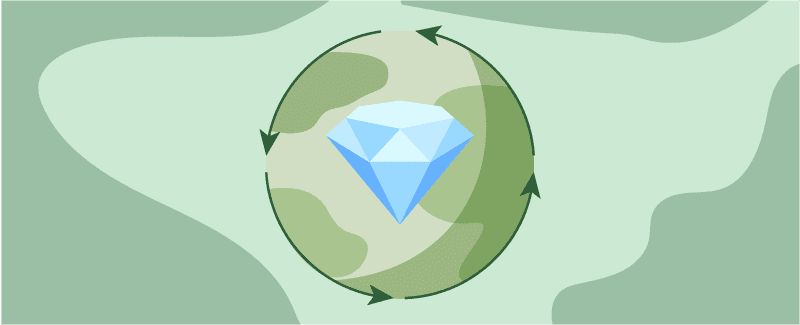 More than fifty years ago today saw the first Earth Day, a day of protests and demonstrations aimed at getting people and the government to recognize that in order to keep the Earth safe, humans needed to take action. The past 50 years have seen Earth Day become a global phenomenon, with the UN formally recognizing it in 2009 and April 22nd being the day the Paris Agreement was signed (a multi-country agreement to limit global temperature rise).
Worthy's Part In Keeping The Earth Healthy
One of the things Worthy prides itself most on is how we are able to contribute to the health of the world every day when we help people sell diamonds on our online auction platform.
The Environmental Impact of Diamond Mining
While people have been mining for diamonds for hundreds of years, in the last 100 years or so, diamond mining has become much more industrialized which has had a major environmental impact. Areas of land all over the world have been destroyed by diamond mining, suffering from things like soil erosion, deforestation, water pollution, and harming wildlife. There is a human cost too: these areas were once good farmland but are now unusable. The mining work itself can be very dangerous for miners and there have been countless reports on human rights abuse in diamond mines.
The Benefit of Recycled Diamonds
A recycled diamond is a diamond that was previously owned and has now been reset into a new piece of jewelry. When you sell diamond jewelry with Worthy, the diamonds you sell are sold and reset into new jewelry pieces that are purchased by individuals without any environmental toll.
The benefit of this process is twofold: first, individuals looking to sell jewelry can do it easily and get the best price out there for their diamond. Second, this process ensures that there are recycled diamonds available for environmentally conscious shoppers.
If you own diamond jewelry that you no longer enjoy or want, selling with Worthy is a great option, both for you and for the Earth.
//= get_template_directory_uri() ?> //= get_template_directory_uri() ?> //= get_template_directory_uri() ?> //= get_template_directory_uri() ?> //= get_template_directory_uri() ?> //= get_template_directory_uri() ?>
©2011-2023 Worthy, Inc. All rights reserved.
Worthy, Inc. operates from 45 W 45th St, 4th Floor New York, NY 10036