Worthy's Best Auctions of 2020
We at Worthy wanted to take a moment to reflect on 2020. While it might have been an unconventional year, we are certainly excited for everything to come in 2021.
We thought that we'd end the year a little differently when it comes to going reviewing our auctions from the past year. That's why we're sharing the best and brightest pieces of 2020 – the pieces that shed light and cash to so many sellers this year when they needed it most.
Rings On Top: Types of Items Sold On Worthy
Rings have always been our best-seller, and, as we'll see later, bring in some of the highest auctions. 2020 was no different, with diamond rings making up 73% of our auctions, followed by loose diamonds at 13%, diamond jewelry totaling at 10%, and watches at 4%.

All About Diamonds In 2020
Let's look at what our 2020 diamond auctions were made up of, from the inside out!
The 4Cs
The 4Cs, or carat, color, cut, and clarity, are the most important properties when it comes to diamond value, even if they aren't visible to the untrained eye. This year, Worthy's auctions saw some tip-top diamonds: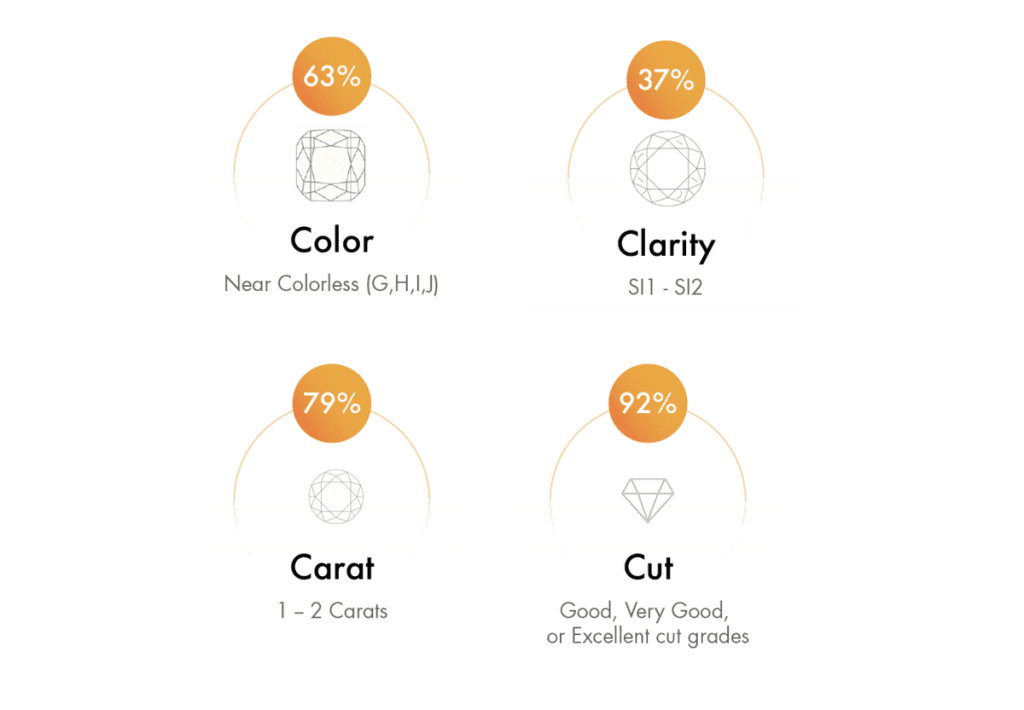 For more information on the 4Cs, visit Worthy.com.
Shape and Style
While shape and style mean less to the diamond or diamond ring's value, they are still important characteristics. If you are looking to sell a round diamond, a classic shape that is always the most popular, you are certain to attract buyers, even if the diamond is of poorer quality.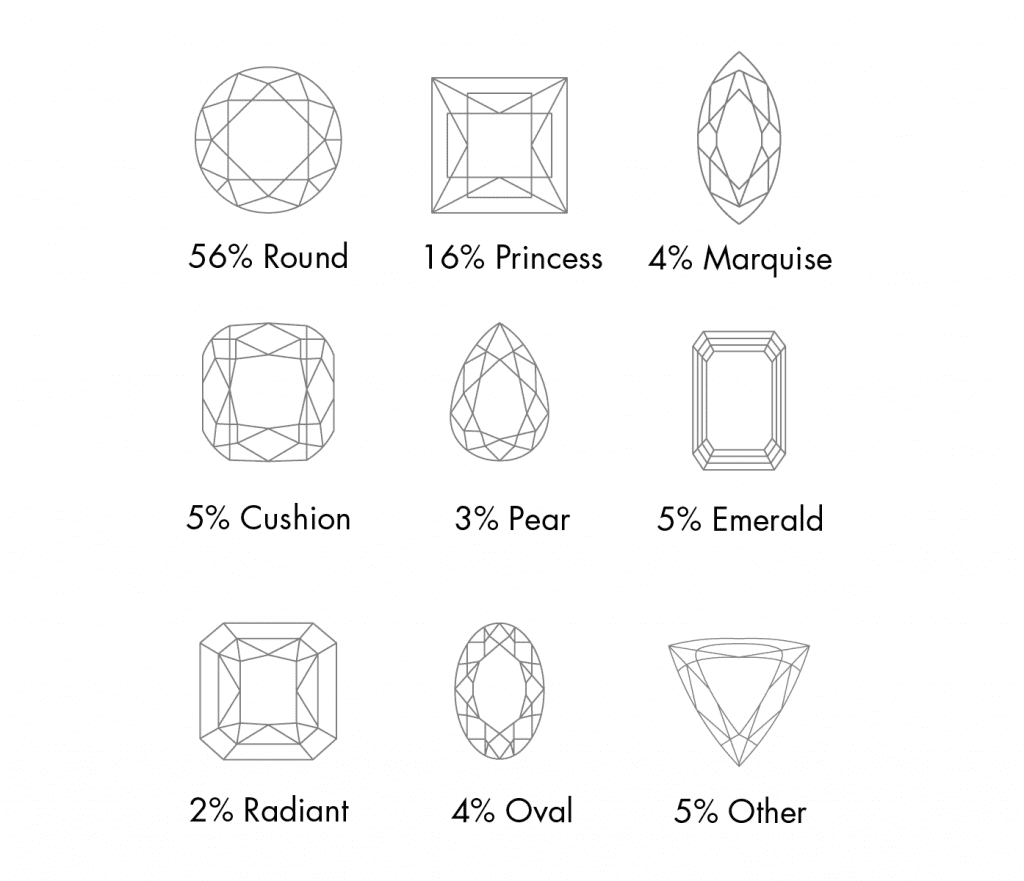 Bridal sets and solitaire settings continued to come in on top this year. One common misconception when it comes to ring styles is that the more diamonds there are, the more it's worth.


However, halo settings, which made up 10% of our ring auctions this year, often don't match up to the value of a solitaire ring with the same total carat weight.
Best of Diamond Auctions in 2020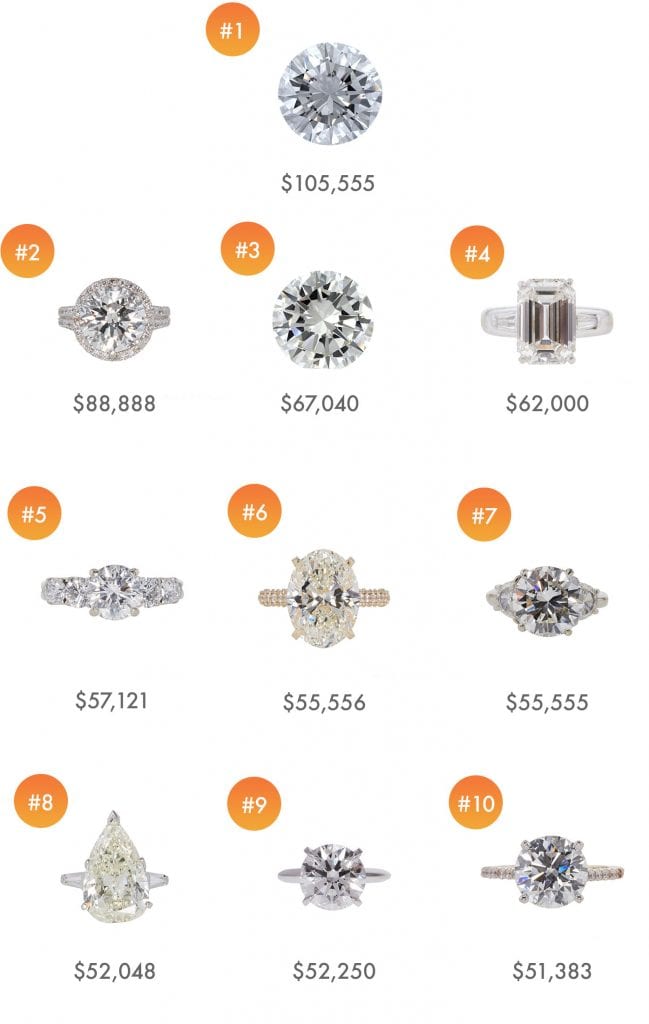 2020 Jewelry At A Glance
Diamond jewelry including necklaces, bracelets, and earrings, made up 10% of Worthy's auctions in 2020 but the items were certainly showstoppers!
Jewelry Auction Trends
When it comes to selling diamond jewelry that is not a ring, the big-ticket items are usually from top brands, like Tiffany & Co., or include large diamonds, usually set into a pendant necklace or stud earrings, two of Worthy's most popular jewelry items sold this year.

Branded Jewelry
Tiffany & Co., one of the world's biggest jewelry brands, continued to be the most popular brand auction on Worthy for the second year in a row, followed by Tacori. The "other" category includes small designers we saw a lot of, including Orianne Collins and Roberto Coin.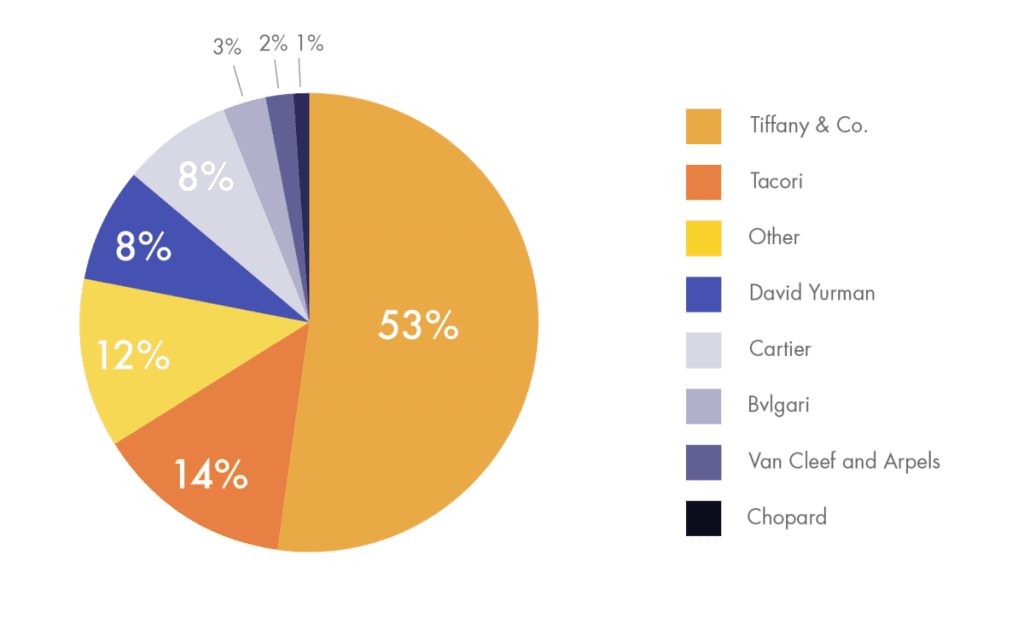 Best of Jewelry Auctions 2020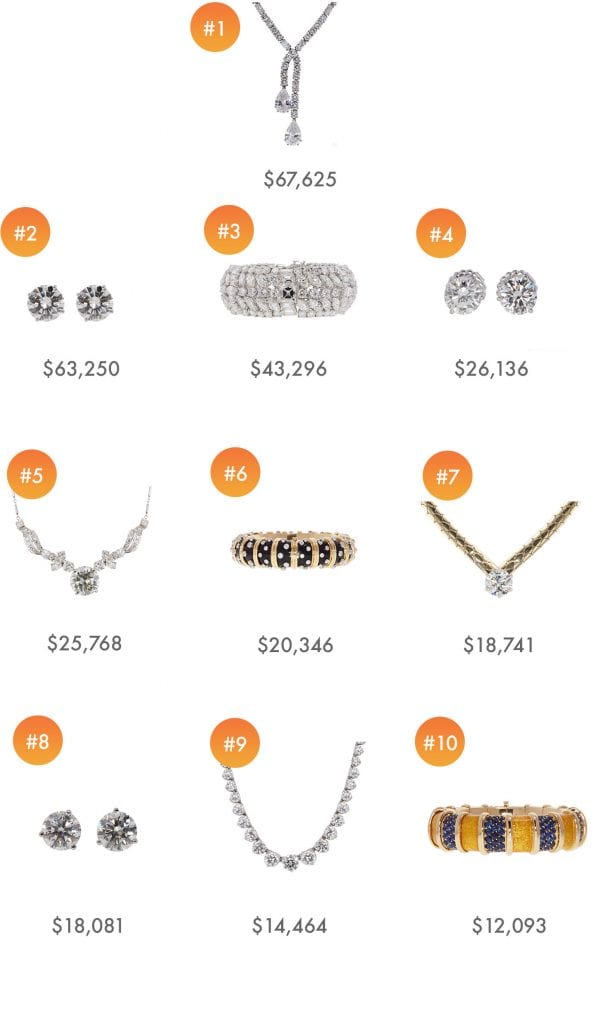 Round Diamond Stud Earrings, 5.62 CT & 5.44 CT. Sold for $63,250.
Double 2.69 CT Pear-Cut Pendant Necklace. Sold for $67,625.
2.35 CT Square Emerald-Cut Wide Platinum Bangle Bracelet. Sold for $43,296.
6.28 Round-Cut Pendant Necklace. Sold for $25,768.
2.11 CT Round-Cut Stud Earrings. Sold for $26,136.
Tiffany & Co. Jean Schlumberger 18K Black Enamel and Diamond Bracelet. Sold for $20,346.
2.57 CT. Round-Cut Pendant Necklace. Sold for $18,741.
Round-Cut Stud Earrings, 2.15 CT & 2.16 CT. Sold for $18,081.
Diamond Riviera Necklace. Sold for $14,464.
Tiffany & Co. Jean Schlumberger 18K Alternating Yellow Enamel Bangle with Sapphires. Sold for $12,093.
2020 In Watches
When it comes to watches, it's ALL about the brand – the style, the legacy, and the value are all in the name.
Watch Brand Breakdown
Out of the over 300 watches sold on Worthy in 2020, a third of them were from the biggest name in watches – Rolex. The runners up were Tag Heuer, Omega, Cartier, and Breitling.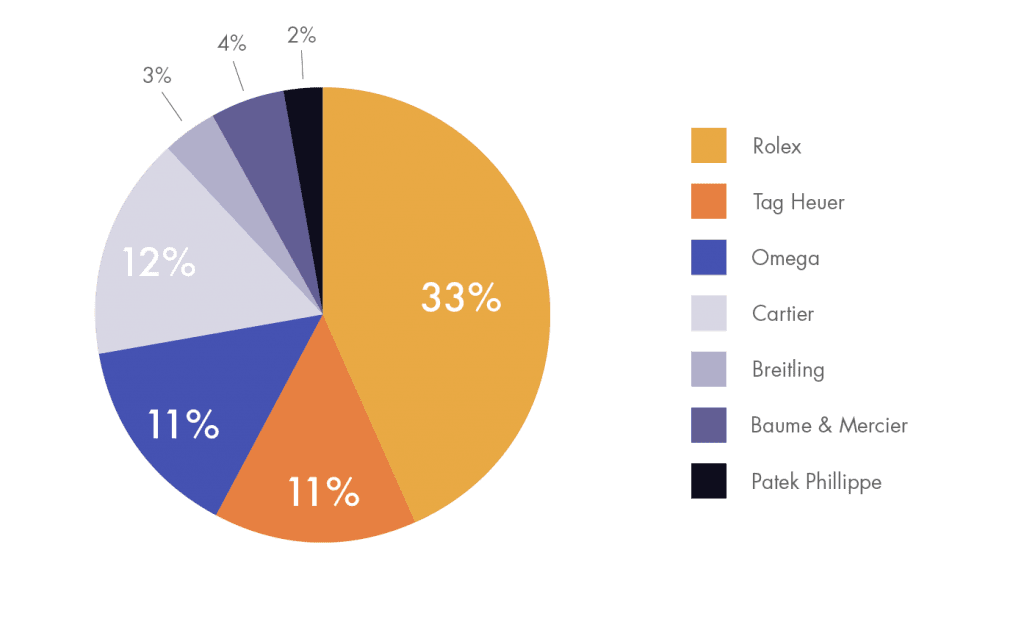 Watch Brands By Deal Amount
While we often discuss how the resale value of a diamond can be much lower than most sellers expect, with watches that is not always the case.
Here are the tops brands we auctioned in 2020 ranked by deal amount.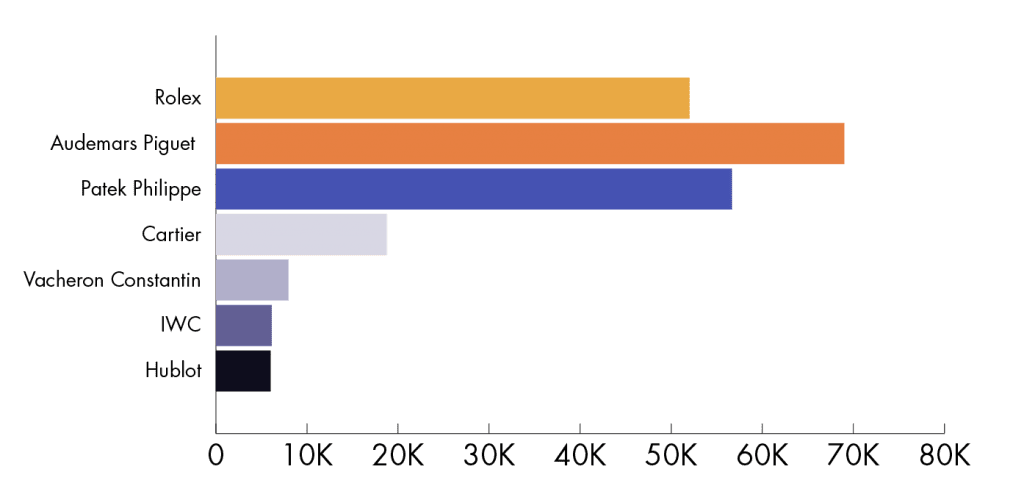 Best of Watch Auctions In 2020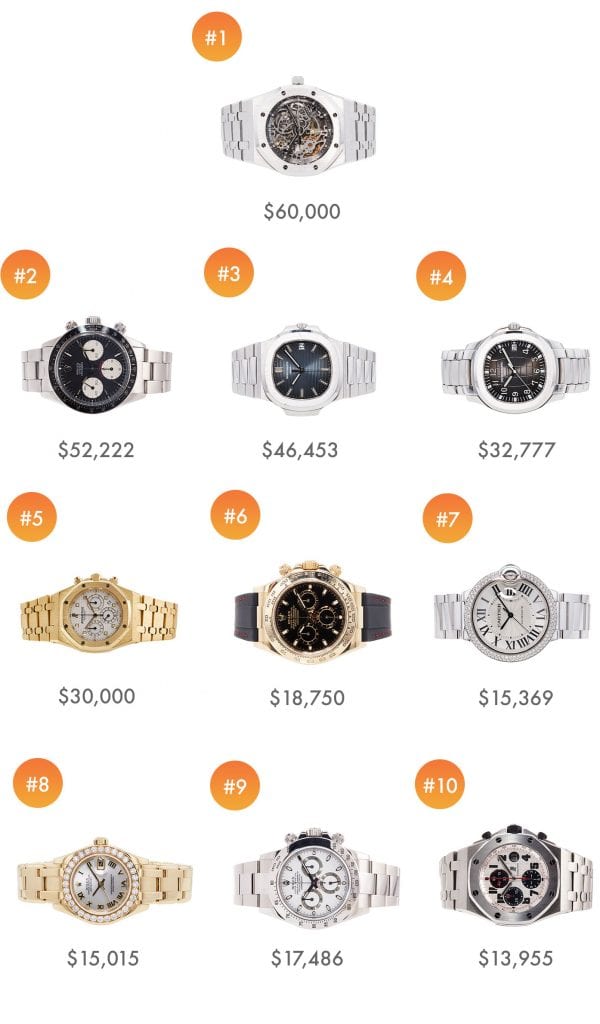 Let's end 2020 on a high note: to all of the best, sparkling moments of this year and to all good things to come in the next! Happy New Year!
//= get_template_directory_uri() ?> //= get_template_directory_uri() ?> //= get_template_directory_uri() ?> //= get_template_directory_uri() ?> //= get_template_directory_uri() ?> //= get_template_directory_uri() ?>
©2011-2023 Worthy, Inc. All rights reserved.
Worthy, Inc. operates from 25 West 45th St., 2nd Floor, New York, NY 10036