All About OMEGA Watches
OMEGA's history began in 1848 and ever since, the company has offered watches that bring function and style together. Unique technological innovations and exceptional accuracy led to many "firsts" along the way; for example, the first watch on the Moon was an OMEGA. That, among other things, is one of the reasons OMEGA is considered one of the top watch brands today. We hope that you enjoy this in-depth exploration of OMEGA's history, movements, and more.
Brand and History
OMEGA is a well-known watch brand today, and for good reason: it's among just a handful of watch brands that hold their value, and over the years, the brand has been a leader in timekeeping technology. The company was created by Louis Brandt in 1848, and was originally known as La Generale Watch Co. During its earliest years, Brandt offered fine key-wound pocket watches that were renowned for their precision.
As demand grew, Brandt expanded his works, and along with his sons, Cesar and Louis-Paul, interchangeable components and a revolutionary production control system were developed, allowing the watchmakers to reduce production time and expand their offerings.
When Louis Brandt died in 1879, his sons took over the business and kept its reputation for innovation alive. An 1892 collaboration with Audemars-Piguet saw the introduction of the world's first minute-repeating wristwatch. Today, this legendary timepiece is on display at Switzerland's OMEGA Museum.
Cesar and Louis-Paul Brandt passed away in 1903. The brand's name change had been expanded to Louis Brandt et Frere – OMEGA Watch & Co., honoring their contributions to the company and memorializing their father. Even though the new moniker was quite a mouthful, it wasn't until 1982 that the current company name, OMEGA SA, was introduced.
1903 saw another change for OMEGA. That year, the company was taken over by Paul-Emile Brandt, who at the youthful age of 23, was in charge of what was in those days a massive company and one of the largest watch producers in Switzerland, with 800 employees producing an average of 240,000 timepieces per year.
By 1905, OMEGA was serving as the official timekeeper at sporting events throughout Switzerland as well as at events abroad. In 1909, OMEGA was the official timekeeper at the Gordon Bennett Cup, an international balloon race that covered more than 1,200 kilometers. That same year, OMEGA's reputation grew as it expanded distribution across all six continents and became one of the world's top luxury watch brands. By 1932, OMEGA watches were keeping time at the Olympic games – an honor the company enjoys to this day.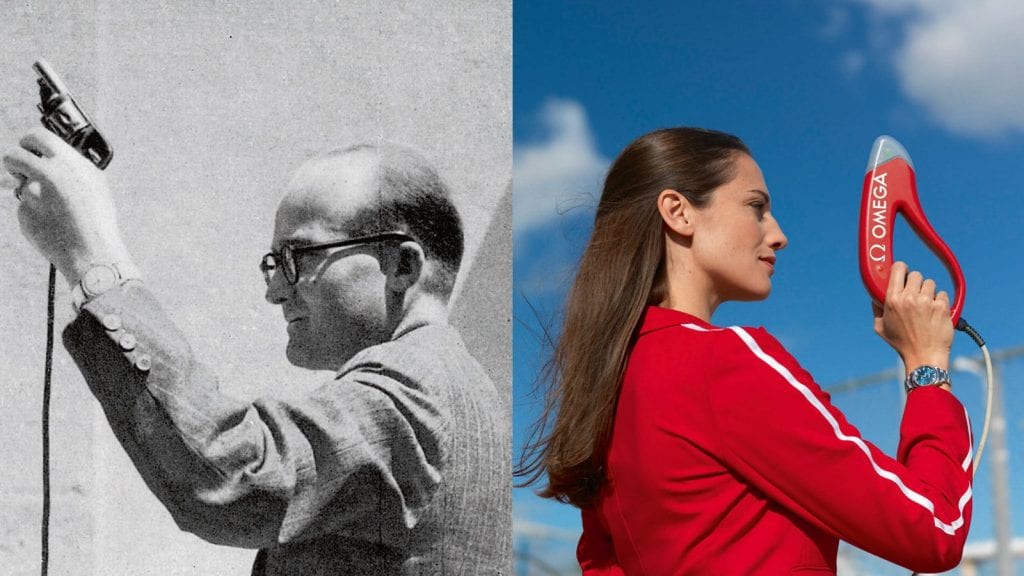 More than 100 years ago – way back in 1917, to be exact – OMEGA was chosen as the official watch of Britain's Royal Flying Corps combat units. The United States Army followed suit in 1918. In 1919, the company took first prize at Neurenburg's observatory trials – the first of many such wins.
OMEGA introduced many shock-proof, water-resistant, and antimagnetic watches during the first and second World Wars and by 1940, the company was the largest watch supplier for Britain's armed forces as well as for other allied forces.
OMEGA introduced the first-ever tourbillon wristwatch calibre in 1947 and in 1948, the OMEGA Seamaster was born. The Constellation was launched in 1952, and the elegant yet functional Ladymatic made its debut in 1955.
1957 was a big year for OMEGA: the Railmaster, Speedmaster, and Seamaster 300 were introduced, and all remain popular today. Between 1958 and 1969, OMEGA was the world's largest manufacturer of COSC chronometers, in keeping with the company slogan "OMEGA – exact time for life."
In 1962, astronaut Wally Schirra wore his OMEGA Speedmaster into space during the Mercury Sigma 7 mission. This was the first watch in space and without a doubt, its accuracy and reliability contributed to NASA's decision to choose OMEGA watches for future space exploration. During the 1969 lunar landing, Neil Armstrong left his 105.012 Speedmaster inside the Lunar Module as a backup as the module's built-in electronic timer was malfunctioning. It's for this reason that Buzz Aldrin's "moonwatch" was the first to experience the lunar atmosphere despite Armstrong being first to set foot on the moon.
Explorers and adventurers of every stripe rely on OMEGA watches. A few notable moments: In 1981, Jacques Mayol wore his OMEGA Seamaster during a record-breaking freedive to 101 meters. In 1989, Reinhold Messner was accompanied by his OMEGA Speedmaster during an arduous 3-month journey across Antarctica on foot. In 2019, Victor Vescovo wore his OMEGA Seamaster Planet Ocean Ultra Deep Professional during a record-breaking submersible dive to the bottom of the Mariana Trench, 10,928 meters below the ocean's surface.
Over the years, many innovative features, milestones and honors contributed to OMEGA's ever-increasing popularity. As the decades pass, OMEGA retains a coveted spot among Europe's top watch brands. Anyone who has the opportunity to visit OMEGA's Museum in Switzerland should do so, as it is brimming with amazing artifacts that cover the span of OMEGA's history from the very beginning to the present date.
The Most Popular OMEGA Watches
OMEGA's collections feature a number of historically significant watches, all with impressive technological innovations and appealing features that appeal to different audiences. All OMEGA watches are built to reflect the company's reputation for precise timekeeping and performance even under the most difficult conditions. Of course, some models are standouts. While each has unique benefits to offer, here are the most popular OMEGA watches:
OMEGA Watch Movements
As an innovative leader in the timekeeping sphere, OMEGA has produced a variety of different movements. All are renowned for their precision and quality, and many take pride of place among the world's best watch movements. OMEGA's coaxial escapement stands out as a hallmark of quality, operating with far less friction than traditional movements. With less friction comes an impressive reduction in wear and tear, resulting in longer lifespan and a corresponding reputation for durable reliability.
OMEGA watches that bear the coveted COSC certification include movements that have been tested by the Controle Officiel Suisse des Chronometres, which puts movements through their paces by testing different positions and exposing the movements to varying temperature extremes while recording the movement's ability to keep time.
Famous OMEGA Watches
OMEGA watches may be iconic because of their many wonderful features, but there's another reason many of these marvelous timepieces stand out. Over the years, more than a handful of famous figures have chosen OMEGA watches – and many others have received them as meaningful gifts.
OMEGA's relationship with NASA made the Speedmaster chronograph famous – so famous in fact, that OMEGA issued limited edition OMEGA Speedmaster Apollo 11 watches to commemorate the mission's 50th anniversary. Astronauts including Wally Schirra, Buzz Aldrin, and Neil Armstrong famously wore their watches during the space program's early years and ever since, OMEGA has been a top choice with pilots and space explorers from all over the world.
As a fine watch always makes a statement, it's no surprise that public figures often make OMEGA their brand of choice. John F. Kennedy famously wore an OMEGA Ultra-Thin wristwatch, and Prince William is often seen wearing a Seamaster Professional with a blue dial. Joe Biden wears an OMEGA Seamaster as well.
In Hollywood, directors and writers often choose watches to match the characters being portrayed. Through the years, we've seen James bond sporting a number of famous watches including the OMEGA Seamaster Planet Ocean seen in Casino Royale and the OMEGA Seamaster Aqua Terra seen in Skyfall. Jamie Dornan wore an OMEGA Seamaster Aqua Terra in his role as Christian Grey in the 50 Shades of Grey series, and he's also famous for wearing a black-faced OMEGA Speedmaster Moonwatch Co-Axial Chronograph, just like the original character in the 50 Shades novels. These are just a few of many fascinating relationships between actors and their watches!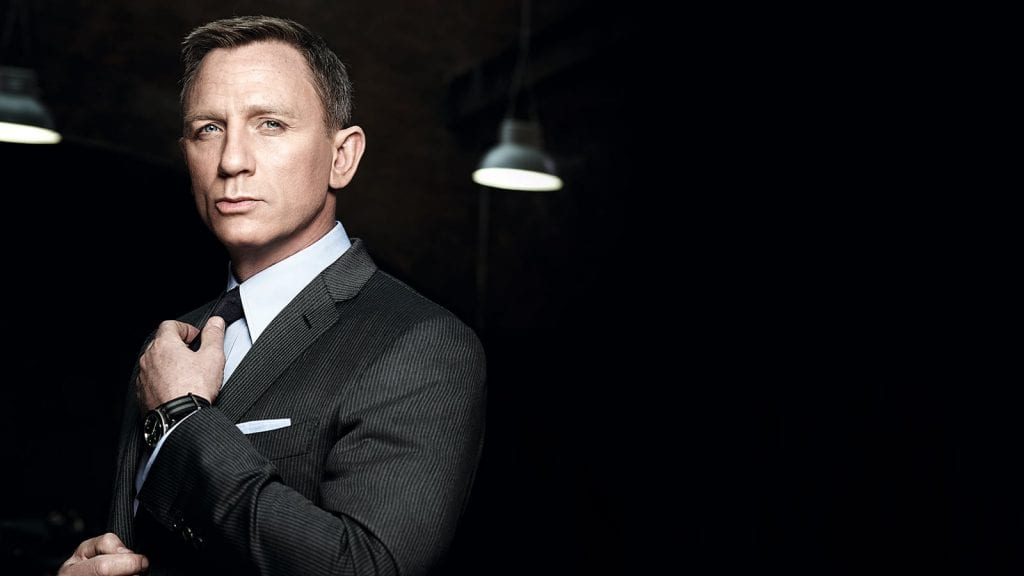 Given OMEGA's long-standing partnership with the Olympic games, it's no surprise that the company offers an entire collection of watches inspired by the games. A number of famous athletes wear OMEGA watches and serve as brand ambassadors. A few examples: Michael Phelps often wears watches from the OMEGA Seamaster family, pro golfer Stacy Lewis can be seen sporting an OMEGA Constellation, and Sebastian Soderberg recently won the OMEGA Masters tournament, collecting a Seamaster Aqua Terra as part of his winnings.
Elvis Presley's jewelry is in a league of its own. His personal collection included a number of rings, his famous TCB necklace, and a handful of watches including a 1960 black dial OMEGA Constellation that fetched a record-breaking $42,000 at auction in 2012. A second OMEGA watch didn't fare nearly as well: Elvis's 1973 gold OMEGA TC1 digital went for just $3,000.
How to Spot a Fake OMEGA Watch
Because of their value and popularity, OMEGA watches are often counterfeited. As technological advances make life easier than ever for counterfeiters, it's becoming more difficult to distinguish a replica OMEGA from an authentic one.
As so many OMEGA watch models have been produced over the years, it is impossible to provide a complete list of indicators that you're looking at a counterfeit OMEGA watch. Here are some common errors to watch for:
Price: Far lower than fair market value; seems too good to be true.
Feel in hand: OMEGA watches feel heavy for their size.
Sweeping second hand: Most OMEGA watch models have second hands that sweep smoothly and silently around the dial.
Missing hippocampus: Most OMEGA watches feature OMEGA's signature hippocampus, often on the caseback. The hippocampus logo should be well-detailed and engraved.
Complications: Many OMEGA watches feature unique complications. These must function correctly and they must be correctly positioned.
Misspellings and improper spacing: Inspect the dial, caseback, bezel, and other aspects of the watch to ensure that there are no misspelled or incorrect words, and that details have a crisp, clear appearance.
While there are definite indicators of OMEGA authenticity, counterfeiting equipment is now of such high quality that fakes appear nearly identical to the real thing and only a qualified OMEGA watch expert can ascertain whether the timepiece is an original, authentic OMEGA. This is carried out by removing the watch's case back and confirming that the movement is authentic.
Noteworthy OMEGA Auctions
Worthy clients use our services to sell OMEGA watches of every type imaginable. Some of the timepieces that have crossed our path are excellent examples and it's no surprise that they've attracted quite a bit of attention from buyers. 
Of the most expensive OMEGA watches auctioned at Worthy, a few stand out. A new women's Speedmaster Chronograph with a diamond-set red gold bezel sold for $3,600 with 365 bidders competing.
Despite the lack of original box or paperwork, an early OMEGA Speedmaster 105.003.63 fetched $7,398. This was a very exciting auction, with 124 bidders eagerly vying for the opportunity to claim the watch for their own collections.
We've saved the best for last. When a vintage OMEGA 105.002 Speedmaster was offered for sale, it brought its previous owner a tidy sum of $7,770. This watch arrived as a case only – no strap or bracelet was included. Even so, it attracted the attention of 392 bidders.
There's no doubt about it: Anyone hoping to sell OMEGA watches is in excellent company, whether the model is a famous one or lesser-known, and whatever the watch's age. If you are interested in selling an OMEGA watch, we can help you get more for it.

//= get_template_directory_uri() ?> //= get_template_directory_uri() ?> //= get_template_directory_uri() ?> //= get_template_directory_uri() ?> //= get_template_directory_uri() ?> //= get_template_directory_uri() ?>
©2011-2023 Worthy, Inc. All rights reserved.
Worthy, Inc. operates from 25 West 45th St., 2nd Floor, New York, NY 10036