Cushion Cut Diamonds: A Complete Guide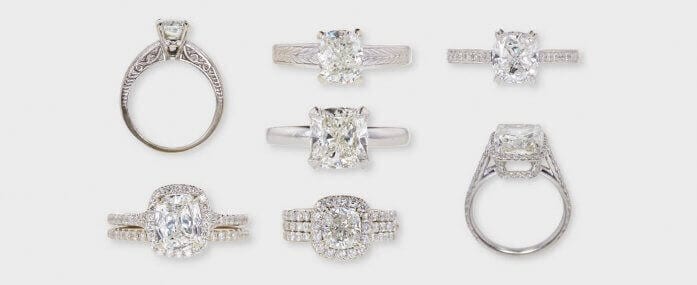 With square or rectangular tables that visually maximize size, cushion cut diamonds feature softly rounded corners and intriguing tapered edges. This shape originated in the early 1800s and shares some similarities with the old-fashioned mine cut. Even though it's nothing new, the beautiful combination of romantic shaping and sophisticated, sparkle-maximizing angles make cushion cut diamonds more popular than ever.
Cushion Cut Diamond Facts
Also known as pillow cut diamonds, cushion cut diamonds feature broad facets and distinctive rounded corners, just like the pillows on your favorite sofa. And, just as pillows come in different dimensions, so do cushion cut diamonds! These stunning gems are often presented in balanced, slightly rounded square shapes, however, they can be rectangular as well.
Some diamond cuts have their facets arranged exactly alike, no matter what their size. Not so with cushion cut diamonds. These intriguing stones do share many similarities with one another, however, the facets may be arranged in different ways from stone to stone, making each diamond unique in appearance. Whether you prefer a stone with lots of fire or one with a softer, more subtle appearance, you can probably find a cushion cut diamond to suit your taste perfectly.
"These intriguing stones do share many similarities with one another, however, the facets may be arranged in different ways from stone to stone, making each diamond unique in appearance."
In general, older cushion cut diamonds tend to have larger, broader facets than newer ones, which typically display smaller, more numerous facets. The ideal cut grade for a cushion cut diamond depends on what you're looking for in this unique stone! While this shape is a forgiving one, its table should be at 56 to 63 percent, and its depth should be at 58 to 66 percent, no matter where it lands on color or clarity charts.
Famous Cushion Cut Diamonds
Stones owned by celebrities including Kim Kardashian, Jewel, and Miley Cyrus come to mind whenever the subject of famous cushion cut diamonds arises! Jewel's stone is an impressive 4-carat sparkler, while Kim's 15-carat cushion cut diamond is an absolute knockout at almost 4 times the size. Miley Cyrus was presented with a stunning yellow 3.5-carat cushion cut diamond that dated back to the 19th century.
There are many more famous cushion cut diamonds to admire, including the incredible 128.54-carat Yellow Tiffany Diamond, the 140.50 carat Regent Diamond, and of course the supposedly cursed Hope Diamond, which weighs in at 45.52 carats. We'd be remiss if we didn't mention the DeBeers Diamond, which is the world's largest yellow cut diamond.
Notable Worthy Auctions Featuring Cushion Cut Diamonds
Because this is such a popular shape, we've seen many cushion cut diamonds make their way into appreciative new owners' hands via our marketplace.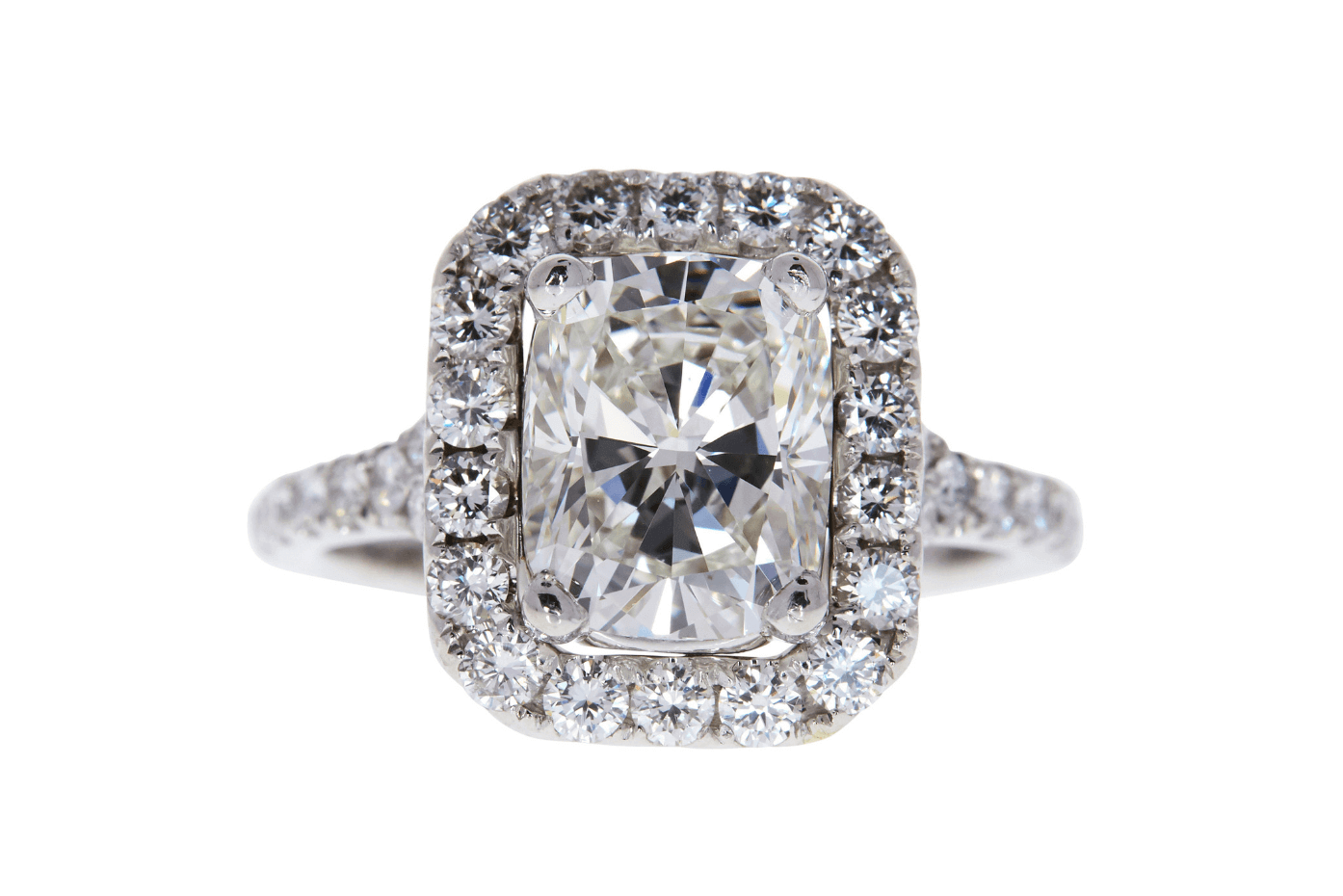 With a gorgeous cushion cut center stone weighing 2.04 carats, this spectacular halo ring boasted a total of 36 accent diamonds totaling 0.88-0.9 carats. It sold for $8,014.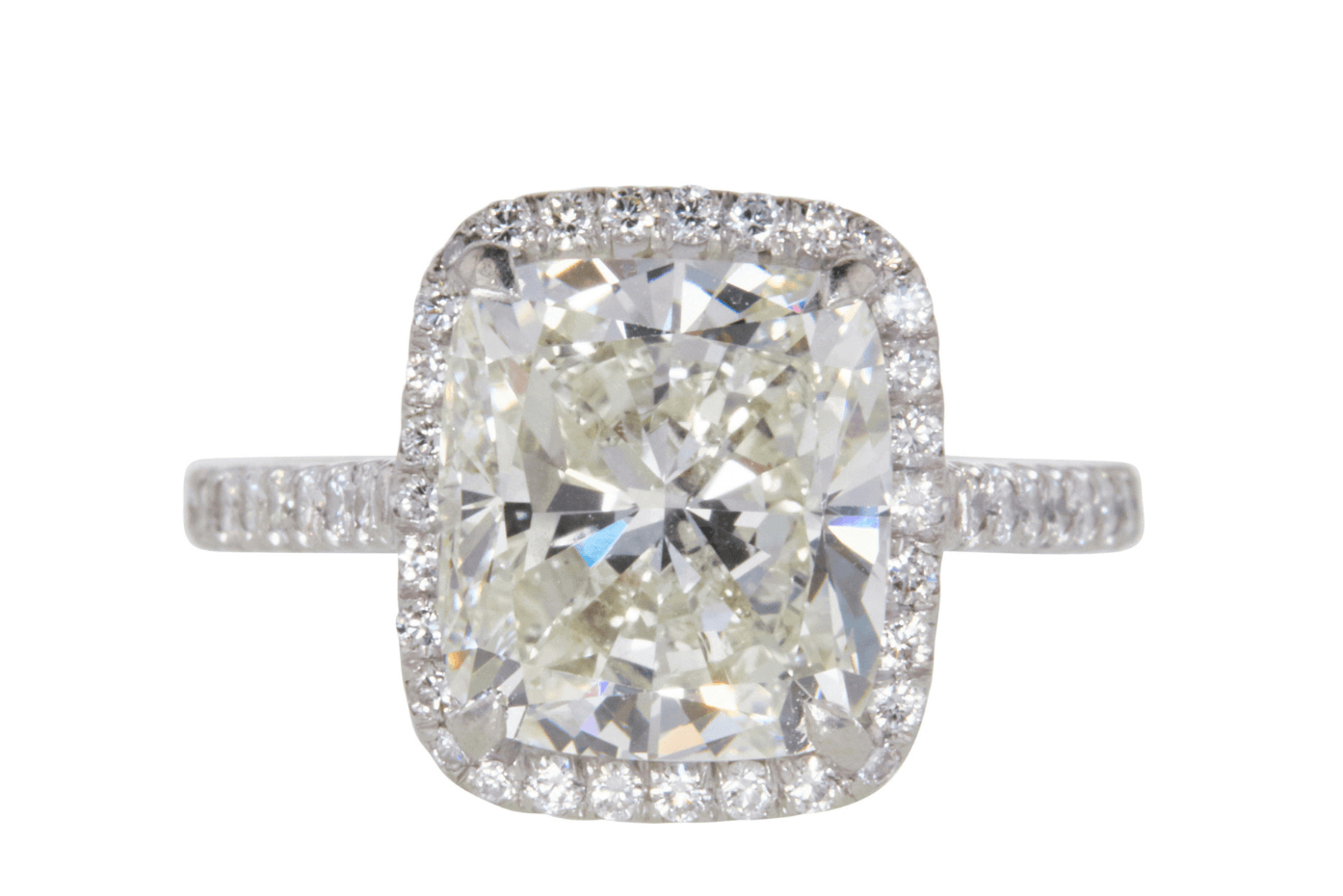 This spectacular 5.25 carat modified cushion cut halo ring stole the show when it was auctioned for $27,121. Set in platinum, it included 81 accent diamonds that altogether consisted of 0.78-0.81 total carat weight.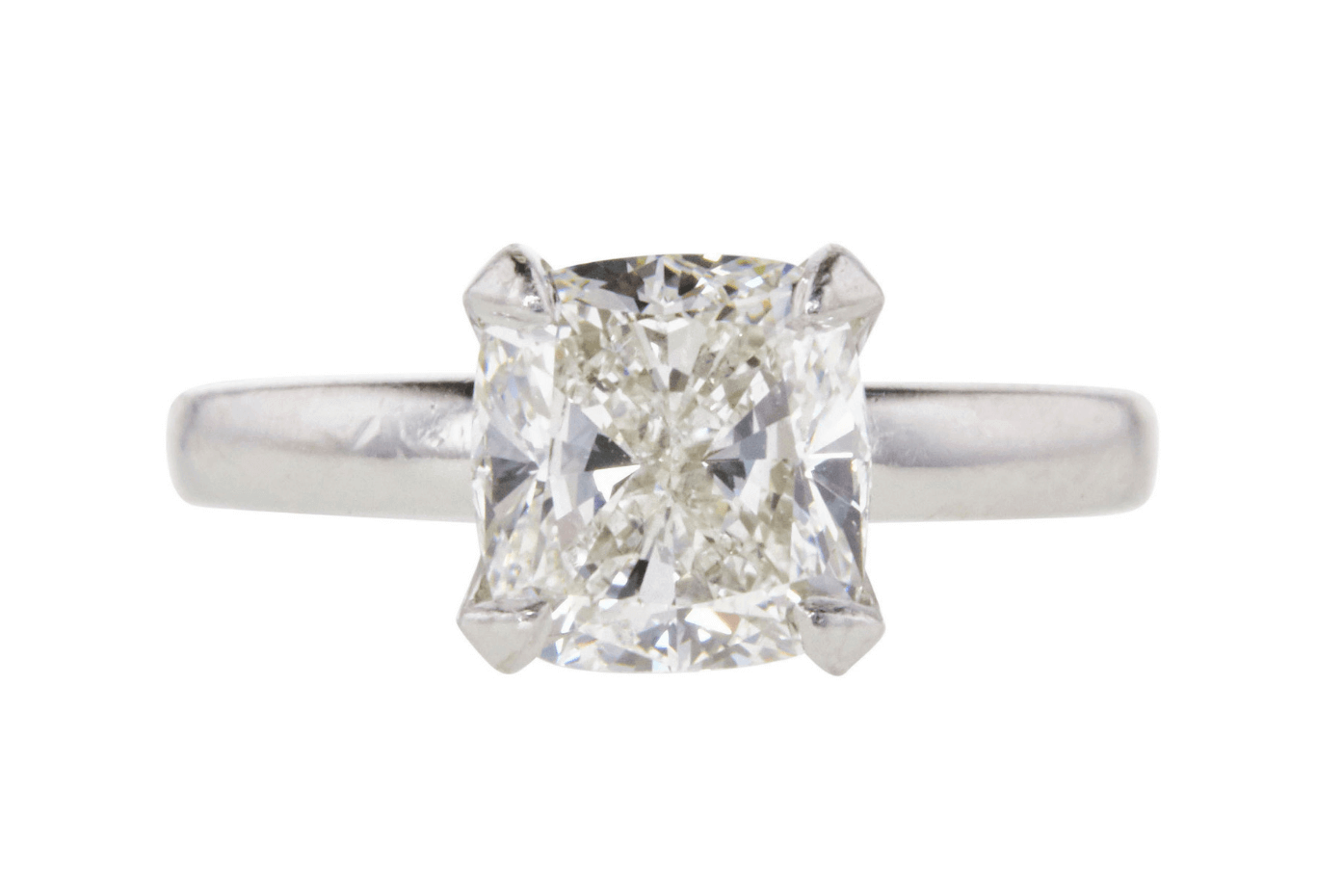 A stunning solitaire set in platinum recently sold for $13,225. The 3-carat cushion cut diamond was slightly rectangular in shape, measuring 8.26mm long by 7.86mm wide.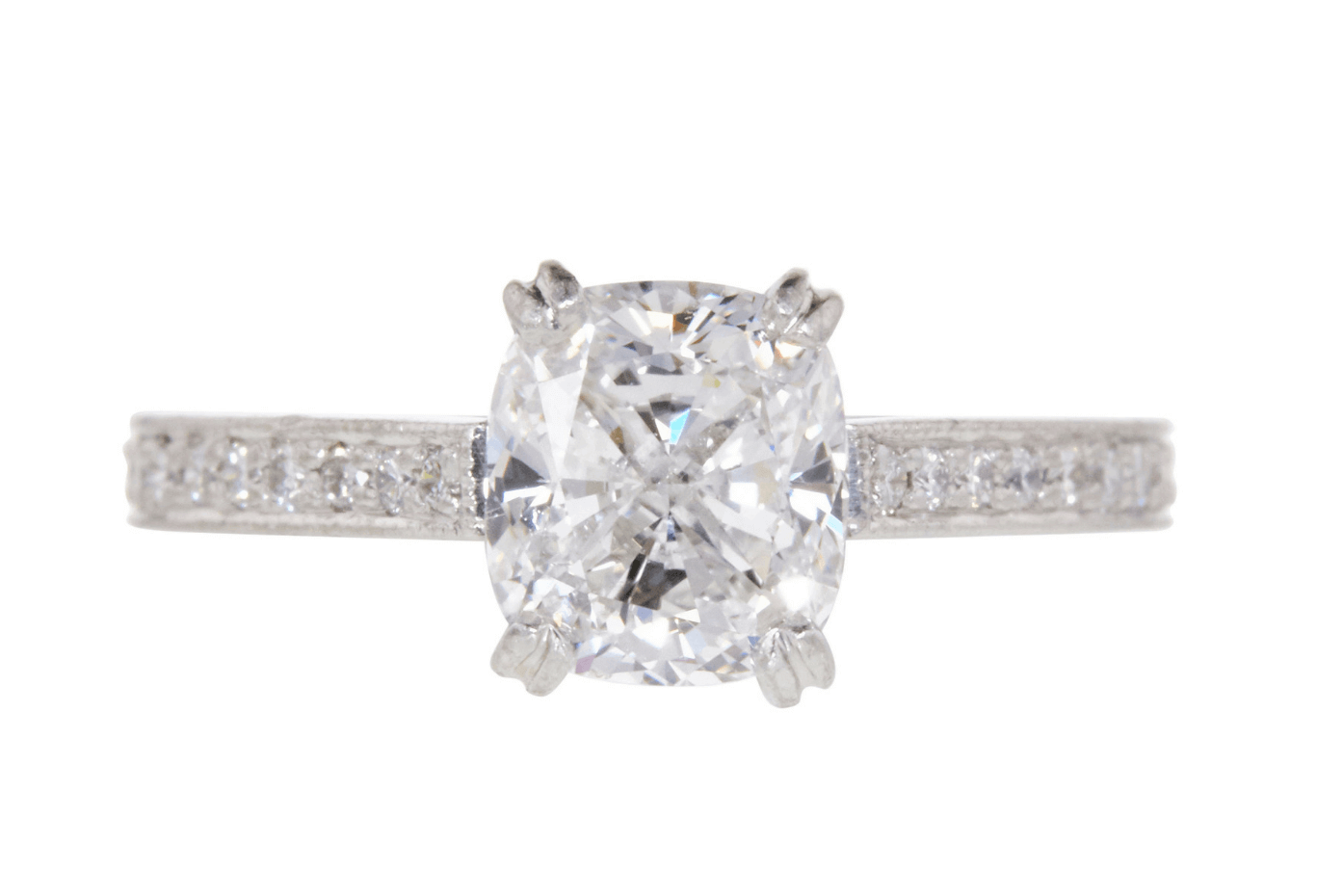 With a 1.52-carat center stone and 30 round accent diamonds set in the band, this gorgeous cushion cut solitaire ring sold for $5,282 at a recent auction.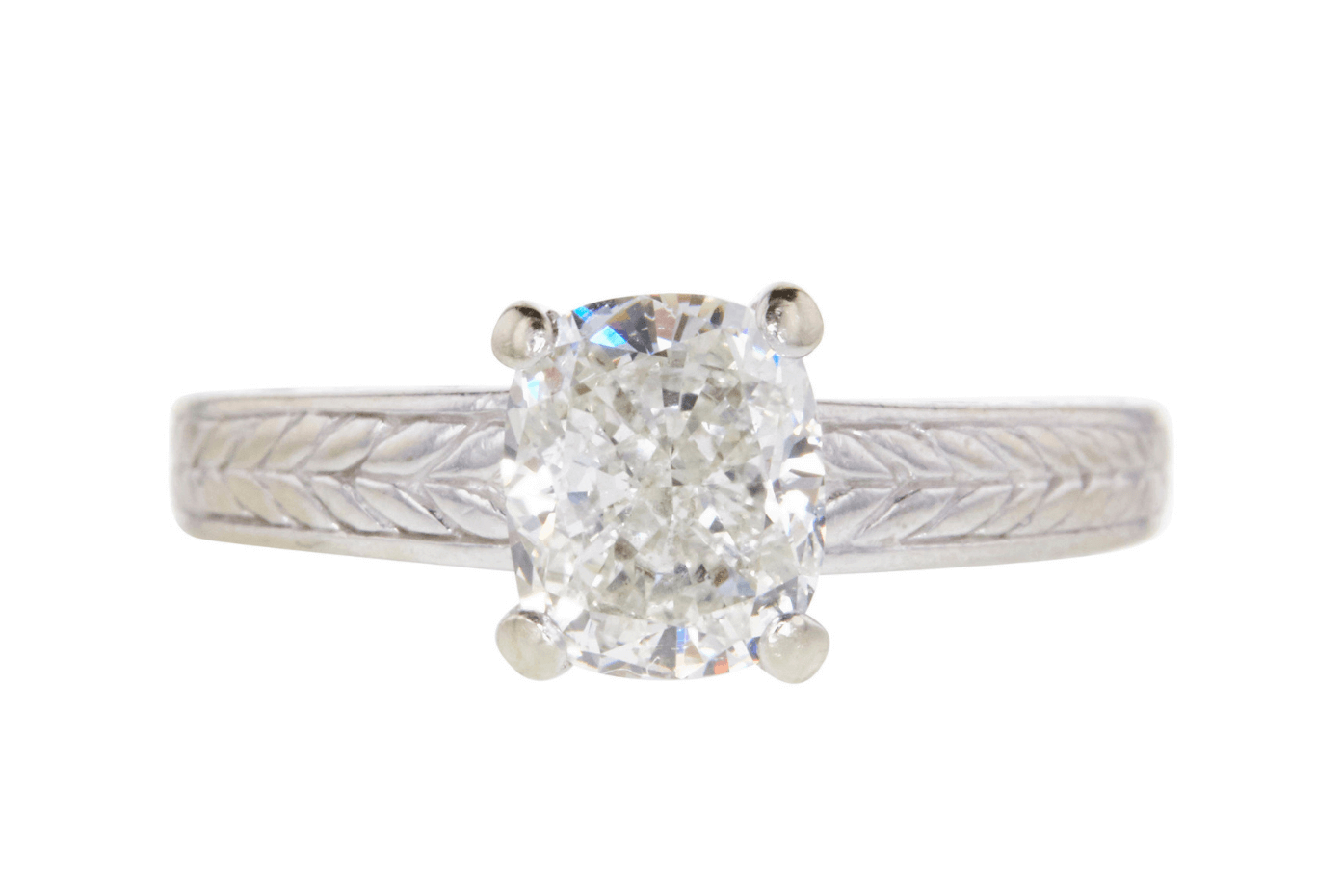 At 7.59 mm long by 6.31 mm wide, this exemplary 1.77-carat cushion cut diamond solitaire exhibited a definite rectangular shape. Beautifully presented in a platinum band with botanical details, it sold for $5,259.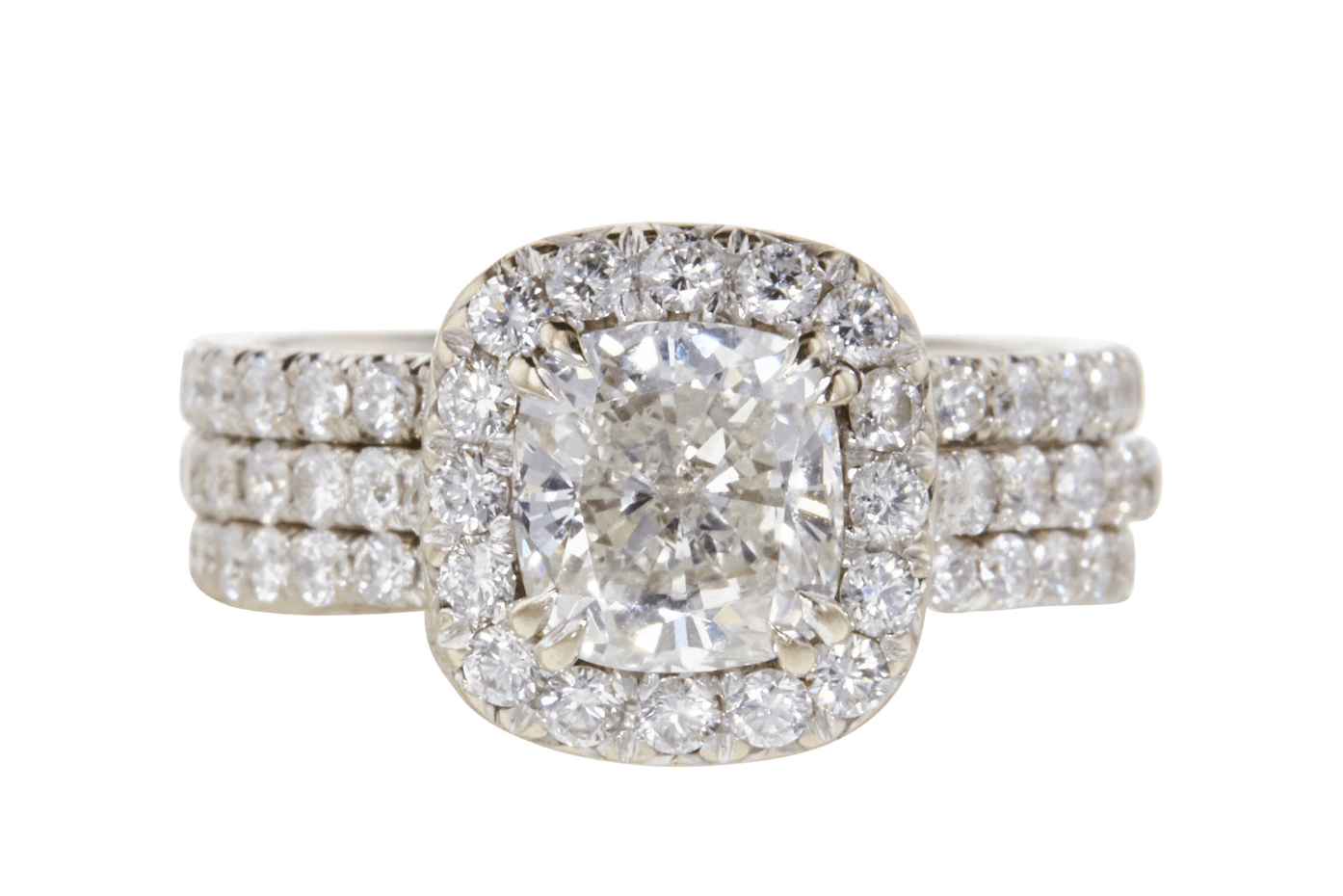 This exquisite bridal set showcased a 1.51-carat cushion cut center diamond, beautifully offset by 120 round accent diamonds consisting of 1.1-1.2 total carat weight. It sold for $5,506.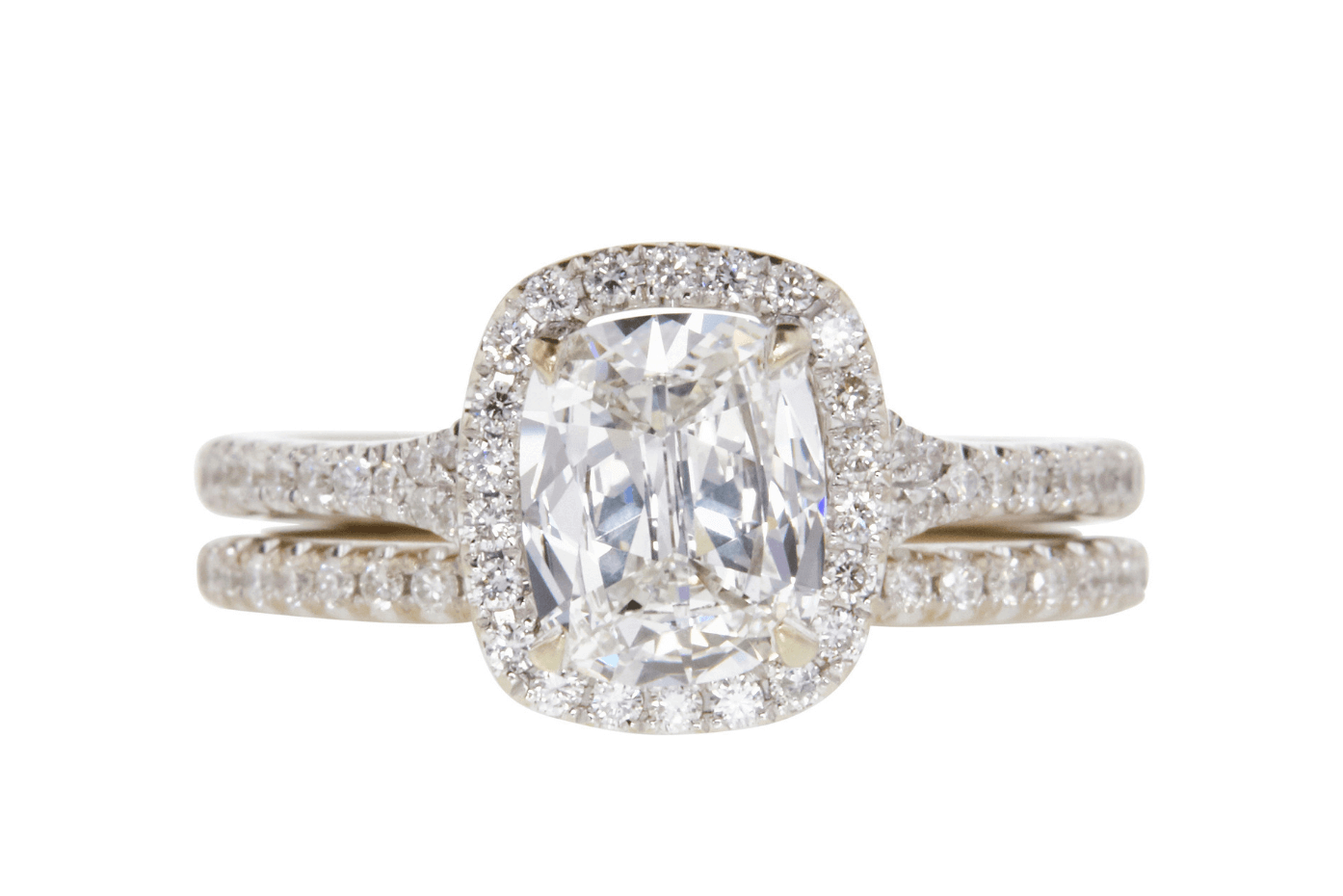 Showcasing a beautiful G color, VS1 clarity, 1.14-carat cushion cut diamond at its center, this custom bridal set sold for $3,300. It included 79 round accent diamonds with a total carat weight of 0.7-0.76.
Interested in learning more about diamond shapes? Check out our complete guide!
//= get_template_directory_uri() ?> //= get_template_directory_uri() ?> //= get_template_directory_uri() ?> //= get_template_directory_uri() ?> //= get_template_directory_uri() ?> //= get_template_directory_uri() ?>
©2011-2023 Worthy, Inc. All rights reserved.
Worthy, Inc. operates from 25 West 45th St., 2nd Floor, New York, NY 10036