The 10 Most Expensive Blue Diamonds
Blue diamonds are coveted for their beauty and their brilliance. The depth of their blue color helps to drive their price up and they can be quite valuable. And though some people may think these diamonds are lab created, they are as natural as any other.
In their basic makeup, blue diamonds are the same as white diamonds aside from their colorful blue hue. The blue color comes from the presence of the element boron, an element which you may remember from chemistry class (don't worry if you don't!). Blue diamonds also belong to a subcategory of diamonds known as "fancy color diamonds" – which, as you may guess, reflects the fact that they have fancy colors like blue.
In this article, we will look at what blue diamonds are and where to find them, what drives how much they are worth, and some of the most celebrated and famous blue diamonds of all time.
Are Blue Diamonds Real Diamonds?
Yes, blue diamonds are real diamonds. They have the same basic structure as other diamonds but also have the additional blue hue. Blue diamonds are not treated or enhanced to derive their color – they have it naturally and are found that way. Some of the shades of blue diamonds that have been found include greyish blue, violet and greenish blue.

While boron is the main element responsible for the blue hue, blue diamonds are also affected by the presence of nitrogen. Nitrogen levels may determine just how vibrant and intense the blue diamond's color is displayed. Lower levels of nitrogen plus high levels of boron probably result in the deepest blue diamonds.

Where Do Blue Diamonds Come From?
Like other diamonds, blue diamonds are found in mines. They have been discovered in different mines around the world including those in India, South Africa and western Australia. Some believe that blue diamonds are formed in the lower part of the Earth's mantle, which distinguishes them from diamonds of other colors. Some also think that the boron present in them comes from serpentinite that falls down to the mantle due to subducting ocean tectonic plates. Serpentinite is a rock composed of one or more serpentine group minerals.

What Determines the Price of a Blue Diamond?
Just like with other diamonds, the price of a blue diamond is generally determined by the famous four C's: color, clarity, cut and carat. But unlike with other diamonds, the value of a blue diamond is most determined by just how blue the color of the diamond is. However, clarity is another exceptionally important factor when it comes to these stones. Although no known blue diamonds have a flawless clarity grading of F, there are some stones in existence with a grading of Internally Flawless (IF).
Let's take a slightly closer look at a few of these factors.

Diamond Color
Diamond color has several different attributes, and this holds true for blue diamonds as well. The hue of a diamond can have both primary and secondary hues. Clearly, the primary hue of a blue diamond is blue, but secondary hues can include gray or green. But the most valuable blue diamonds only have the blue hue, with no secondary hues present. The deeper the blue, the more valuable the stone is likely to be.

However, there are instances when a pure blue diamond may be less valuable than diamonds with secondary colors present. That may occur when the blue hue is very light compared with a deeper colored stone that has secondary hues present.

Diamond Clarity
Clarity on it's own does not tend to influence the price of a blue diamond. However, diamonds with the bluest hue are most often the clearest. For that reason, exceptionally clear diamonds, which also tend to be very deep blue, are going to be the most valuable stones in the blue diamond market.

Real Versus Artificial Blue Diamonds
Genuine blue diamonds are found in nature, in mines. They are not created in a lab. That said, there are artificial, lab created blue diamonds as well. These are far less valuable than their naturally mined counterparts.

Blue diamonds have captured the world's attention time and time again. They are quite rare and each is unique in terms of hue, clarity, carat weight and value. Shortly following the auction of the famous Blue Moon diamond, we decided to take a look back at the most famous, coveted blue diamonds in the world. Just a warning, it may be hard to go back to colorless diamonds!
Here are the 10 most expensive blue diamonds:
1. The Hope Diamond
45.52 carats, Fancy-Dark Grayish-Blue, VS1

It's one of the most famous diamonds in the world and one of a kind. When it was donated to the Smithsonian by Harry Winston in 1958, he sent it via Registered Mail. Obviously priceless but often given a value of $250 million.



Read more about the Hope Diamond


2. The Heart of Eternity
27.64 carats, Fancy Vivid Blue
The Heart of Eternity was discovered in the Premier Diamond Mine in South Africa and cut by the Steinmetz Group for De Beers. The gem was unveiled in January 2000 as part of the De Beers Millennium Jewels collection at London's Millennium Dome and was later shown at the Smithsonian. In a private collection, if it were offered at auction, the estimate would be more than $3 million per carat, or $80 million.



Read more about the Heart of Eternity


3. Wittelsbach-Graff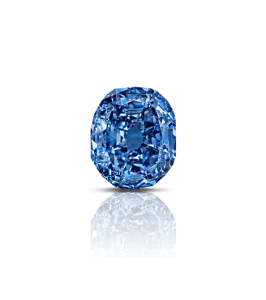 31.06 carats, Fancy Deep-Blue, Internally Flawless

A diamond with a history as rich as the Hope, The Wittelsbach was mounted on the crown of the King of Bavaria until 1918. The large blue diamond broke records when Graff bought it for $23.4 million in 2008. He promptly recut it from 35.56 carats to improve its brilliance and color. That price now looks like a bargain. Today, we'd put an estimate of $80 million.




4. The Imperial Blue
39.31 carats, Fancy Deep Blue, Flawless

Acquired by Graff in 1984, the Imperial Blue is the world's largest known Flawless Fancy Deep Blue Diamond. What it lacks in provenance and color intensity, it makes up for in size. At $2 million per carat, it would command a reserve price of $79 million.
5. The Blue Heart
30.62 carats, Fancy Deep Blue, VS2
Found in the Premier Mine in 1908. After several owners, Marjorie Merriweather Post purchased the ring from Harry Winston in 1960 and donated the stone to the Smithsonian in 1964. The diamond is sometimes referred to as the "Eugenie Blue," but there is no evidence that the Empress ever owned it. Based on recent blue diamond record prices, a value of $61 million seems quite conservative.
6. Blue Moon
12.03-carats, Fancy Vivid Blue, internally flawless
The Blue Moon is the most expensive diamond sold at auction, selling for a record price of $48 million, or $4 million per carat at Sotheby's on November 11, 2015. This record-setting gem is a brighter, smaller version of the Hope, with a cushion shape and a riveting presence. It shares something else with the Hope: it displays strong red phosphorescence after exposure to ultraviolet light.


7. Mouawad Blue
42.52 carats, pear-shaped, fancy blue
Originally known as the Tereschenko Diamond, the pear-shaped diamond was purchased by Robert Mouawad for $4.6 million at Christie's Geneva sale in November 1984, at the time the highest price ever paid for a diamond at auction. It would receive an auction estimate for more than ten times that price today.


8. Zoe Diamond
9.75 carats, Fancy Vivid Blue, $32.6 million, 2014
The Zoe Diamond held the record price-per-carat for a diamond for a year. From the collection of Mrs. Paul Mellon, the pear-shaped gem sold at Sotheby's New York for more than $32.6 million in November 2014, shattering its high estimate of $15 million and setting record price for a blue diamond. That's more than $3.3 million per carat, making it a world auction price-per-carat record for any diamond at the time.
9. The Idol's Eye
70.21 carats, Fancy Light Blue
Once owned by Abdul Hamid II, the 34th Sultan of the Ottoman Empire. Purchased and sold by both Harry Winston and Laurence Graff, it starred in many ad campaigns for both brands. In private hands, its value is also a mystery. Although its color is light, its size is impressive so auction estimates would begin at $30 million.
10. The Winston Blue
13.22 carats, Fancy-Vivid Blue, Internally Flawless

Although this perfect pear is fancy vivid blue. internally flawless, and 13 carats in size just like the Blue Moon diamond, it is less saturated in color, showing the individuality of fancy blue diamonds: each has its own hue and personality. The Blue sold to Harry Winston at Christies on May 15, 2014 for $24 million.


//= get_template_directory_uri() ?> //= get_template_directory_uri() ?> //= get_template_directory_uri() ?> //= get_template_directory_uri() ?> //= get_template_directory_uri() ?> //= get_template_directory_uri() ?>
©2011-2023 Worthy, Inc. All rights reserved.
Worthy, Inc. operates from 25 West 45th St., 2nd Floor, New York, NY 10036