Beyond the Round Cut: Unique Diamond Shapes
Here at Worthy, we've auctioned hundreds of diamond rings, and we've seen many different diamond shapes. While Round and Princess cut diamonds make for timeless ring designs, other shapes like Marquise or Cushion cut are the perfect choice when distinction is what you're aiming for.
There are many alternatives when it comes to diamond shapes. Here's a list of some of our favorites. Look beyond the round cut and choose the shape that best fits your style and personality!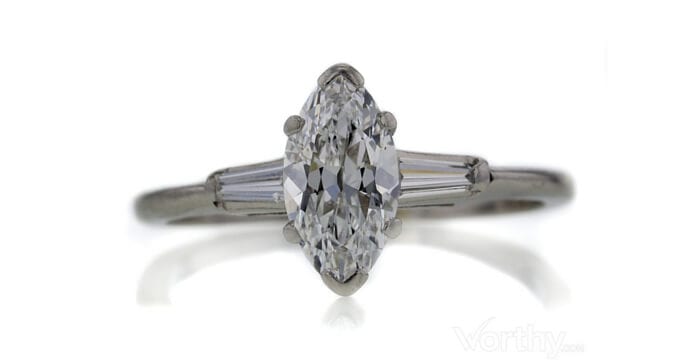 Marquise Cut
Marked by romance since its origins, this cut was first created when King Louis XV of France ordered to fashion a diamond resembling the perfect mouth of his royal mistress, the Marquise of Pompadour. Marquise cut diamonds feature a curved, long shape with narrow ends that creates an effect of svelter fingers on their lucky wearers. The long shape also maximizes perceived diamond size, making it one of the preferred cuts to show off a big stone. Highly graded Marquise cut diamond rings can reach sky-high bids at auction, like this 2.19 CT Solitaire Ring that was auctioned for $11,610!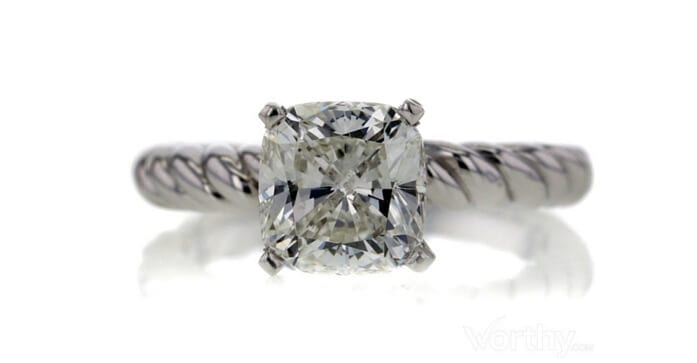 Cushion Cut
One of the "Old World Diamonds", Cushion cut was around before brilliant cuts were invented. Very similar to Old-Mine cut, the pillow-shape cut is known for highlighting clarity and brilliance due to the rounded corners and larger facets. Cushion cut diamonds can be found in either square or rectangular shapes. This almost 200 years old cut is perfect for vintage style lovers. Many Cushion cut diamond rings have arrived at our online auction house and here's one of our favorites.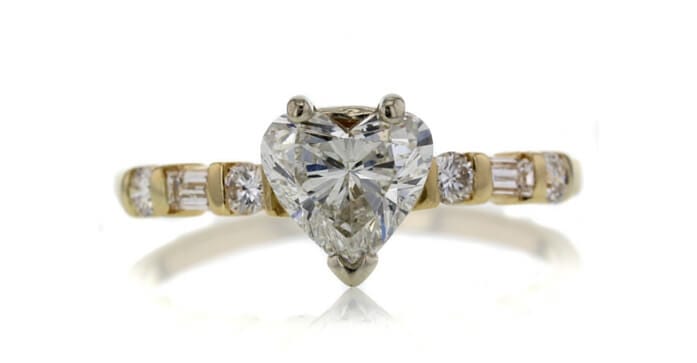 Heart Cut
True symbols of love, Heart cut diamonds are used in engagement pendants and -less frequently- engagement rings. Heart cut diamonds are especially valuable when the overall quality of the diamond is high. A particularly important attribute for Heart cut diamonds is symmetry, which needs to be excellent. Heart shaped diamonds really make the cutter's virtue stand out. This beautiful Heart cut solitaire ring was recently auctioned at Worthy. And we ♥ it!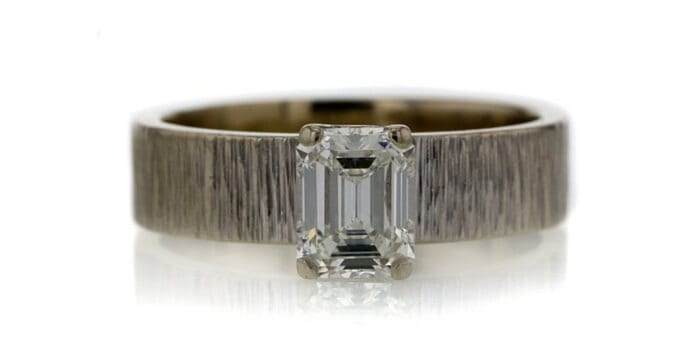 Emerald Cut
Some of the world's most famous engagement rings -like Grace Kelly's legendary Cartier 10.47 CT sparkler- display Emerald cut diamonds. This shape was originally created for its homonymous green precious gemstone, but it is largely used in diamond jewelry. Emerald cut diamonds stand out due to the step cuts of its pavilion and its large open table. The effect produced by this shape is different than the brilliant cut sparkle: it creates a hall-of-mirrors effect. There's no doubt that Emerald cut diamonds are a synonym of sophistication. Check out this 1.00 CT Emerald cut solitaire ring recently auctioned at Worthy.
Pear Cut
A well cut Pear shaped diamond is very hard to find. That's why, whenever a Pear cut diamond ring gets to our online auction platform, it doesn't go unnoticed. Some examples of recently sold Pear cut diamond rings are this GIA 2.51 CT Pear Cut Bridal Set ring sold for $8,797 and this tremendous 4.37 CT Pear Cut Solitaire ring sold for $46,125! This shape shows off diamond color more than other cuts, and thus requires excellent or very good symmetry. Like Marquise cut, Pear shapes make fingers look long and slim, making for an elegant look.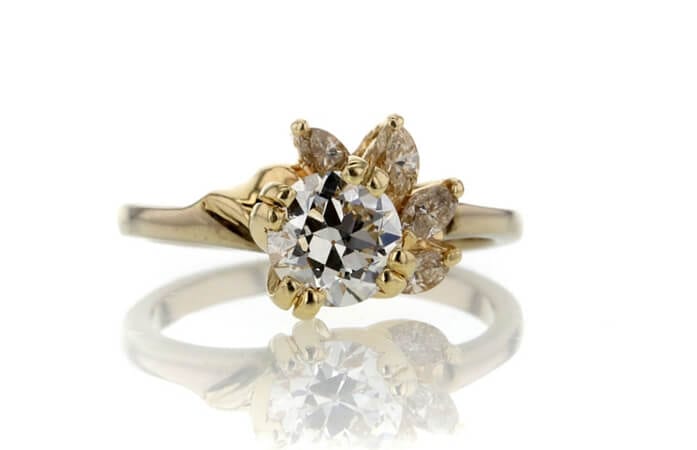 Old European Cut
As we read in this recent article by David Federman, Old European cut is slowly making a comeback. Present mostly in antique engagement rings, Old European cut is a vintage shape that has a lot to offer in terms of fire (or as called by gemologists, dispersion). This shape is considered the precursor of modern Round cut, but it features a smaller table, heavier crown, and a great overall depth. Old European cut diamonds make for delicate vintage designs like this floral ring recently auctioned at Worthy.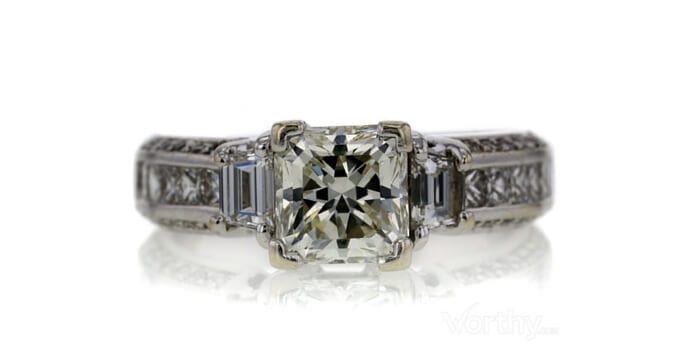 Radiant Cut
First popular in the 80's, this relatively new cut features a cuboid shaped diamond with trimmed corners. Halfway between a Cushion and a Princess cut, Radiant cut looks beautiful set both with rounded or square cornered diamond. Like this GIA 1.82 CT Radiant cut bridal set ring auctioned at Worthy, which combines a central Radiant cut diamond with several badges of Princess, Trapezoid, and Round cut minor stones. This stunning shape is used for both engagement or wedding rings, and fine jewelry in general.

This is just a short selection of diamond shapes. But when it comes to diamond jewelry, the possibilities are endless! Find a shape and setting that fits best your personality. And if your current diamond ring doesn't fit your style anymore or it lost its emotional value, it's time to upgrade it!

If you are looking to sell your diamond ring, we can help you get more with free shipping, a complimentary grading, and professional photos. We put in the work to bring you the right buyers.
//= get_template_directory_uri() ?> //= get_template_directory_uri() ?> //= get_template_directory_uri() ?> //= get_template_directory_uri() ?> //= get_template_directory_uri() ?> //= get_template_directory_uri() ?>
©2011-2023 Worthy, Inc. All rights reserved.
Worthy, Inc. operates from 25 West 45th St., 2nd Floor, New York, NY 10036