Golden Globes 2018 Best Jewelry Looks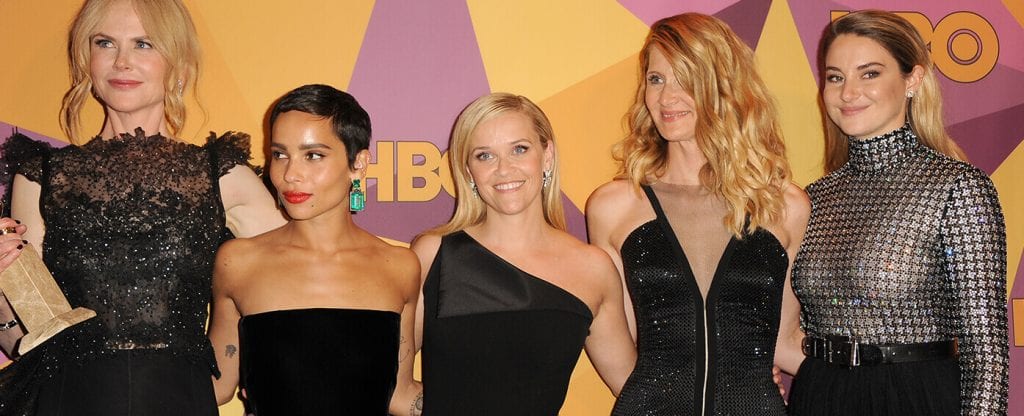 Nicole Kidman, Zoe Kravitz, Reese Witherspoon, Laura Dern, and Shailene Woodley at the HBO's Official Golden Globe Awards After Party held at the Circa 55 in Beverly Hills, USA on January 7, 2018.
2018 saw some of the best Golden Globes jewelry ever, thanks to a focus on gemstones. With actresses opting for bold, statement pieces to accentuate this year's black dresses and showcase their personalities, incredible emeralds, opals, diamonds, and sapphires sparkled in 2018's red carpet jewelry.
Forevermark Diamonds for Many including Angelina Jolie, Allison Williams, and Alexis Bledel
Stunning 12.50 ctw pear-shaped diamond drop earrings by Forevermark accentuated completed Angelina Jolie's simple ensemble, lending a look of old-Hollywood elegance and framing her face beautifully. She also wore a Forevermark by Pluczenik Integre Opulence Ring with diamonds totaling 3.65 carats, set in white gold.
Embed from Getty Images
Allison Williams Forevermark ensemble consisted of 62 carats total: She chose a Forevermark Five Row Diamond Choker, a Forevermark by Natalie K Oval Cluster Diamond Ring, and a pair of Forevermark by Rahaminov Cusion Eternity Bands.
A Forevermark cluster shield ring and Alchemy Round Diamond Short Drop Earrings were just the beginning for Alexis Bledel. The Handmaid's Tale star accented her stunning Oscar de la Renta jumpsuit with a Forevermark by Natalie K Swirl Fashion Band and a Forevermark x Jade Trau Alchemy Round Diamond Line Bracelet.
Many others made Forevermark their choice as Golden Globes red carpet jewelry: The company has a strong history of supporting women, and of creating opportunities for women living in the countries that produce its diamonds.
Helen Mirren and Viola Davis Sparkle in Harry Winston Diamonds
Viola Davis and Helen Mirren took to the stage together, presenting the night's first Golden Globes Award. Both actresses sparkled in Harry Winston Diamonds, with Mirren opting for a simpler strand and matching earrings. Viola Davis wore 120 carats of diamonds in all, with a very simple Brandon Maxwell dress that allowed the necklace to take the spotlight. Her Golden Globes jewelry ensemble, all set in platinum, included the Harry Winston "Secret Combination" diamond necklace, a "Traffic" diamond ring, and simple, round brilliant stud earrings. Nearly as stunning as Viola Davis herself, this playful set was among the best Golden Globes jewelry looks of the evening.
Unique Diamond Jewelry for Mary J. Blige, Greta Gerwig, Alison Brie, and Kate Hudson
Mary J. Blige sparkled from head to toe in a custom Alberta Ferretti black gown with stunning metallic accents covering the sleeve and train. Her asymmetrical dress served as the perfect accompaniment to pear-shaped diamond earrings, a 5.01 carat round brilliant-cut diamond ring, and a 50.34-carat diamond bracelet from Chopard's High Jewelry Collection. The Mudbound star also wore a diamond and white gold ring from Chopard's L'Heure D Diamont Collection.
Director Greta Gergwig made a statement in an archival gold and diamond statement necklace from Tiffany & Co. Alison Brie shone in a necklace from Bulgari's "Le Magnifiche" collection: While it offered a more traditional look than the necklace worn by Viola Davis, it contained approximately 80 carats in diamonds.
Kate Hudson's Golden Globes jewelry consisted of a pair of sparkling star earrings and a 30.01-carat Harry Winston Secret Wonder diamond, aquamarine, and sapphire necklace set in platinum.
Statement Earrings for Gal Gadot, Laurie Metcalf, Maggie Gyllenhaal, and Isabelle Huppert
Many actresses opted for statement earrings: Gal Gadot wore diamond chandelier earrings by none other than Tiffany & Co. Statement pearl earrings offset Maggie Gyllenhaal's sequined Monse jumpsuit. Isabelle Huppert presented in bold emerald, diamond, and titanium statement earrings from Chopard's "High Jewelry Collection," accented by four stacked diamond and white gold rings from the designer's "L'Heure Du Diamant Collection."
Jessica Chastain stunned in Piaget's Limelight Rose Passion earrings, which contain a total of 228 dazzling diamonds. Saoirse Ronan wore statement sapphire and diamond drop earrings from Cartier, while Lady Bird co-star Laurie Metcalf celebrated her Golden Globes win in an exquisite pair of black opal earrings by Lorraine Schwartz. Octavia Spencer wore custom turquoise and diamond earrings by Irene Neuwirth.
Emeralds for Issa Rae, Zoe Kravitz, Catherine Zeta-Jones, Ashley Judd, and Debra Messing
Emeralds accentuated many Golden Globes red carpet jewelry looks for 2018, signifying hope, renewal and growth. The green gemstone added an extra layer of symbolism to the already meaningful black outfits in support of the Time's Up initiative. Some top looks: Issa Rae looked amazing in $5.5 million in Lorraine Schwartz jewelry, including a show-stopping 100-carat diamond and platinum necklace that featured a 35-carat Colombian emerald at its heart.
Zoe Kravitz wore 105-carat Lorraine Schwartz emerald earrings set in black jade, along with a 25-carat emerald ring. Catherine Zeta-Jones chose $2.6 million in Lorraine Schwartz diamond-and-emerald jewelry, including a 10-carat pinky ring, a stunning 20-carat shield ring, and an astonishing pair of chandelier earrings. Debra Messing opted for a blackened platinum ring set with diamonds and a 40-carat emerald, with emerald earrings to match. Meanwhile, Ashley Judd sparkled in jewelry by Martin Katz: her ensemble included a cocktail ring with a 15.89-carat oval emerald, plus 11.59 carat emerald drop earrings, all accented with diamonds.
These are just some of the best Golden Globes celebrity jewelry looks. This year's awards were brimming with astonishing styles, making it difficult to choose favorites! Which red carpet jewelry looks caught your eye?
//= get_template_directory_uri() ?> //= get_template_directory_uri() ?> //= get_template_directory_uri() ?> //= get_template_directory_uri() ?> //= get_template_directory_uri() ?> //= get_template_directory_uri() ?>
©2011-2023 Worthy, Inc. All rights reserved.
Worthy, Inc. operates from 25 West 45th St., 2nd Floor, New York, NY 10036