Top 10 Auctions from June 2021 – Over-the-Top Pieces We Love!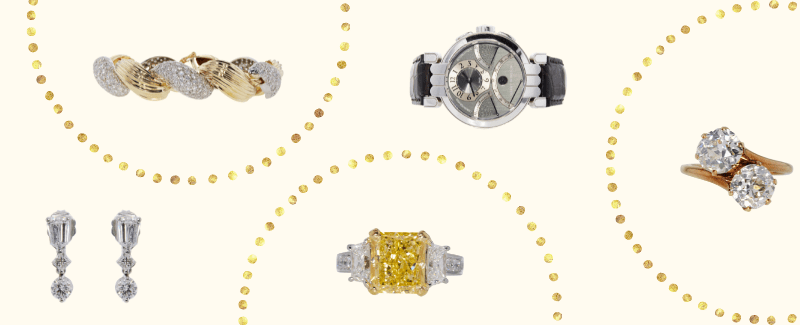 Our news feeds have been filled with articles about this post-COVID summer explosion of fun and we are here for it! We thought we'd celebrate the beginning of this season of celebration with 10 of our most recent and most over-the-top pieces from June's auctions.

While these super extra sparklers are certainly fun to look at, in a post-COVID world, is this really what we need? We often say that your jewelry should serve you and for some people, that means finding the perfect piece you can wear and enjoy every day. But for others, it means digging out those old rings, necklaces, and bracelets and selling them for what they're really worth so that you can use that money however you want! And for many of our June sellers, their pieces were just not doing it for them.

While a diamond pave necklace and bracelet set can be absolutely stunning (see #6 below), large jewelry like that isn't necessarily something you can throw on every day. But an extra $4K? Well, that certainly can be used every day or used to save up for a special occasion. Same goes for the Panthere de Cartier pendant (#4 below). Exquisite? Yes! Something to complete your WFH outfit? Not so much. Plus with an extra $6K you could invest in some luxury loungewear or really anything!

And if you find that your calendar is full of BBQs and beach days with nary a gala dinner in sight, maybe those diamond bracelets (#s 7 and 8 below) can be sold to buy something a little more 2021. There are plenty of things $3K can get you, whether you use it to pay off some debt and get some peace of mind or restyle your living room that you've been staring at for 18 months. The choice is yours!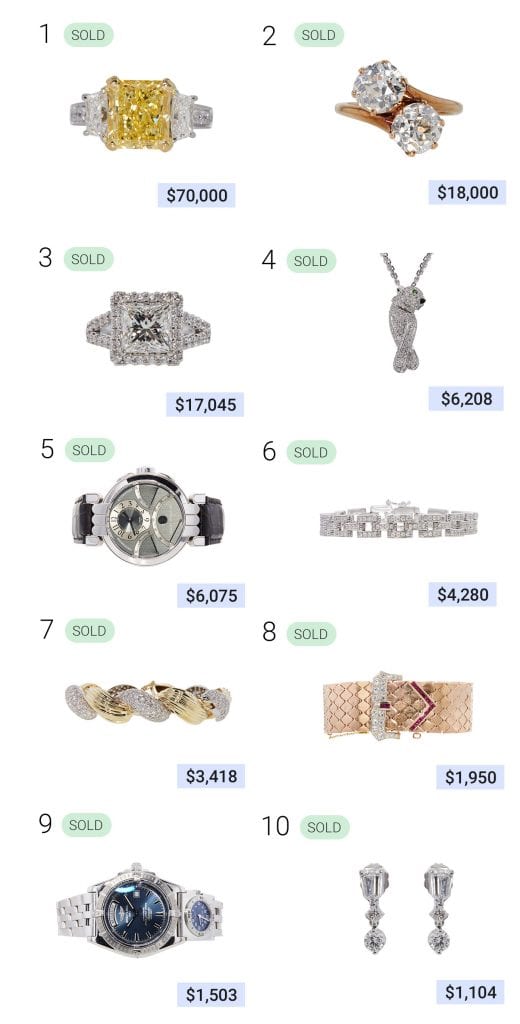 3.74 CT  Yellow Radiant-Cut Diamond 3 Stone Ring. Sold for $70,000.
2.14 and 2.46 CT Old Mine Cut Ring. Sold for $18,000.
3.01 CT Princess-Cut Halo Ring. Sold for $17,045.
Panthere de Cartier Diamond, Emerald and Onyx Pendant. Sold for $6,208. 
Harry Winston Premier Excenter Biretrograde 200-MCRA39W. Sold for $6,078.
Diamond Pave and White Gold Necklace & Bracelet Set. Sold for $4,280.
Gold and Round Cut Diamond Bracelet. Sold for $3,418. 
Art Deco Rose Gold Diamond & Ruby Link Bracelet. Sold for $1,950.
Breitling Headwind A45355. Sold for $1,503.
Bullet-Cut Diamond Drop Earrings. Sold for $1,104.
//= get_template_directory_uri() ?> //= get_template_directory_uri() ?> //= get_template_directory_uri() ?> //= get_template_directory_uri() ?> //= get_template_directory_uri() ?> //= get_template_directory_uri() ?>
©2011-2023 Worthy, Inc. All rights reserved.
Worthy, Inc. operates from 45 W 45th St, 4th Floor New York, NY 10036