Top 10 Featured Auctions in July 2019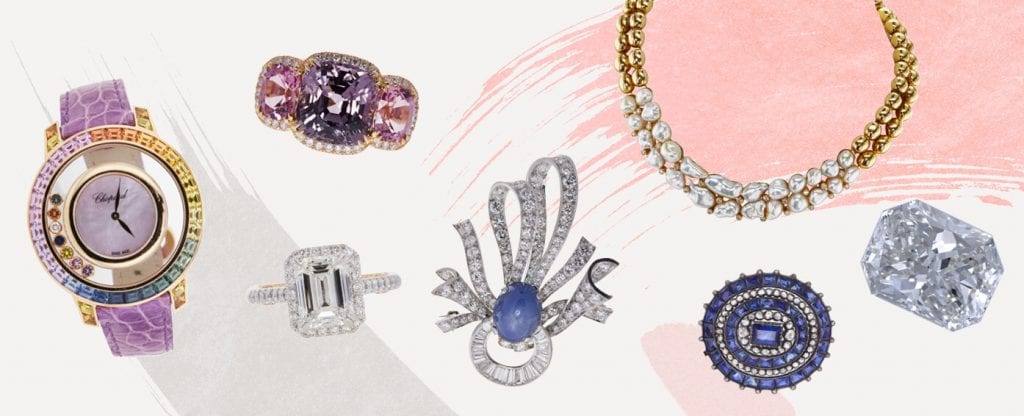 Color color everywhere! We had quite the rainbow of items coming into our auctions this past month. From beautiful purple and pink spinels to a dazzling spiral of blue sapphires, our favorite pieces featured the most beautiful hues. Let's have a look.
Watch Extremes
Some like it flashy and some like it… plain. And nowhere is this more evident than when comparing the two watches we loved this month. The Chopard Happy Diamond Icon watch with multi-colored sapphires (#2) is a flashy dreamboat of a timepiece, and no aspect of the watch is without color, from the magenta leather strap to the purple pearl dial. The black and white Hublot Big-Band (#7), however, is the opposite, with a design favoring the minimalistic and monochromatic.
The Glitz And Glamour of Gemstones
Color has been creeping into our auctions the past few months and reached it's peak this month, with two beautiful gemstone rings. The three-stone spinel ring (#1) caught our eye, with it's fabulous pink and purple hues encased in a diamond halo and set in a gold ring. Another spectacular piece the antique sapphire and rose-cut diamond brooch (#10) that features a bold concentric circle design.
Of course, large and colorful pieces don't fit every lifestyle or fashion style. And if these pieces remind the wearers of a less-than-favorite time, like a bad relationship, all the more reason to get rid of it. If you've got your eye on a new piece of ice or simply want some extra cash to have around, sell your jewelry the smart way with Worthy.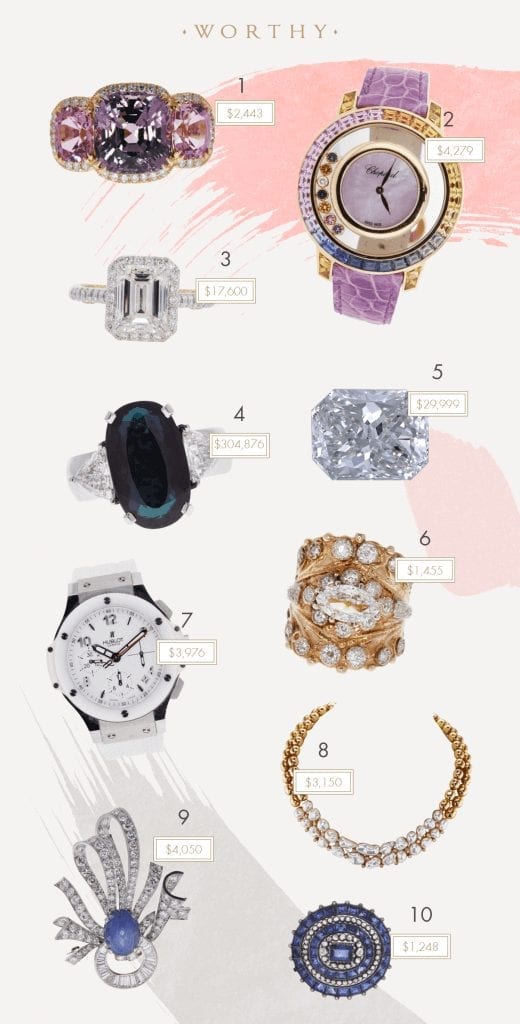 Top 10 Featured Auctions In July 2019
//= get_template_directory_uri() ?> //= get_template_directory_uri() ?> //= get_template_directory_uri() ?> //= get_template_directory_uri() ?> //= get_template_directory_uri() ?> //= get_template_directory_uri() ?>
©2011-2023 Worthy, Inc. All rights reserved.
Worthy, Inc. operates from 45 W 45th St, 4th Floor New York, NY 10036