Jewelry Insurance Cost – What Your Unworn Jewelry is Costing You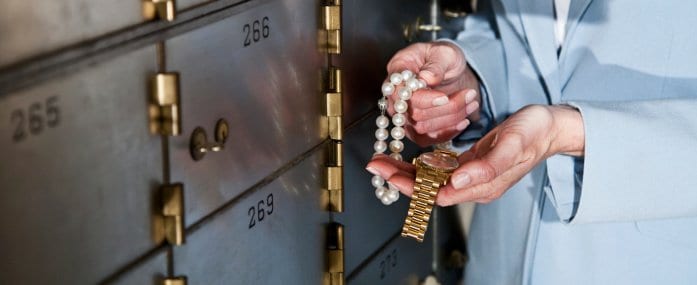 At first, jewelry passed down by inheritance or gift is filled with possibilities. You may wonder how you can show off your new necklace, ring, or broach, and what dresses it will look good with them. Perhaps you even think about how you can repurpose them into more modern looking pieces.
It doesn't take too long, though, for reality to set in. Unless you're willing to risk the loss of thousands of dollars of family heirlooms, every piece needs to be insured. That's where things get complicated and expensive.
The bite of high insurance premiums
Coverage for jewelry under a typical homeowner's or renter's insurance policy is limited to a specific amount, often between $1,000 and $2,000, and that usually applies only to limited circumstances outlined in the policy. That small amount also covers the entire claim, not each separate item.
To get coverage beyond those limits you'll need to get special jewelry insurance added to your homeowner's policy, which usually requires a written appraisal for each item to establish value. On average, insurance premiums cost between 1 percent and 2 percent of appraised value each year. So expect to pay between $250 and $500 a year for $25,000 of appraised value, and between $500 and $1,000 a year for $50,000 worth of jewelry. Those amounts don't include the cost of updating appraisals every few years, which many policies require.
If inherited jewelry means a lot to you and you plan to wear it often, insurance premiums are a worthwhile and necessary expenditure. But when a sentimental value has faded and valuable jewelry is just collecting dust in a box, those premiums could be taking a decent-sized bite out your budget.
Money saved, money earned
What could you do if you didn't have to pay an extra $1,000 a year in insurance? Here are a few ideas:
Save for retirement. With a Roth IRA you don't pay income taxes on earnings in your account, and withdrawals of contributions are always tax-free. After age 59 1/2, there are no taxes or penalties on the entire withdrawal, including account earnings, as long as you've had the account for at least five years. If you contribute $1,000 a year to such a plan for 20 years, and earn a 7 percent annual return, the account will grow to $43,865 after 20 years.
Start a college fund. A 529 college savings plan gives you tax-deferred growth, and withdrawals are also tax-free if they're used for qualified education expenses. If you open set up such a plan for the benefit of a 1-year old grandchild who will start college at age 18, a $1,000 annual contribution earning an average of 7 percent a year will grow to $37,713 by the time college starts. If costs rise by 5 percent a year, that amount will cover about one-third the cost of a four-year public college.
Spruce up your home. Using the money for updating and renovating your home will make it a much nicer place to live in, and chances are it will also increase resale value. The amount you recoup when you sell your home depends on region, neighborhood, and other factors. In New England, you'll get back an average of 59 percent of your costs for mid-range kitchen remodel and 70 percent for a bathroom remodel when you sell your home, according to Remodeling Magazine. Even smaller fixes, like new kitchen appliances, make your place look better to potential buyers.
Start a business. Maybe you've always dreamed about starting a business. The $1,000 a year you don't spend on jewelry insurance will certainly go a long way toward achieving that goal.
Go on vacation. If you've already done one or more of the above and want to treat yourself, go ahead and book that flight. Enrich yourself instead of the insurance company.
Selling jewelry: the best money saver
The best way not to pay hundreds or thousands of dollars for jewelry insurance premiums each year is not to have unused jewelry sitting around collecting dust in the first place. That's where Worthy comes in. By providing a secure, transparent marketplace Worthy turns dusty, unwanted jewelry into money that can be used to fund practical things, like a retirement savings account, or discretionary purchases, like a trip to Tahiti. And insurance costs, as well as worries about theft or loss, become a thing of the past.
//= get_template_directory_uri() ?> //= get_template_directory_uri() ?> //= get_template_directory_uri() ?> //= get_template_directory_uri() ?> //= get_template_directory_uri() ?> //= get_template_directory_uri() ?>
©2011-2023 Worthy, Inc. All rights reserved.
Worthy, Inc. operates from 25 West 45th St., 2nd Floor, New York, NY 10036