The Noteworthy Series: Audemars Piguet Royal Oak Review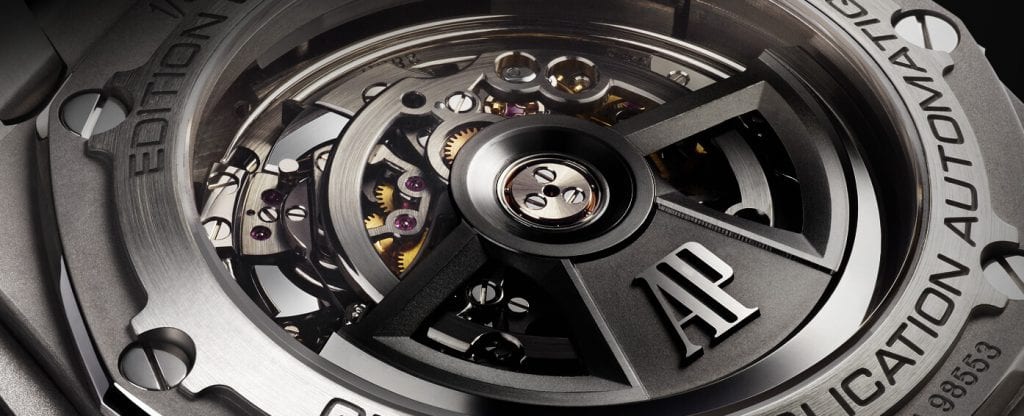 Since its official founding in 1881, Audemars Piguet has been manufacturing some of the world's finest timepieces. Childhood friends Jules Louis Audemars and Edward Auguste Piguet formed a partnership in 1875, as both were watchmakers. Audemars was famous for movements that went into some early Tiffany watches, among others, and Piguet was a specialist in the fine art of regulating watch movements. With a history that includes more than 100 years of innovation, Audemars Piguet has claimed several patents and release many notable watches. Of these, the Royal Oak is among the most popular.
Audemars Piguet Royal Oak Review & History
The Royal Oak was first introduced in 1972 at Baselworld. Designed by none other than Gerald Genta, who is also credited with designing the Patek Philippe Nautilus, the Audemars Piguet Royal Oak was one of the world's first luxury sports watches. Incredibly, Gerald Genta developed this design overnight!
The Royal Oak name and the watch's unique, octagonal bezel are in honor of a series of 8 of Britain's Royal Navy ships. These ships got their name from an ancient hollow oak tree nicknamed the Royal Oak, which King Charles II hid in while evading the Roundheads after 1651's Battle of Worcester. Knowing this story makes this watch even more fascinating!
The Royal Oak's name isn't the only nod to nautical lore. The original stainless steel design was inspired by vintage metal dive helmets, with exposed screws, a somewhat bulky profile for the period, and a unique case that reveals its provenance via an exposed water resistance gasket certified to a depth of 150 feet. The original 1972 Royal Oak design featured a blue petit tapisserie motif, along with a comfortable, streamlined integrated bracelet instead of a leather strap.
The Original Royal Oak used a self-winding Calibre 2121 movement. This movement is based on Audemars Piguet Calibre 2120, and it is still used in the Royal Oak Jumbo (ref. 15202).
At an introductory price of 3300 Swiss Francs (more than a gold Patek Philippe dress watch and ten times the price of a 1972 Rolex Submariner), the original Royal Oak personified haute horology at its finest!
For its time, the Royal Oak ref. 5402 was considered quite revolutionary. In fact, there were more than a few critics who wondered if this design would stand the test of time. As it turns out, the Royal Oak is one of Audemars Piguet's most iconic designs – and it's one of the world's most recognizable watches.
Over time, Audemars Piguet introduced Royal Oak watches in different finishes, and ladies Royal Oak models made quite a splash when they were first offered, as well. Different options such as a date feature, chronometer, perpetual calendar, moon phase, and more.
In honor of the Royal Oak's 20-year anniversary, designer Emmanuel Gueit was hired to create something new: The Royal Oak Offshore. This watch, introduced in 1993, featured a 42mm case in place of the traditional 39mm case. Gerald Genta didn't like the new design at all, however it was successful and is still sought after.
The 30th Anniversary Royal Oak Concept introduced in 2002 is a fascinating "lab watch" that's quite a departure from the classic design. 2010 saw the introduction of the Royal Oak Equation of Time, which features four high complications and a moon phase. The 2012 Audemars Piguet Royal Oak 40th anniversary edition is an updated ref. 15202, which offers features that are almost identical to the original design, right down to the petit tapisserie dial pattern.
Today, Audemars Piguet offers a wide range of Royal Oak watches including 44mm tourbillon chronograph designs, Grande Complication models, and much more including lots of limited edition models.
Audemars Piguet Royal Oak Watches Noteworthy Owners
Remember Greys Anatomy? Star Patrick Dempsey is known for his love of the Audemars Piguet Royal Oak Offshore watch in stainless steel. Canadian hockey great Mike Comrie likes this watch, and so does Arnold Schwarzenegger.
LeBron James has been spotted in a Royal Oak Offshore Volcano watch, which is harder to come by than some other models. Pro golfer Anthony Kim loves the sporty look of Royal Oak watches as well, but chose a lighter color combination for his timepiece.
Producer Stephen Belafonte has been spotted wearing a Royal Oak with a black strap, a gold case, and a white dial. Shawn Corey Carter likes the Audemars Piguet Royal Oak Offshore, and so does Usher, who has been spotted rocking his limited-edition Royal Oak Offshore T3 watch with a super-sharp 3-piece suit.
How to Spot a Fake Audemars Piguet Royal Oak
If you're hoping to buy a pre-owned Audemars Piguet Royal Oak watch, keep a sharp eye out for fakes! Faux Royal Oak watches are a dime a dozen, and some of them are quite convincing – so much so, that even an expert horologist must take these watches apart and inspect their components to determine provenance.
As you can see from our extensive list of Royal Oak reference numbers, there are lots of different models out there, and it's impossible to come up with a group of definitive features to help you tell a real Royal Oak watch from a counterfeit. With this caveat in mind, here are some things to watch out for when attempting to determine whether you're looking at the real thing:
Priced far below fair market value

Lacks authenticity certificate

Obvious finish flaws or a look that fails to convey "quality"

Seller is someone you never heard of, or the website is a close match to a trusted one but with misspellings, plus with different URLs that look similar to those of trusted sites. Counterfeiters copy web sites so double-check to ensure authenticity!

Low-quality components
Since counterfeiting equipment is more technically advanced than ever before, the likelihood that you'll encounter a fake Royal Oak is higher than in past decades. Counterfeiters attempt to mimic every feature on popular watch models, but they often fail to get things like weight, thickness, and dial details right. If you're looking at a watch in person, be sure to protect yourself by getting an expert opinion before you make an offer. An honest seller will be happy to help you with the authentication process. When shopping online, be sure to purchase only from Audemars Piguet, or from after-market specialty sites such as Worthy, where you'll find certified Royal Oak watches that have been fully authenticated by an expert who is familiar with Audemars Piguet watches.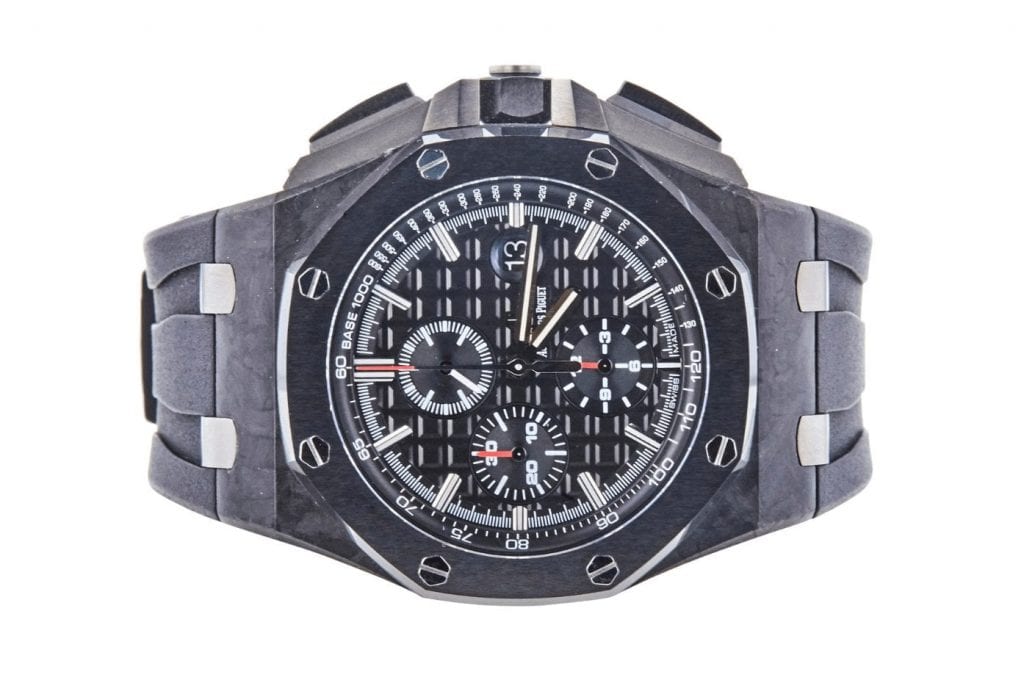 Estimated Value of Audemars Piguet Royal Oak Watches
The current retail (MSRP) price of an Audemars Piguet Royal Oak Watch varies, with $50,500 being about mid-range. Some current prices are only available on request from Audemars Piguet.
Pre-owned Audemars Piguet Royal Oak watches tend to hold their value extremely well, depending on factors that range from rarity to condition, and of course, depending on the current market value for the watch in question. When accompanied by authenticating paperwork and presented in the original box, a Royal Oak watch is typically of greater value than the same model minus these so-called extras. For example, an Audemars Piguet Royal Oak Offshore fetched well over $20,500 at a Worthy auction.
If you own an Audemars Piguet Royal Oak watch (any reference number) and would consider selling it, we can answer your questions about pricing and more while targeting qualified, financially capable buyers who eagerly pay fair market value so that you receive the best possible price for your valuable timepiece.
//= get_template_directory_uri() ?> //= get_template_directory_uri() ?> //= get_template_directory_uri() ?> //= get_template_directory_uri() ?> //= get_template_directory_uri() ?> //= get_template_directory_uri() ?>
©2011-2023 Worthy, Inc. All rights reserved.
Worthy, Inc. operates from 25 West 45th St., 2nd Floor, New York, NY 10036