The Noteworthy Series: Breitling Chronomat Review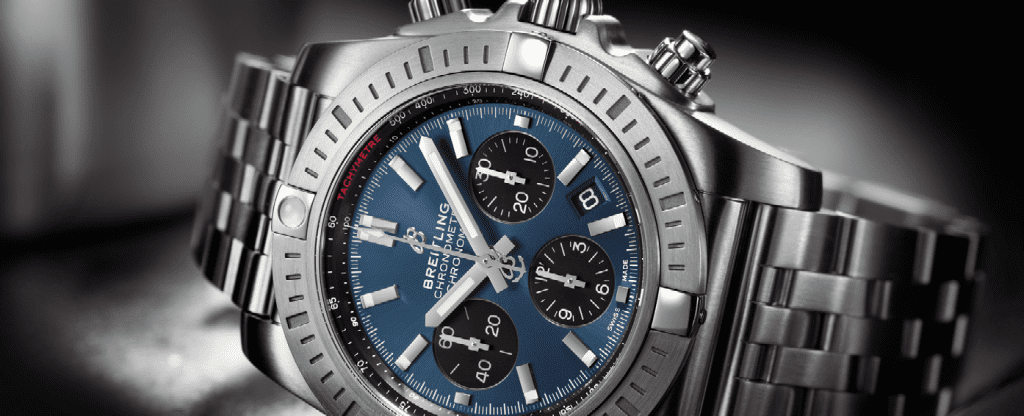 Breitling is famous for its chronographs – in fact, the company played a vital role in developing the technical components that make this complication possible. Not only did Breitling's experts invent vital chronograph technology, they introduced the very first self-winding chronograph, way back in 1969. Believe it or not, the Chronomat was released even earlier: Introduced in 1941, it is one of the most popular – and best-selling – watches Breitling has to offer.
Breitling Chronomat History
The very first Breitling Chronomat was developed in 1940, when the company was able to obtain a patent for its design. Originally offered as Breitling reference 769, the original Chronomat featured a time display, a chronograph function, and a fascinating integrated slide rule that, along with the watch's rotating bezel, allowed users to perform calculations.
The original Chronomat slide rule featured two different scales: The outer one read anticlockwise, while the inner read clockwise. This was an important distinction between the 1941 Breitling Chronomat and its competitors.
Breitling's Venus 175 movement powered the first Chronomat watch. With 17 jewels, it was wound manually. 1941 Chronomat watches were available in steel and 18k rose gold.
In 1952, the Breitling Chronomat evolved with the release of the Navitimer, a pilot watch which was worn during Scott Carpenter's journey into space. Like the original Chronomat, the Navitimer has been updated throughout the decades and it remains one of Breitling's most desirable watches.
Over the decades, Breitling has produced many different versions of the Chronomat. Notable milestones include the release of the first automatic chronograph watch in 1969, and the introduction of the first quartz Chronomat during the 1970s.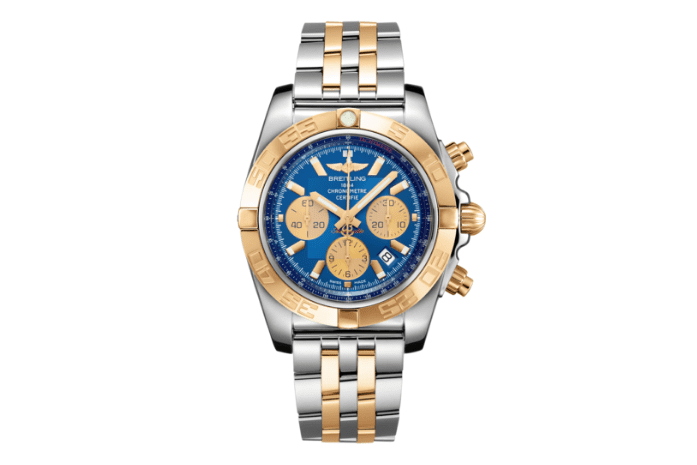 Turbulent times resulted in the Breitling company being offered up for sale in 1978; during that period, production came to a halt. Ernest Schneider bought Breitling in 1979 and by 1980, the company was once again producing fine Swiss watches.
In 1984, a brand-new version of the Breitling Chronomat was introduced under reference number 81950. Marketed as a pilot's watch – no surprise as it was developed in collaboration with the Italian Air Force's aerobatic demonstration team – it still holds pride of place as one of the company's best sellers. Breitling ref. 81950 was offered through 1990, and models produced to date typically give a nod to its style details.
Many different Breitling Chronomat models have been introduced over the years. There are dozens of different styles, all are fitted with prominent bezels, which feature four rider tabs that were originally intended to make it easier for pilots to use their watches. Tachymeters, crown and chronograph pushers, and of course, the winged Breitling logo are prominent features on many of the Chronomat models that have been released since the watch was first introduced. All Breitling Chronomat watches are certified by COSC, the Official Swiss Chronometer Testing Institute.
How to Spot a Fake Breitling Chronomat
Because there are hundreds of different Breitling Chronomat models available with different case metals, straps, bracelets, and dials, it can be very difficult for the untrained eye to distinguish a faux Chronomat from the real thing. Counterfeiters have access to better technology than ever before, compounding the problem and heightening the importance of professional authentication.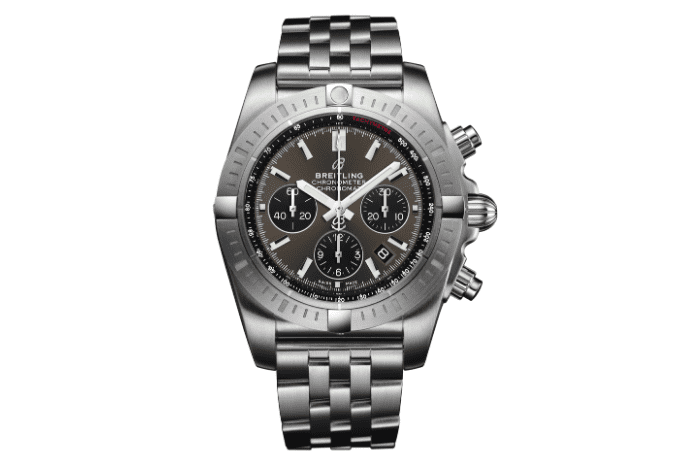 If you find yourself looking at a watch that's being presented as a Breitling Chronomat and you're not able to get to a reputable watch dealer for analysis, you'll want to run an online search for the watch in question and compare closely with photos, particularly since there are Swiss and/or French words and slogans on authentic Breitling watches. These are often misspelled on counterfeits. In general, here are a few common issues to look for:
Price is so low that it seems too good to be true
Seller is unable to produce authenticating paperwork or a presentation box
Watch feels either too heavy or too light for its size
There are obvious finish flaws
Breitling logo appears to be too large or has a "fuzzy" appearance
Numerals, letters, and indices appear to be stamped onto the metal or poorly engraved; many counterfeit watches have letters that appear to be pixelated or "fuzzy."
Strap or bracelet seems cheaply made
Complications are inoperable or seem to run poorly
Subdials display the date and/or month instead of featuring chronograph measurements
Test the crystal for glare by holding it up to a light source. Authentic Breitling watches have anti-glare coatings that greatly reduce glare. Any reflection you see should have a slightly blue tone.
It's important to note that this process won't eliminate all counterfeits as some are exceptionally convincing. The only method for confirming that a Breitling Chronomat is authentic is to have it authenticated by an expert who has the ability to open the case back to analyze the watch's internal components.
The best way to avoid an expensive mistake is to purchase your watch directly from Breitling, an authorized Breitling dealer, or a trusted source specializing in preowned luxury watches, such as Worthy. Our expert horologists are able to identify even the most convincing counterfeits; additionally, they're able to conduct thorough internal evaluations to confirm that the watch contains the correct movement and is functioning properly.
Estimated Value of Breitling Chronomat Watches
The current retail (MSRP) price of a Breitling Chronomat watch ranges from $8,720 to $13,420.
Pre-owned Breitling Chronomat watches tend to retain value very well, so long as they are in good to excellent condition. These watches are always in high demand, typically fetching thousands when offered at auction. Factors that determine value include age, rarity, materials, and of course, real-time market demand. The value of a pre-owned Breitling Chronomat is often better when authenticating materials including original box and sales paperwork are included.
If you own a Breitling Chronomat watch and wish to sell it we can help by eliminating the guesswork that's typically involved with selling a pre-owned luxury watch. Our process helps you get the best possible price by targeting interested, prequalified buyers who are actively searching for preowned Breitling Chronomat watches like yours.

//= get_template_directory_uri() ?> //= get_template_directory_uri() ?> //= get_template_directory_uri() ?> //= get_template_directory_uri() ?> //= get_template_directory_uri() ?> //= get_template_directory_uri() ?>
©2011-2023 Worthy, Inc. All rights reserved.
Worthy, Inc. operates from 25 West 45th St., 2nd Floor, New York, NY 10036