Summertime Fun with the Grandkids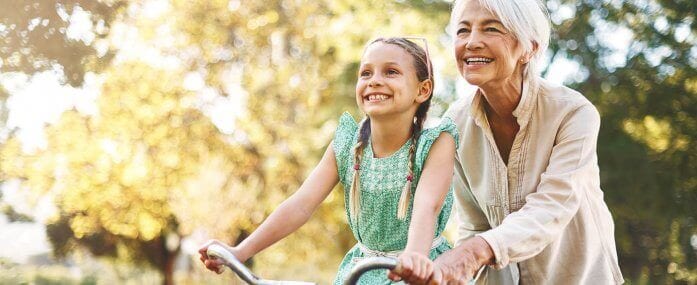 If you are looking for fun stuff to do with your grandkids, I am the gal to consult. All three of my children – and ten grandchildren – live within a five-mile radius of my house. Thus, I have lots of experience being with children who range in age from two to thirteen. Even if your grandkids live out of town, the ideas I present here will help with your precious time together because of my basic premise: A fun time doesn't happen magically, you have to actively create it. Please note that you can pick and choose among my ideas to create an hour of fun or a full day. That said, let me offer some pointers, all leading up to the pièce de résistance, every child's favorite dessert at my house.
A little bit of history: Through the years, I have claimed Mondays as a day of togetherness. Any grandchild who is not in school full time comes to my house from 9:30 until 4:00 for "Marmel School." ("Marmel" is my grandma name.) I have done this weekly for a dozen years. You can do this once – or once in a while. And if your loved ones live out of town, you can try this on a day when they are visiting.
When entertaining grandkids it is very easy to take them on a field trip. Beyond the fact that this gets expensive, it's my opinion that today's kids are over-scheduled and that it's a blessing to give them a day at home, so that's what I do. I run the day as a nursery school teacher would, with a set schedule. Especially if you do this more than once, the kids will love knowing what comes next, and you won't have to reinvent the wheel each time. Here are some elements to include:
Free Play
I start the day with free play while the kids are fresh and friendly. If siblings or cousins attend, this gives them practice in getting along. If you have toys, great. If not, look around the house with a new eye. Two blankets plus a dining room table can become a tent. A tub of old scarfs can be costumes or pretend laundry for a "mommy" to fold. A large carton? Wow! You've hit the jackpot! It can be transformed into a vehicle, not to mention the fact that it has so much area to decorate. For more ideas do a Google search: household items as toys.
Snack Time
I confess that I give the kids sugary snacks. Fruit Loops are a favorite in the morning. It's also fun to make "bugs on a log." The log is celery stuffed with cream cheese or peanut butter. The bugs are raisins added on top. With a plastic knife, this is a do-it-yourself project for kids.
Song Time
Children who are seven or younger enjoy singing. It is helpful to create a list of a dozen kids' songs. Print the titles out on paper so you will remember what comes next. Without such a cheat sheet, I am soon singing Motown instead of Mother Goose. Need a refresher on kids' songs? Try HooplaKidz. If you are not opposed to giving the kids screen time, they can sing along with the video. Want musical instruments to use with the songs? Small Tupperware containers filled with poker chips or pennies make great shakers.
Story Time
The public library can provide stacks of books for any age group. When preschoolers are present, we always read aloud. If there is a mix of ages, the older kids read to the younger ones. If there are only big kids, they read to themselves.
Craft Time
Craft time is always a highlight. If you know how to use Pinterest, it's a great place to find – and save – craft ideas. Whether hunting for ideas on Pinterest or Google, you can search by theme: such as 4th of July or dinosaur crafts; or you can search by art supplies on hand: such as paper plate or toilet paper roll crafts. I also get a lot of ideas from All Crafts Network. Finally, if you have an empty wall in your garage, turn it into a gallery to display the finished projects.
Lunch Time
OMG, they will be hungry again! – If it is overwhelming to think of fixing lunch, have the moms pack lunches or have pizza delivered. I offer three entrée choices, all from the freezer – chicken nuggets, Uncrustables (an already prepared PBJ sandwich), or bagels (with cream cheese). Carrot sticks and apple sauce round out the meal. Easy peasy!
Dessert!
As promised, here it is, the pièce de résistance, every child's favorite Marmel School dessert…the egg box! I give each child an egg carton that has twelve candies in it, one in each slot. Yes. It's over the top, but it will give kids twelve reasons to love your day together!
Outdoor Water Play Ends Our Day
Just giving kids a hose with a spray nozzle brings lots of joy. Big plastic tubs (like you use to chill soft drinks at a party) can be mini pools. Add paint brushes from your last remodeling job, kitchen sponges, and household spray bottles and let the fun begin. And don't forget water balloons! There's a new kind that allows you to fill – and knot – three dozen water balloons at a time!
Well, there you have it, a full day of Marmel School. Whether you borrow a couple of activities or use the whole day, I can guarantee two things: 1. You will be exhausted. (But that's temporary.) 2. The memories you create will last a lifetime!
//= get_template_directory_uri() ?> //= get_template_directory_uri() ?> //= get_template_directory_uri() ?> //= get_template_directory_uri() ?> //= get_template_directory_uri() ?> //= get_template_directory_uri() ?>
©2011-2023 Worthy, Inc. All rights reserved.
Worthy, Inc. operates from 25 West 45th St., 2nd Floor, New York, NY 10036