Getting Back to Work After Divorce with Tami Forman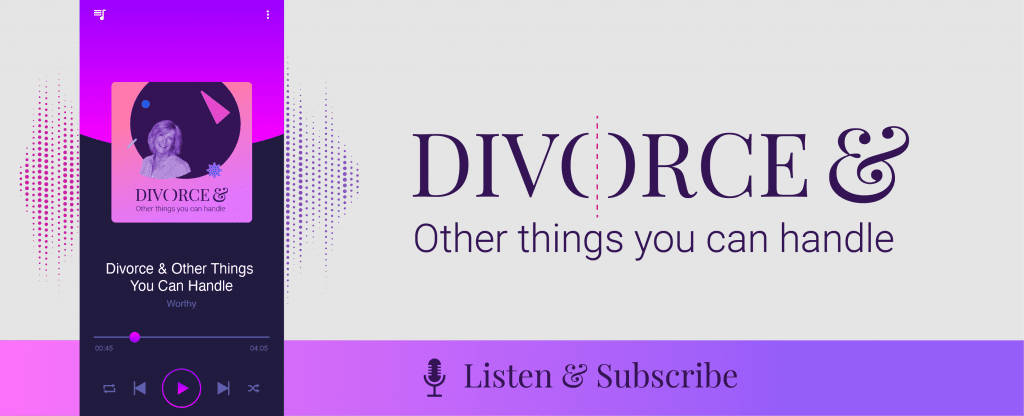 Let's set the scene: You've been a stay-at-home mom for the past few years and your youngest child is finished pre-school. Now, your marriage is ending and, while you'll be able to count on your STBX for some support, you know the court is going to expect you to join the workforce and support yourself. It's been years since you worked, let alone applied for a job. Where do you start?!

In this week's episode, Mandy is joined by Tami Forman, the founding chief executive of Path Forward, a non-profit organization that empowers stay-at-home caregivers to restart their careers. She and Mandy discuss the best tips on how to make yourself ready to get back into the workforce, and according to Tami, networking can be your biggest help.

In This Episode
The first thing to remember is your next thing is not going to be your last thing. People get caught up in the things they want for their perfect career, but in this moment in time, people change jobs every few years and you can throw out the idea that your next job has to be AMAZING.
If you have a financial push (such as not having the support for your ex) you might not be as picky about what your next job will be. You might be more open to all opportunities and then other opportunities will come from that.
Focus on finding the shortest path between you and money. You may not have been thrilled with your last career but that path is likely the best way to get your foot into the working door.
What resources do you have available? Take advantage of free career coaching and reconnect with former co-workers, even if it's been a while. Talk to friends who are working in your field or in a field you might be interested in. Most importantly, network (more on this later!).
There are some big changes when you go back to work. On the negative side, your schedule becomes much less flexible which can be difficult for you and your children. But you will figure it out! It just takes some getting used to. On the positive, you may rediscover your professional identity and get a sense of pride from the work your doing which can be a huge confidence booster!
Keep in mind that going back to work can feel like a punishment for getting divorced, and divorce is tough enough on its own. It might take a while but you'll eventually feel the positive impact of going back to work.
The power of networking
According to Tami, networking is really about gaining knowledge – knowledge about companies, roles, people working at jobs, and skills you need.
There are a lot of jobs out there that don't get advertised – If you talk to people who work at companies that have jobs that aren't advertised, or aren't in fields you've worked in, you might actually find out about a role you didn't think you'd be a good fit for but you actually are. And by talking to that person, you learn more about the company, the industry, and come off as more knowledgeable in your interviews. That's what networking does for you.
"The most underutilized strategy in a job search is flattery" – people love to talk about themselves. Therefore, you need to strategize when you ask people for help getting a job. Avoid asking someone outright – "Hey could you put in my resume at your company?". Instead, start by asking questions they can answer about themselves, their job, their company, and what they do. Once you have that, it will be easier to throw in a "Hey that sounds so interesting. Do you think you could send in my resume? Sounds like a great place to work." With that, they'll also be more willing to let a recruiter know there is someone with a connection to the job whose applying.
Change your friend group – previously you may have only hung out with the other stay-at-home parents. Now you need to seek out other working parents so you can build your network.
Recruiters and Resumes
How do you get to a recruiter to pull your resume out of a heap? What do they look like now and where do you start?
If it's been a really long time (20 years), it's worth investing in finding a career coach who can help you put together your resume.
NYT columnist Louise Rafkin had a recent article on how to help friends through divorce writes in her article that if you really want to help a friend, pool together money to help pay for a resume writer than treating her to a mani/pedi.
Recruiters are focused on the facts when they look at a resume: school work experience and titles. They aren't really spending too much time looking at those bullet points with details on what you did. Your time is better spent on doing research on companies and finding which of your skills match with a job.
For your resume, spend a lot of time on the job description and put that type of language into your resume.
Customize your resume to match the job category by focusing on relevant pieces of your experience. You can create one master resume with all your experience on it and make other versions based on that.
How to handle the gap in your resume for being a stay-at-home parent?
This is changing an area of concern that is changing evolving because of the pandemic, with more coming back to the workforce after taking a break and more people needing to take breaks to be caregivers.
It's important to remember that for hiring managers, this is just a piece of their job and it might not be something they particularly like to do. They just want to get it done as fast as possible. So it seems easier to hire someone who's already working.
Consider Returnship programs which connect companies with job seekers who are looking to return to the workforce after a break
Another recommendation from Tami is to consider temp work – this helps you get into a company, learn about it, and establish yourself. The same goes for consulting or freelancing – if someone sees that you can do the job, they don't care that you haven't been working for some period of time.
Many stay-at-home parents have not been sitting at home doing nothing. Many parents have been doing volunteer work that can help them in a corporate setting. The trick is to translate what you did as a volunteer into business language.
Prepping for an interview
Practice answering questions. You don't want to sound rehearsed but you may not be an expert in talking about yourself. Walk yourself through the questions you're nervous about.
Research what questions you can expect – Ask within your network what questions they're bound to ask. If you get a phone screener interview, expect questions on basic information. If they indicate there will be a second interview, ask them what questions you can expect.
Expect to be asked, "tell me about your career gap". Here's how to answer it:

Present your career history, what you did, and what your title was.
Address the gap – you had the privilege of being able to take time off to be with your family. That's all the information they need.
Now you're ready to return to work: here are the skills you developed at home (mention relevant volunteer work). Looking forward, you are excited about working here for reasons A, B, and C.

Remember – Don't apologize and don't over-explain – this can be a trap. No one cares about the details. Instead, focus on the facts. Practice with your friends until you can answer these questions with confidence.
About Path Forward
Path Forward is a nonprofit organization that empowers stay-at-home mothers and other caregivers to restart their professional careers. Since its founding in 2016, Path Forward has worked with more than 90 companies, including Amazon, Apple, Comcast NBC Universal, Netflix, SAP, Walmart, and Verizon to launch, implement and expand returnships and other return to work programs for mid-career professionals. Eighty percent of Path Forward's program graduates have converted into full-time employment.

You can join Path Forward's community here as well as view their Returnship programs. If you're an employer, you can find out more about partnering with Path Forward here.
About Tami
Before founding Path Forward, Tami spent a decade as a tech marketing executive with data solutions provider, Return Path. Before that she worked in book publishing at Simon & Schuster and Houghton Mifflin and held senior-level web editorial positions at iVillage and News Corp.

Tami is a frequent speaker on issues related to women's participation in the workforce, having presented at the Grace Hopper Celebration, DisruptHR, Tech Inclusion, and the Conference Board's Women's Leadership Conference, among many others. She is also a frequent podcast guest on topics related to career and women in the workplace. She writes a career column for Forbes, is a Fairygodboss VIP, and was named by Flexjobs as one of the top 20 career experts for working moms. She also works with the NYC Department of Education helping to achieve gender equity in STEM education in a school system that educates more than a million children. Tami lives in New York City with her husband and two children.

//= get_template_directory_uri() ?> //= get_template_directory_uri() ?> //= get_template_directory_uri() ?> //= get_template_directory_uri() ?> //= get_template_directory_uri() ?> //= get_template_directory_uri() ?>
©2011-2023 Worthy, Inc. All rights reserved.
Worthy, Inc. operates from 45 W 45th St, 4th Floor New York, NY 10036