Toning Down the Hostility in Divorce with Karen McMahon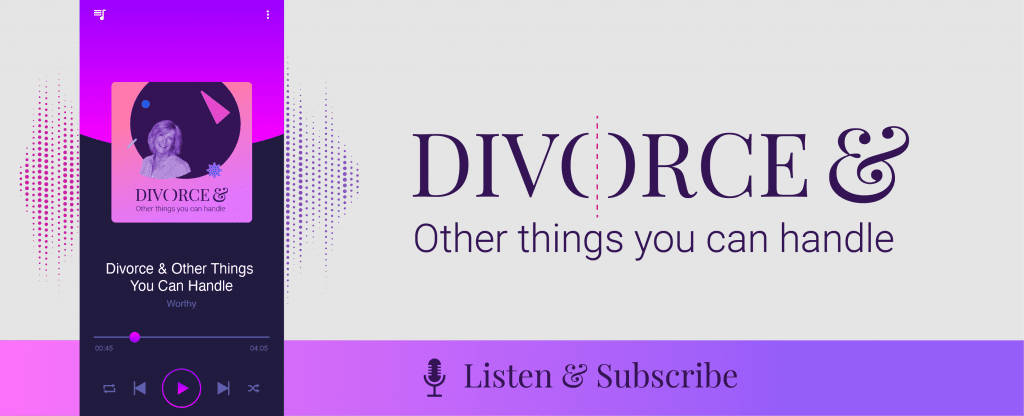 Divorce is probably one of the tensest times in a person's life and it can be filled with hostility at every turn. If you're currently in the midst of a divorce, it's likely you're looking for any way to tone down the hostility.

In this week's episode, I'm joined by Karen McMahon. Karen is also the founder of "Journey Beyond Divorce", a coaching organization focused on helping men and women navigate the emotional difficulties of relationships, breakups, and divorce.
In This Episode
Are divorces as high conflict as they are depicted in the media, with people constantly going to court and paying their lawyers an arm and a leg?

Here's the real, full picture – divorce is hard and divorce involves conflict so most people will consider their divorce to be high conflict when, in reality, it isn't always. It's just a perception.
If you and your spouse are divorcing and there are no addiction or mental health issues, this is what Karen calls a "garden variety divorce". There's a lot of fear and uncertainty and people are reactive in these situations. But there's a big difference between a campfire and a bonfire and most garden variety divorces are a campfire that may get a little out of control.
Most divorces do not go to trial. There's mediation and collaboration, which means there are many ways to avoid trial.
There's a big difference between going to court and going to trial.

What is the motivation behind choosing to handle a divorce in a different way?

Cost concerns and significant savings.
Saving your own sanity.
Preserving your relationship with your child/ren's other parent and shielding your child from the conflict between their parents.

How do you see divorce as an opportunity for transformation?

In a divorce, it makes sense that all of your focus is on your ex. You are trying to change or fix that person and overcoming a relationship that has ended. Instead, Karen advises people to look inward and see what they brought to the table in their relationship and think of how they can improve themselves.
Part of Karen's work is inviting people to "calm the chaos" – we all start at a place of being highly reactive to everything our ex tells us. Calming the chaos means being able to take a step back and think about the options in front of you: 1) to continue to be this highly reactive person who blames their ex for everything. Or 2) to be able to think about our own role in these hostilities and how we can care for ourselves and be less reactive.
Divorce is a time when you feel completely out of control but you do have control over yourself. You can focus on yourself, your strengths, and what you're capable of, you can take this time to really learn about yourself.

How might someone respond to the question "how do you want to be during a divorce?"

The question isn't how, it's who you want to be.

What are your tips to avoid negotiation fatigue? How do you pace yourself and how do you take care of yourself?

Tip #1 – go into negotiations with the knowledge of what your non-negotiables are.
Tip #2 – always find where you agree, rather than disagree, with your ex and that's where you start from.
Everyone walks away from a negotiation feeling like they lost something.

What is a gift from your own divorce that you'd be willing to share with our listeners?

Karen's divorce was a high conflict divorce and lasted 3 years which was a living hell. But during that time, Karen learned a lot about herself, her learned behaviors, and what she did along the path to divorce.
When her divorce was over, Karen told a friend that even with everything that had happened to her over the course of those 3 years, she would still go through it again in order to go through her own personal transformation.
About Karen
Karen McMahon is a Certified Relationship and Divorce Coach and Founder of Journey Beyond Divorce. She began divorce coaching in 2010 after recognizing that the pain of her divorce led her on a transformational journey into an incredible new life. Karen leads a national team of divorce coaches in supporting men and women around the world to become calm, clear, and confident as they navigate divorce. Karen is the host of the acclaimed Journey Beyond Divorce Podcast, co-author of 'Stepping out of Chaos: Turning Pain to Possibility', creator of JBD's exclusive 12 Step Divorce Recovery Program and leads a nationwide team of JBD coaches.
For help, check out Free Rapid Relief Call – www.rapidreliefcall.com

//= get_template_directory_uri() ?> //= get_template_directory_uri() ?> //= get_template_directory_uri() ?> //= get_template_directory_uri() ?> //= get_template_directory_uri() ?> //= get_template_directory_uri() ?>
©2011-2023 Worthy, Inc. All rights reserved.
Worthy, Inc. operates from 25 West 45th St., 2nd Floor, New York, NY 10036