Introducing New Partners with Teresa Harlow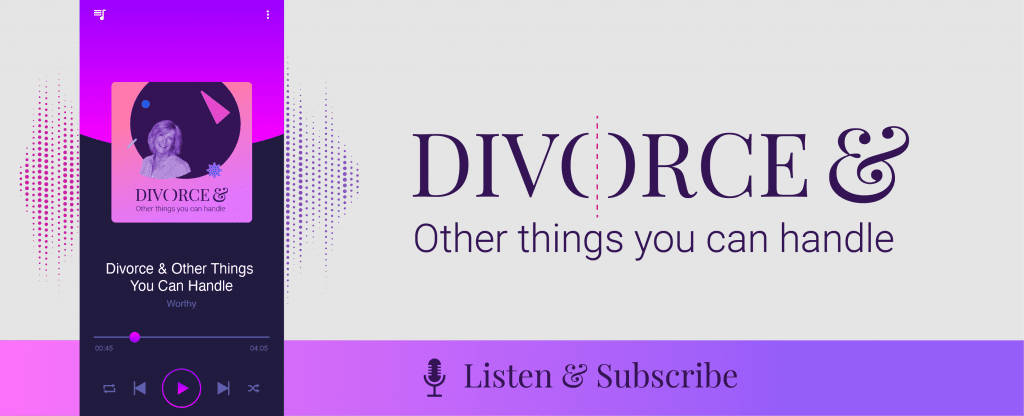 This week we're talking about introducing new intimate partners after divorce. From a timing perspective, I've seen this happen before the divorce is final, sometimes before the legal process has even started, to years after the divorce is finalized. It's rarely without challenges but I'm convinced there are definitely actions that help make this smoother for all – whether that's you, your children, or your former spouse.

My guest today is coach Teresa Harlow. Teresa is the author of Combative to Collaborative – The Co-Parenting Code. In her book, Teresa guides former spouses on how to be good parents together without sacrificing their own happiness.
In This Episode
When is the best time to introduce a new partner? Based on my experience, you can't always control when you meet and fall in love with someone, and it can happen before your marriage has formally ended. But it doesn't mean you need to introduce that person to your children immediately.

The impact on children of seeing a parent with a new partner while the marriage is ending – For younger children, it can be confusing since a new parent-like figure is coming into their lives. With older children, who have a better understanding of what a committed relationship entails, they may begin to question their parent's morals and reconsider their own moral compass, which can be damaging, especially for teens.
Another way it can impact them is that they will see the other parent being displaced and children tend to be very protective.
By bringing in a new partner so early, it can make it hard for children to see this person in a positive light.
Best Thing to Do – First, give things some time to settle down with your divorce and keep your new partner in the background until you and your children have gotten used to this new life. Second, give things time to settle down in your new relationship. Wait out the honeymoon period when everything is sunshine and butterflies and really get to know this new person. Third, you need to be 100% certain that this person is safe for your family.

Should dating only happen during your parenting off time?

Unless you don't have shared custody, your time with your kids is for you and them so keep them in focus. When they are with their other parent, that is the time for you to spend with your new partner.
Avoid silly mistakes, such as bringing your new partner to your kid's soccer game before you've introduced them.

What are your thoughts on having a date sleepover in your room during your parenting time? Does this send a message to your children about your expectations for them when they start dating?

Absolutely not. When you have a date sleep over when your children are there, your imposing fear on them that's unnecessary. In the future, they might not want to come over again because they don't feel comfortable or safe.

How do you recommend introducing a partner to your children? And to be more specific here on what I mean by introducing: You can have your partner come to the house and perhaps say to your children, "This is John. He and I are going out for dinner." In that situation, you introduce them but no time is spent getting to know each other.

Incremental Approach – Teresa recommends introducing your new partner to your ex (child's other parent) first before introducing them to your children. Why? Because, if you think about it in the reverse, you wouldn't like it if your children started telling you about your ex's new partner before you even knew about them. Therefore, Teresa recommends introducing (or at least offering to introduce) your ex before your children.
What does telling your kids look like? First, tell them that you're dating. They may need time to adjust to that. Next, tell them you've met someone and ask them if they'd be open to meeting the new partner. If they are open to it, create an opportunity for them to meet. You also must make sure the new partner is open to this as well.

We already discussed this briefly but, do you recommend letting your children's other parent meet your new partner before your partner spends time with your children?

First of all, offering to introduce your co-parent to your new partner is a courtesy. They don't have veto power.
Teresa's advice is to think of co-parenting as a team. You don't need to like everyone on your team but you do root for the team's success.
When you tell your co-parent about the partner rather than your kids, you control the narrative around that new person.

How do you create a good situation to introduce your kids to your new partner?

Pick an activity that everyone can enjoy. It needs to be something interactive (like bowling or a park) where they can talk get to know each other but the main focus isn't the introduction or new relationship (as would happen at a meal). Don't choose something like a movie where there's no talking.
Keep expectations low – your kids might not be their friendliest selves to this new person but you do need to remind them to be respectful and not say hateful things to your partner (or you for that matter).
Especially for parents with middle school and high school-age kids, you want to make sure you're modeling good dating behavior for them so that they can mimic it back. Otherwise, they'll just mimic whatever it is you're doing, good or bad.

It's important for parents to set up some guidelines when it comes to introducing a new partner. This can be done on your own or with your co-parent. You can set a six-month time frame (what Teresa did), or longer or shorter. Remember that once you bring someone new into the picture, your children will bond with them. And if the relationship doesn't work out, the relationship ends for you and your kids.
Final Takeaway – Whatever you do, apply the golden rule of treating others the way you would want to be treated.
About Teresa
Teresa Harlow is a bestselling author, speaker, and coach. She has been a co-parent for twenty-two years, stepparent for fourteen years, and has spent over thirty years in business helping teams and individuals transform their most combative relationships into collaborative partnerships. Her latest book, Combative to Collaborative: The Co-parenting Code, is endorsed by bestselling authors Jack Canfield (Chicken Soup for the Soul) and Gary Chapman, Ph.D. (The 5 Love Languages).
//= get_template_directory_uri() ?> //= get_template_directory_uri() ?> //= get_template_directory_uri() ?> //= get_template_directory_uri() ?> //= get_template_directory_uri() ?> //= get_template_directory_uri() ?>
©2011-2023 Worthy, Inc. All rights reserved.
Worthy, Inc. operates from 45 W 45th St, 4th Floor New York, NY 10036