What To Do When You're Not The One Who's Been Handling the Financials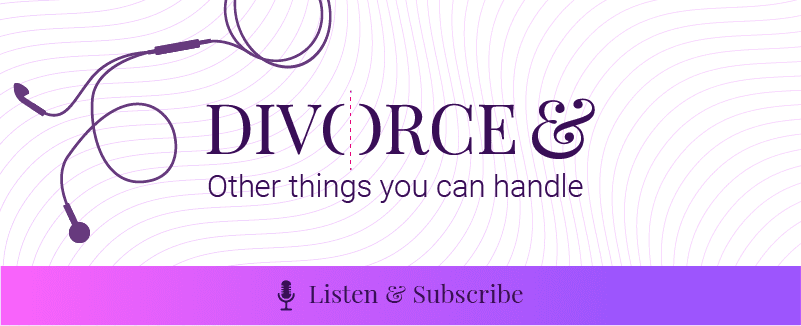 In every marriage, there are different financial arrangements. Oftentimes, one spouse handles the bulk of the financials, while the other spouse may handle only bill-paying – or have even fewer financial responsibilities. Traditionally, it has also been the male that has the greater share of handling the financial responsibilities of the household – and therefore also owns the bulk of the knowledge about the household's financial state.
In this episode of the Divorce & Other Things You Can Handle Podcast, brought to you by Worthy, we discuss what happens in a divorce to the spouse who has handled fewer of the financial responsibilities and has less knowledge of the household finances. How can this "non-monied" spouse prepare to arm herself with the knowledge she needs to navigate the financial complexities of a divorce and take control of her own financial future post-divorce?
To discuss this topic, I've asked Jennifer Lee, the founder of Modern-Wealth, a Sarasota-based financial firm with a focus on helping individuals experiencing transition. Jennifer has over 27 years of expertise in the financial services industry and is also the author of the book Squeeze the Juice: Live With Purpose-Then Leave a Legacy.
In This Episode
In every marriage, there is a certain financial division of labor. Sometimes, both spouses share financial responsibilities pretty equally. But often, one spouse will handle the bulk of the financial responsibilities of the household. It is often the man. The other spouse may have some involvement or knowledge about the household finances. But often their main responsibilities are paying the bills and not much else. This often prevents them from understanding the full picture of their household's financial state.


When the marriage ends, this "non-monied spouse" is suddenly thrust into a situation where they quickly have to understand the household finances to be able to exit the marriage in the best possible financial condition and be able to take ownership of her own financial life after the divorce. This can be overwhelming. But you don't have to do it alone.


Why is it so common for one spouse to handle few of the marriage's financial responsibilities and have limited knowledge of the household's finances? I asked Jennifer Lee to explain.


There are two primary reasons why one spouse may hold relatively few of the financial responsibilities of a marriage. The first reason is a lack of interest in participating in this area of the marriage. Some people simply do not want to be a major part of the finances because they do not care to. But others who may have interest in it are simply too intimidated by money and finance to participate more. So lack of interest and fear or intimidation of money are the two reasons why this financial inequality in a marriage is so common.


Divorce is where a marriage's finances and intense emotions collide. And often, the non-monied spouse doesn't even know where to begin with understanding her current and future financial position. This can be overwhelming, lead to paralysis of action, and may even make her back down from pursuing the divorce.


But financial planning doesn't have to be overly complicated. It largely comes down to two things: what resources do you have, and what lifestyle do you want to maintain? Your resources will include your assets and income. Your lifestyle involves where you want to live, the kinds of purchases you want to make, and the cash flows you'll need to support those purchases.


The silver lining for finances in a divorce is that you are now in charge of your own financial life without having to defer to the opinions or decisions of your spouse. You and your spouse may have different values when it comes to money and lifestyle. After divorce, you can gain clarity on and pursue what is truly important to you.


But in order to truly be in charge of your own financial life, you have to know where you stand. What resources are currently at your disposal? And what money do you need in order to live the life you want to that accords with your goals and values? This is where talking to a financial advisor can be helpful.


How accessible are financial advisors to the average person? Can anyone work with one? Or do you need to have a certain amount of assets in your possession in order to do so?


It depends on the particular financial advisor. New FAs will usually speak with anyone because they are trying to build their business. FAs that have been around awhile often will require a minimum asset value. But there is a FA for everyone, you just need to find the right fit for you.


Finding the right FA


Talk to family, friends, colleagues and get names of advisors who may be a good fit. You should interview more than one potential new Financial Advisor. When you go in to speak with them, ask many questions and be curious about the things they have to tell you. Speak to them for at least twenty minutes or more to decide if there is a good rapport, if you're being heard, and if you feel you can be open with them and supported by them when it comes to your financial situation.


What if you and your spouse already have an FA?


If the divorce is amicable and handled as a partnership between spouses, it may be okay for both spouses to keep their old financial advisor. The non-monied spouse may want to re-interview their current FA and see if they will still be the best fit moving forward. But if the divorce is anything less than amicable, the non-monied spouse should absolutely find her own financial advisor who will truly be in their corner.


When should the non-monied spouse bring in a financial advisor during the divorce process?


As Cameron Diaz said in the film The Other Woman, "You need to get your ducks in a row". If the divorce is amicable, you and your spouse can handle the financials with your advisor jointly during the divorce.
In a less amicable situation, the non-monied spouse needs to be armed with as much financial information as possible ahead of the divorce. This is the time to bring in a new financial advisor.
Make a game plan to make good decisions about your next steps. It doesn't have to be secretive, but you do need to know what your options are – and the potential impacts of the choices you will make.


About Jennifer Lee


Jennifer's father was also a financial advisor and helped to inspire her to pursue her current career. Her conception of "squeezing the juice" – the title of her book – means that no matter what happens in your life (the "orange") you should squeeze the most and the best stuff out of it (the "juice") while discarding the rest. This extends to marriage, divorce, and anything else, be it good or bad – but with the bad, you can find the silver lining.


Understanding your cash flows


You need to know what you are spending each month and what your (here comes the dreaded word) budget is. You don't have to use that word, but you need to have a full understanding of what money is coming in and available to you, and what money is going out. Understand your discretionary spending versus bills you have to pay each month.

Money is a tool. To have a more powerful tool, you can spend less or earn more. Be intentional with your money. After all, you are dividing the household income in half and now responsible for your increased expenses all on your own. Some places like Colorado even require expense reports during a divorce proceeding.


How can financial advisors help the non-monied spouse through a divorce?


The non-monied spouse may be stopped in their tracks by the emotions in a divorce process. But a divorce coach can help, and so can a financial advisor when it comes to the money part. Otherwise, there is a danger you might not even go through with the divorce.

A financial advisor can walk you through your cash flows and help you figure out your values and goals. These may include immediate goals like paying off credit card debts or building an emergency fund. Or they may include longer term goals like buying a new residence or planning a future family vacation with your children.


How else a financial advisor can help


A financial advisor is part advocate and part financial therapist. They give you feedback and do a lot of handholding. They can help you understand what's important to you including:


Making sure your kids are well taken care of financially
Your emotional health
That you simply have enough money to pay the bills


You can have many conversations with them about everything from work and income, to selling your house, your children's education, and your general cash flows.


Building your relationship with your financial advisor

This should be an ongoing and long term financial relationship as you go through and beyond the divorce process. You should see your FA not as a parent or punishing gatekeeper but as someone who can present you with and help you understand your options. But ultimately the decisions are yours to make. They are not there to scold you. They are there to help you wield your financial tools as efficiently and expertly as possible.
About Jennifer
Jennifer Lee, AIF®, AWMA® is the founder of Modern-Wealth; a Sarasota-based financial firm with a focus on helping individuals experiencing transition.
Originally from Maryland, Jennifer brought her over 27 years (44 years if you count going into the office with her father as a child) of expertise in the financial services industry to Florida. Jennifer has found that a relationship with an advisor is most critical at the intersections in life where emotions collide with financial events. She enjoys facilitating her clients through challenges as they experience life's upsets such as divorce, the loss of a spouse, or business to retirement transition. Whether you are experiencing divorce, a business client expanding or selling your operation, or a couple wanting to make sure they have provided for their family, Modern-Wealth may be a good fit. Jennifer provides a fresh perspective to the financial planning process by digging deep to understand what drives her clients. At Modern-Wealth, they build long-lasting relationships. As part of their process, they encourage clients to communicate their values to the most important people in their lives by writing a family love letter. This led her to write "Squeeze the Juice: Live With Purpose-Then Leave a Legacy."

//= get_template_directory_uri() ?> //= get_template_directory_uri() ?> //= get_template_directory_uri() ?> //= get_template_directory_uri() ?> //= get_template_directory_uri() ?> //= get_template_directory_uri() ?>
©2011-2023 Worthy, Inc. All rights reserved.
Worthy, Inc. operates from 25 West 45th St., 2nd Floor, New York, NY 10036