Divorce Recovery – A Personal Journey with Stacey Freeman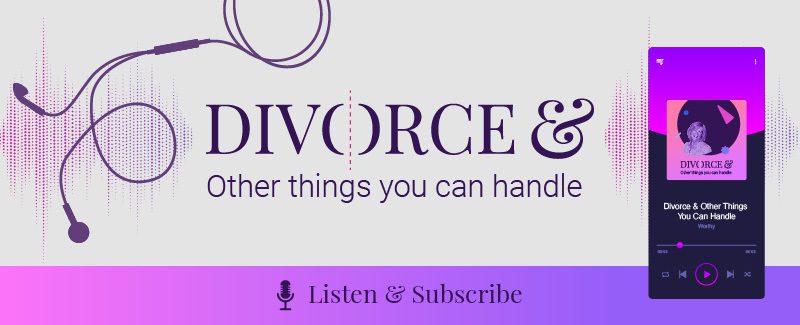 This week's episode is a little different. We're thrilled to welcome back Stacey Freeman to the podcast. Stacey is a New York City-based writer and former lifestyle editor for Worthy.com. Her new book, I Bought My Husband's Mistress Lingerie, is a collection of short essays chronicling Stacey's own experiences with divorce from her high school sweetheart.
In This Episode

Stacey shares the story that inspired the title of her book, the moment when she found herself buying lingerie for her husband's mistress. (No spoilers for book readers, I promise!)
What it was like to find out that her husband was having an affair – signs she had ignored started to make sense, how shocked she was, the spiral of feelings that she began going through.
She found herself asking: Could I come back from infidelity? Do I want to be that person who is divorced? Was everything my fault?
Six days after she learned about her husband's infidelity, Stacey got her ducks in a row and started looking for a lawyer.
Stacey 10 years after the lingerie incident: take a step back and remove yourself so that you can regroup. You need to pause before you react.
Stacey shares a story from the beginning of her split from her ex when she, for the first time, needed to prioritize self-care in order to be a good parent and how that moment of choosing herself is still something she thinks about today.
The gifts of divorce for Stacey: being reliant on yourself and knowing that you can take care of everything on your own. She has built a writing business for herself that she is proud of and has used her self-started career to take care of her mental and financial well-being.
Writing as therapy: Stacey was not a writer by training nor did she intend for writing to be a solace when she started her business but writing has become a huge source of therapy and joy for her.
About Stacey
Stacey Freeman is a writer and journalist and the founder of Write On Track LLC, a full-service consultancy dedicated to providing high-quality content and strategy to individuals and businesses. Her writing has appeared in The Washington Post, The Lily (published by The Washington Post), Forbes, Entrepreneur, MarketWatch, Good Housekeeping, Cosmopolitan, Woman's Day, Town & Country, InStyle, PBS' Next Avenue, AARP, SheKnows, Yahoo!, MSN, HuffPost, POPSUGAR, Your Teen, Grown & Flown, Scary Mommy, CafeMom, MariaShriver.com, and dozens of other well-known platforms worldwide. Her book, I Bought My Husband's Mistress Lingerie, was published in November 2022. She lives in New Jersey with her three children.

//= get_template_directory_uri() ?> //= get_template_directory_uri() ?> //= get_template_directory_uri() ?> //= get_template_directory_uri() ?> //= get_template_directory_uri() ?> //= get_template_directory_uri() ?>
©2011-2023 Worthy, Inc. All rights reserved.
Worthy, Inc. operates from 25 West 45th St., 2nd Floor, New York, NY 10036