Staying Together For The Kids With Kate Anthony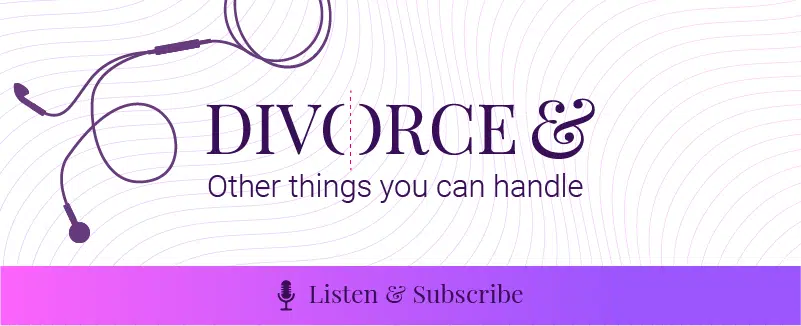 Deciding whether or not to stay together for the sake of your children can be an extremely difficult decision. There are usually dozens of different things to consider, from health and safety risks to the sheer logistical convenience of being married, and everything in between.
This week's guest is divorce coach, podcast host, and author, Kate Anthony. Kate specializes in helping women who are wrestling with the question of whether or not to stay in an unhappy marriage. In this episode of Divorce & Other Things You Can Handle, we discuss reasons why someone may want to stay in an unhealthy relationship for the sake of their children, and important factors to consider before making the decision.
The "Why"
Determining the root cause of why you want/need to leave the marriage will greatly help you in making decisions throughout the process. If the reason is a matter of health and safety, then time is of the essence and more drastic decisions may need to be made. Conversely, a marriage where you simply want different things, may be worth staying in for another year or two until the kids are done with school.
Model Behavior
What are your kids learning from your relationship? Kids will pick up on the nuances and subtle changes in behavior, regardless of whether or not you explicitly tell them that you are unhappy in your marriage. Be mindful of what lessons you may inadvertently be teaching your children by staying in an unhealthy relationship. By dismissing concerns your children may express, you are gaslighting them into believing that what they are experiencing is not true, which can have negative impacts on their future relationships.
Timing
Keep in mind that there will always be something inconvenient about the timing of divorce. Delaying a divorce may be a good strategy, but ask yourself how long you want to delay for and lay out a clear timeline to adhere to. Short term delays may look like waiting for a birthday, holiday, or vacation, whereas long term delays may be waiting for the kids to be out of the house, moving through a certain hardship, or getting a specific job. Giving yourself a clear deadline decreases the likelihood of waiting too long. By waiting too long you can begin to feel guilty about it, which only adds to the stress and negative feelings.
Co-Parenting As a Deterrent
It's naturally easy to lose your sense of self in marriage and being a parent, but it is crucial to take a step back and acknowledge that you are a whole person outside of those labels. Having a healthy sense of self will ease fears you may have about the possibility of co-parenting and going a few days at a time without seeing your kids. You can use the time away you have as an opportunity to rediscover yourself, dive into a new hobby, or even an old activity you enjoy but let go of over time.
Separating in Peace
You may be in a situation where you and your spouse agree to separate, but remain married for logistical reasons. While uncommon, this approach can sometimes work for specific situations. During this kind of arrangement, it's important to communicate actively with each other, identify what is and is not working for each other, and be willing to hear about each other's experiences.
Curated Podcast Playlist for You
You can take a brief 4 question survey to receive a curated playlist of podcast episodes from Kate's vast collection. These episodes will speak directly to where you are at in your journey. You can find the quiz here.
About Kate
Kate Anthony is the host of the critically acclaimed and New York Times recommended podcast The Divorce Survival Guide Podcast and the creator of the groundbreaking online coaching program, Should I Stay or Should I Go? which helps women make the most difficult decision of their lives using coaching tools, relationship education, geeky neuroscience, community support, and deep self-work.
Kate empowers women to find their strength, passion, and confidence even in the most disempowering of circumstances and helps them move forward with concrete plans set on a solid foundation, putting their children at the center (not in the middle) of all their decisions.
In addition to her online programs, Kate works privately with clients all over the world.
Kate lives in Los Angeles with her teenage son (whom she lovingly co-parents with her ex-husband), their two dogs, and a handful of fish.
Kate's Website: https://kateanthony.com/
Preorder Kate's Book: The D Word, Making The Ultimate Decision About Your Marriage
//= get_template_directory_uri() ?> //= get_template_directory_uri() ?> //= get_template_directory_uri() ?> //= get_template_directory_uri() ?> //= get_template_directory_uri() ?> //= get_template_directory_uri() ?>
©2011-2023 Worthy, Inc. All rights reserved.
Worthy, Inc. operates from 25 West 45th St., 2nd Floor, New York, NY 10036