7 Worthy Women From Rio 2016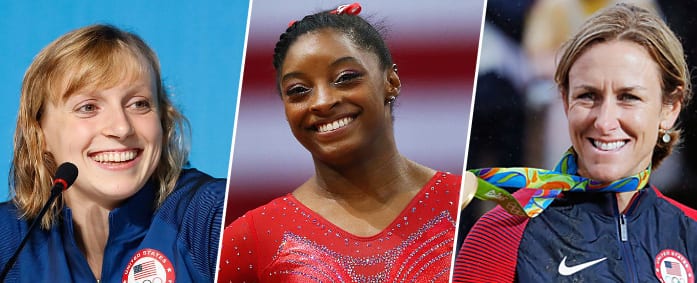 Besides the dozens of new records set, these Olympics stand out for introducing to the world some of the most inspiring female athletes.

Yes, athletes are also human beings. And behind every champion, there's a story of working hard, overcoming challenges, dismantling prejudgements and defeating the odds.

With the Olympics coming to an end, we wanted to go over the most inspiring female athletes that delighted us with their talent, power and strength. Here are some of the Worthy Women from Rio 2016!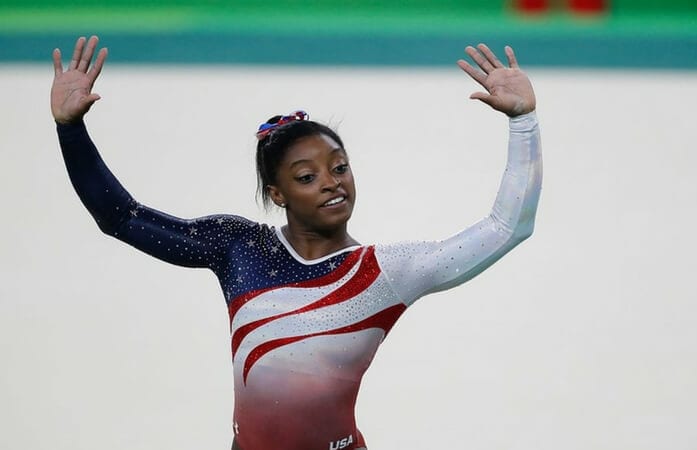 Simone Biles, 19, Gymnast
At this point, she doesn't need an introduction. But in case you've spent the last weeks in a Tupperware, the 19-year-old gymnast became the American team's star after winning four gold medals and a bronze in Rio de Janeiro. The several-times world champion in gymnastics, Biles spent several years in foster care until she was adopted by her grandparents. But that didn't stop her from training and becoming one of the best gymnasts in history. And despite her young age, her words are proof of her inner strength and wisdom. In a recent interview with Teen Vogue, she expressed: "To go out there and prove what I can do has taught me a lot about who I am. We can push ourselves further. We always have more to give."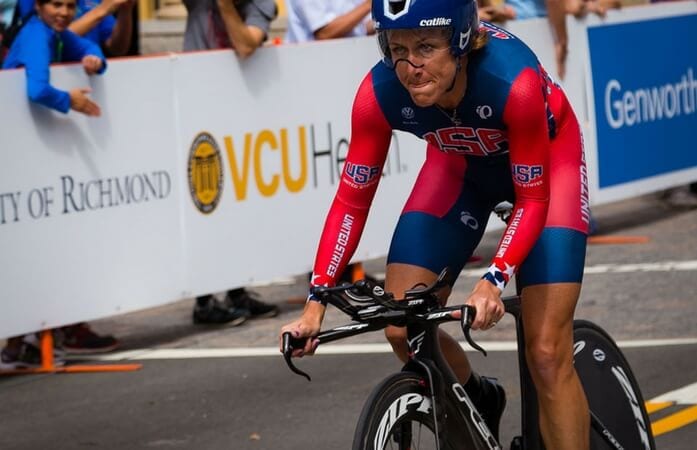 Kristin Armstrong, 43, Cyclist
The 43-year-old cyclist is the living proof that you shouldn't give a s**t what people say. Armstrong is the mother of a 6-year-old boy and she works as the director of community health at a hospital in her hometown, Boise, Idaho. During the last trials, the working mom had been told many times that she was too old to compete and that she should retire. But she didn't and she became, for a third consecutive time, a gold medalist at the Olympic games. After her victory, she said "For all the moms out there, I hope that this was a very inspiring day." You can bet it was.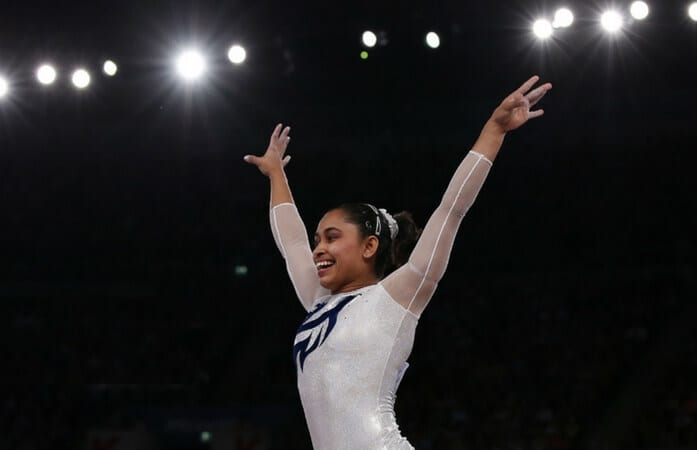 Dipa Karmakar, 23, Gymnast
Dipa Karmakar is India's first female gymnast at the Olympic games. And even though she didn't take home any medal, she finished in fourth place in women's vault and she's one of the most inspiring athletes of Rio 2016. Also known as the "Golden Girl" Karmakar had to go through extensive training to overcome her flat feet, which is undesirable in gymnastics. She and Oksana Chusovitina were the only two athletes to perform the Produnova vault, AKA the "vault of death", for it's high level of danger. A true example of bravery!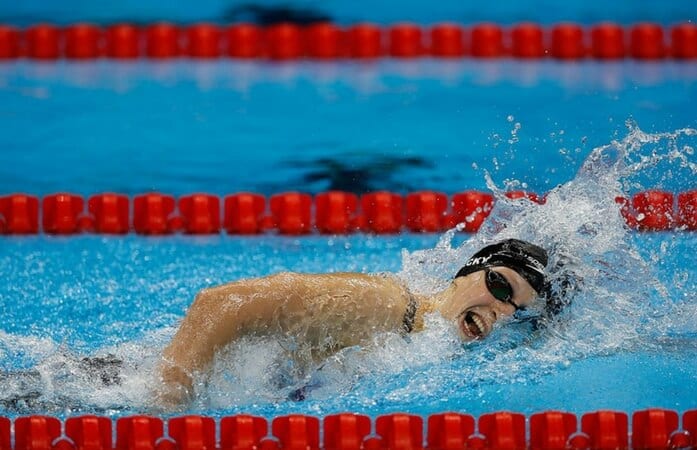 Katie Ledecky, 19, Swimmer
With four gold and one silver medal on her chest, Katie Ledecky is America's new heroine. The 19-year-old swimmer from Bethesda dominated the Olympic games, breaking her own world record of 800m freestyle. People who know her, describe her as a terrific, humble and kind young woman. In the words of her coach, Bruce Gemmel: "Her strength is not in any physical attribute. It's not even in any particular technique. It's in her overwhelming desire to do what she needs to do to get better. As far as I'm concerned, the bigger story is that she's a better person than she is a swimmer." Her brilliance as an athlete and her down to earthiness are a source of inspiration.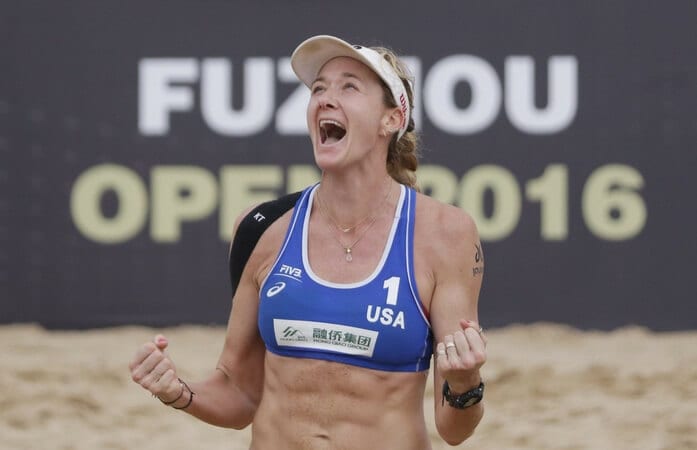 Kerri Walsh Jennings, 37, Beach volleyball player
The London 2012 gold medalist is an example of athleticism and motherhood. The 37-year-old beach volleyball player from Santa Clara, California, took bronze at this year's Olympics, being a mother of three and about two decades older than some of her fellow athletes. In the 2012 games, she played and won the gold medal, together with Misty May-Treanor, while pregnant. She has expressed to the media that her family is her motivation, and that having kids made her a better athlete: "They gave me that perspective and balance I thought I was missing. It took my game and my desire and my passion for life to the next level. I am hugely indebted to my children."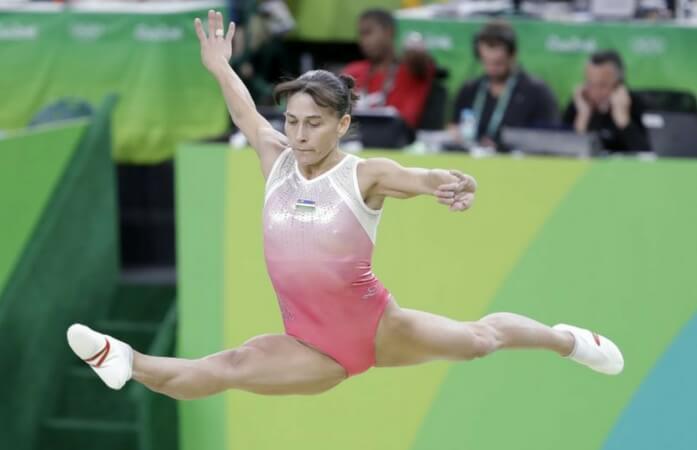 Oksana Chusovitina, 41, Gymnast
Rio 2016 Olympics were the seventh games for the renowned gymnast from Uzbekistan. Beyond all prejudgements, Chusovitina made it to the final in women's vault, where she performed the dangerous Produnova vault. The Uzbek has been competing at an olympic level for 24 years now, and her age is double the average age of her opponents (20). But that wasn't enough reason to stop her from performing at Rio. When asked why she stayed in the sport, she answered "because I like it". And that's enough reason to keep doing it.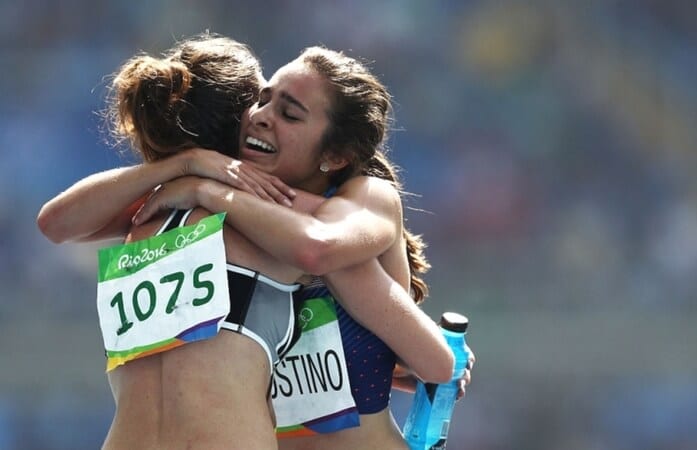 Abbey D'Agostino, 24, and Nikki Hamblin, 28, runners
These two runners made the headlines this week in one of the most inspiring moments of these Olympics. Four laps before the end of the 5000m race, New Zealand runner Nikki Hamblin and US runner Abbey D'Agostino collided and fell to the ground. And what came after is a true example of Olympic spirit and women fellowship. D'Agostino jumped up and helped Hambling get up, but after several seconds, she fell again in pain. The New Zealander turned back and helped her fellow get up. The photo of their embrace went viral in social media. At that point, both athletes had forgotten about the race: they were two women helping each other out.
We're definitely going to miss tuning in to Simone Biles performances. But if there's something these Olympics left us with, is the inspiring message that even against all odds, you can.
Want to read more Worthy Women stories? Subscribe to our newsletter and get all the inspiration right in your inbox!
Sources:
The Cut, Washington Post, BBC, The Zoe Report, New York Times, The Telegraph.
//= get_template_directory_uri() ?> //= get_template_directory_uri() ?> //= get_template_directory_uri() ?> //= get_template_directory_uri() ?> //= get_template_directory_uri() ?> //= get_template_directory_uri() ?>
©2011-2023 Worthy, Inc. All rights reserved.
Worthy, Inc. operates from 25 West 45th St., 2nd Floor, New York, NY 10036