Worthy's Hot List for January 2020: Happy Jazzy New Year!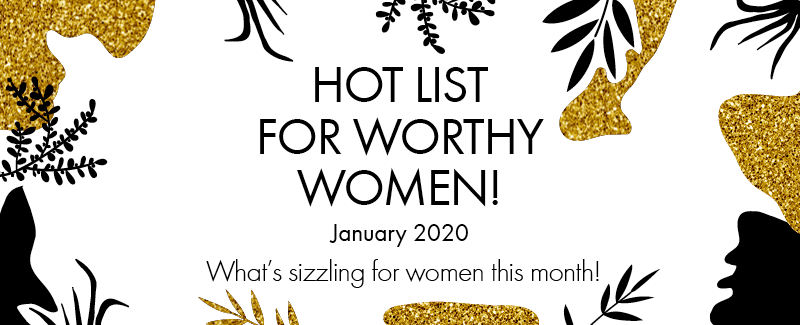 In case you missed it, we're on the eve of a new decade and there are plenty of great Gatsby and jazz fans out there revving up for the roaring 2020s. Here's what we've got that's hot for the new year and the new decade!
New Year, New You
Make Your New Years Resolutions Smarter.

Do you have New Year's resolutions on the mind but are worried about making them stick? Well, you're in good company and we've got some useful solutions that might help you get into those better habits. For one, Stacey Freeman recommends setting goals for yourself rather than making those unobtainable resolutions. And if your resolutions are financial, Samantha Gregory is all about creating a money master plan that will actually work. And in a few weeks from now when you stop following through with those lofty plans, another writer shares that it all comes down to having the right intentions.

A Love Like Daisy and Gatsby. For those of you out there who are thinking about reigniting your romantic life in 2020, this one's for you! Enjoy!

Here are some fresh ideas on New Year's resolutions that you maybe haven't thought of just yet. From unsubscribing from email campaigns to deleting unused apps on your phone, to throwing away makeup older than a year, you can start off the new year lighter and fresher. Read more way to kick off the new decade from Insider.
A New Year Of Streaming
We are officially two decades deep into the golden age of television. Every decade so far has brought new and exciting shows as well as new ways in which to view them. From streaming services to apps, let's take a look at some of the exciting shows coming to a smartphone near you this year.
Hulu – Shrill Season 2
This wonderfully light, but deep show is about a female writer named Annie, who is looking to change her life without changing her body. Filled with humor, awkward moments and a realistic look at how body acceptance has evolved over the last decade.

The new season begins with Bryant's Annie "feeling pretty good" after facing her demons, including her mom, her boss, and her online troll. No longer the doormat she once was, Annie still doesn't find it as easy as she thought it would be to get what she always imagined she wanted.

Something For The Kids: Disney+
The Proud Family Seasons 1-2

This show is an oldy but a goody for you and your children to watch. It is the animated adventures of Penny Proud, a girl growing up with the help of her friends. 14 year-old Penny Proud has one wacky family: over-protective father, Oscar, loving mother, Trudy, little brother Cece and sister Bebe, and hard-core grandmother Suga Mama. Start sharing in her adventures.
Oprah's Book Club on Apple TV+
Oprah is no longer the queen of daytime TV, but she still wields enormous influence. The Book Club that was part of her daytime TV show could turn novels into bestsellers overnight. Now she's bringing her Book Club to Apple TV+ as its own exclusive series.
Ilana Glazer: The Planet Is Burning on Amazon Prime Video
Ilana Glazer of Broad City introduces the Planet is Burning. It features Ilana's thoughts on homophobes Nazis, and how crappy women's razors are, the patriarchy and more. Enjoy her quirky standup variety show to give yourself a good laugh.
The last decade has been filled with tremendous change, innovation, incredible scientific discoveries, amazing entertainment, some turmoil, and a lot of hope. We've all be on journies of self-discovery whether it be voluntarily or not and learned about ourselves and the world around us. May this new decade be filled with fun, laughter, success, and love for all!
//= get_template_directory_uri() ?> //= get_template_directory_uri() ?> //= get_template_directory_uri() ?> //= get_template_directory_uri() ?> //= get_template_directory_uri() ?> //= get_template_directory_uri() ?>
©2011-2023 Worthy, Inc. All rights reserved.
Worthy, Inc. operates from 25 West 45th St., 2nd Floor, New York, NY 10036