8 Ways to Raise Up Other Women in Honor of International Women's Day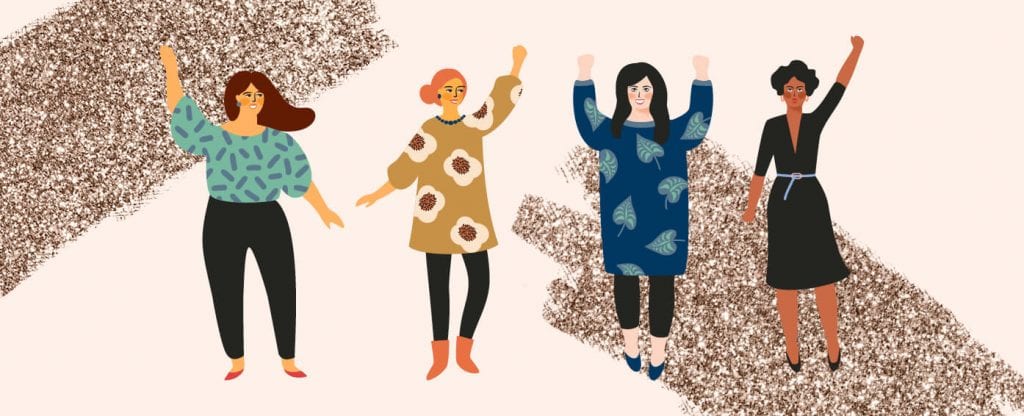 There is no point in having an International Women's Day if we don't do anything to celebrate ourselves as women and other women as well. And while I highly encourage every woman to celebrate herself all the time, 24/7, there is one thing we should really do on this special day for women, and that's raise each other up.
We all know what it's like to be "taken down" by another woman—to feel another woman's wrath, judgment and/or jealousy. And in response to that, I have heard a lot of women say how they don't like being friends with other women because of that. To me, I just think that person isn't choosing the right ladies to be friends with!
Women are powerful. In the words of Diane Mariechild, "A woman is the full circle. Within her is the power to create, nurture and transform."
So, let us help other women by nurturing them so they can transform to be the very best women they're meant to be, in the following ways:
1. Compliment Her—Even If it's a Stranger
Whether you know her or not, compliment another woman!
The other day, I was on the treadmill and I saw a woman with the most gorgeous curly hair, ever! She looked like Whitney Houston in her "I Wanna Dance With Somebody" video. I told her so, and I think she was surprised—and flattered.
So, instead of feeling jealous of an attractive woman or quietly admiring a lady you know, whether it's her grace, style, kindness, career or amazing hair, tell her!
Praise and positivity go a long way.
2. Help a Woman Who Needs It
I have had many women raise me up and help me when I needed it. Now it's my turn to help someone else.
Whether it's watching a friend's child, helping her with her resume, supporting her through an illness—whatever it is, be there for her.
Your time is more valuable than your money, too. Your time is more valuable than a Facebook like or Facebook comment.
Give another woman the help she needs. It will mean the world to her and in turn one day, she'll help another woman.
3. Make Room on Your Schedule
Grab your calendar, make a list of ladies you love and haven't seen in a while, and then start calling and texting. Make time to see these fabulous ladies just to tell them how much you love them and/or are inspired by them. It can be for a walk in the park, coffee or dinner—whatever you like, but make the time.
If you want to make it really personal, send a little e-vite!
4. Get to Know a Stranger
Is there a mom in town you'd love to know but haven't had the chance? Is there a woman at work who you admire but don't know too much about?
Reach out and ask to get together, even if just for a power hour. Share with this woman why you'd like to know her better and why you think she's so awesome. You'll touch her heart and also, make a new friend or a new connection on the job!
5. Make Peace with a Woman You've Had Trouble With
Even if you may never be the best of friends or the closest family members, offer the white flag to a woman you've been battling with.
Why?
Finding closure and making peace is a positive way to help both of you heal and move on, which makes for two happier women in this world. Maybe it's an apology letter. Maybe it's a call. Maybe it's just you offering a truce or saying, "Why don't we agree to disagree?"
It's up to you to decide how much "peace" you want to find with this other woman, but it is a great way to honor International Women's Day.
6. Pick a Younger Woman to Mentor
Do you know a child, tween, teenager or just a younger female who could use a mentor or source of support?
If you do, take a look at your calendar, assess your availability and then decide how much time and in what way you can be a support to this younger lady.
This is what I mentioned before—the gifts of help and time will send positive energy and vibes in waves to come. That young woman will one day do the same for another!
7. Ask a Woman You Admire—Older or More Accomplished—to Mentor You
Reach out to someone you admire and ask for her to be your mentor, whether it's as a mother, in your career or even at the gym or with a hobby!
Ask this master knitter, fitness guru, amazing mom or CEO to offer you assistance, advice, and friendship. Share with her exactly why you admire her—flatter her in an honest way, and lift her up! In return, hopefully she will lift you up with her mentorship.
8. Thank the Women Who Have Been There For You
Make it personal. Notes. Calls. Letters. Cards. Emails. Texts—if you prefer.
Thank the women who have helped you be the woman you are today. Without them, how could you be strong enough to be the wonderful woman you are today?
Don't let International Women's Day pass you by without truly embracing what the day represents. Remember how hard many women have fought for some of the most basic rights we have today, and honor them. In the future, the young women of today will then do the same—and the torch passes on!
//= get_template_directory_uri() ?> //= get_template_directory_uri() ?> //= get_template_directory_uri() ?> //= get_template_directory_uri() ?> //= get_template_directory_uri() ?> //= get_template_directory_uri() ?>
©2011-2023 Worthy, Inc. All rights reserved.
Worthy, Inc. operates from 45 W 45th St, 4th Floor New York, NY 10036