Worthy's March 2019 Hot List: Gloria Bell, Queer Eye & Your Best Jewelry Hack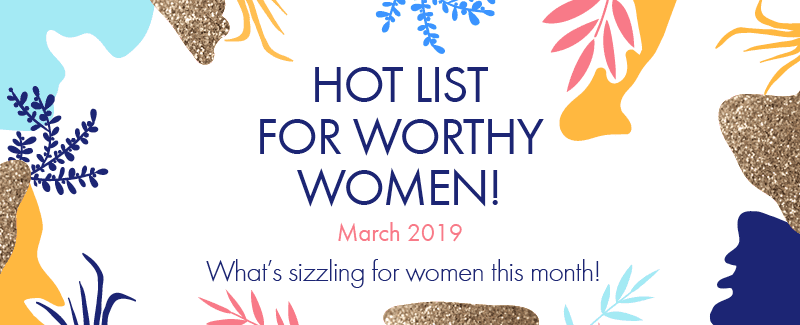 Spring is coming ladies!! And with it comes all of the beautiful colors, smells, and feelings of renewal. Even if the weather isn't as lovely as we would like it to be (yet!), there are plenty of things this month to get you up and at 'em.
Gloria Bell
Isn't it nice when a film matches your life perfectly? We think so. Even if you aren't letting loose at the club or have yet to jump back on the dating horse (don't forget our survey), this movie is sure to make you laugh, cry and feel great.
Gloria Bell (Juliane Moore) tells the story of a free-spirited divorcee with a boring day job and a wild nightlife in the dance clubs of LA. When she meets Arnold on one of her nighttime adventures, she finds herself in a whirlwind love affair that she must reconcile with her life and family.
Gloria Bell premieres March 8th. We'll have more to come on this movie later this month.
"Divorce & Other Things You Can Handle" Season Two is Here!
Among all the many things we're excited about this month, we are particularly pumped to announce season 2 of the Worthy podcast, "Divorce and Other Things You Can Handle", is back with our new host Jennifer Butler! Make sure to catch the new episode on Tuesday, March 12th, available on iTunes, Google Podcasts or wherever you listen.
Queer Eye Season 3
In case it wasn't clear before, we LOVE the Queer Eye reboot. Consequently, we are pumped for season 3, which comes to Netflix March 15th. There is no one the Fab 5 can't convince and teach the necessity of self-love and self-care with their perfect mix of sass and style.
Make sure to tune in to the new season to get their style tips along with their heartwarming messages to help boost your vibe.
The Earring Back Hack We're Raving About
When one of our team members came across this Cosmo article, she shared it with us and our lives have never been the same. As a crafty cashier tells Mia Lardiere of Cosmo, when you get into the inevitable bind of losing an earring back, you can solve all your problems by simply cutting off the eraser from an unused pencil and stick it through your earring. Voila! Instant earring back.
Got any hot tips, movies, TV shows or anything else your into these days and feel like sharing? Write to us at [email protected] and share your secrets with the rest of our community.
//= get_template_directory_uri() ?> //= get_template_directory_uri() ?> //= get_template_directory_uri() ?> //= get_template_directory_uri() ?> //= get_template_directory_uri() ?> //= get_template_directory_uri() ?>
©2011-2023 Worthy, Inc. All rights reserved.
Worthy, Inc. operates from 25 West 45th St., 2nd Floor, New York, NY 10036