Preparing For Your Divorce, Whether You Wanted It or Not with Christine Joy Luck Sarno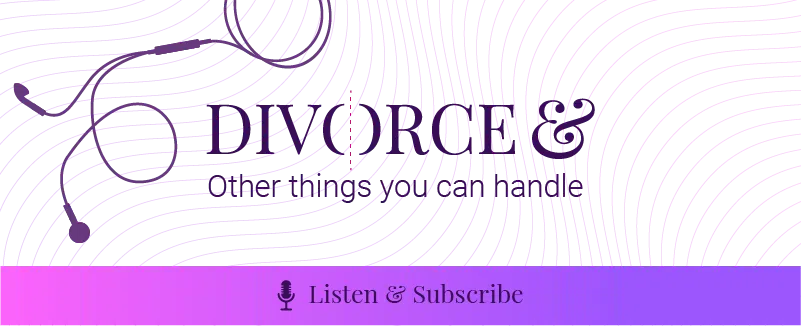 When a marriage ends, the person who makes the decision to get divorced matters. The person who makes the decision gets an emotional head start and has more information ahead of the other partner. When a partner tells you that they want a divorce, this can be really challenging. You may go into the fright, flight, or freeze mode. This is especially challenging if the divorce request seems to have come out of left field.
In this episode of Divorce & Other Things You Can Handle, financial coach Christine Joy Luck Sarno discusses how to prepare for a divorce, emotionally and financially, whether or not you were the spouse who wanted the divorce or asked for the divorce. Christine is a licensed financial advisor who realized her passion was helping her clients became informed and confident stewards of their own money. Listen to our discussion now.
Handling the Emotional Trauma of Divorce
An important part of Christine's job is helping her clients handle the emotional trauma of divorce. They can be in a state of shock, and experts they trust must have the emotional intelligence to be able to help them process it. But many financial and other experts lack this skill.

Focus on self care: however we define self care, what can you do right now in this particular context with these circumstances to take care of yourself in this highly emotional moment

Slowing the process – It's not good to make reactive decisions from strong emotions. Take one step at a time to slow the process down.

A kinder gentler process – What approach can you take to navigate the divorce in the kindest, most cooperative, and most gentle way. This will generally have the best overall impact on everyone's financial situation.
Getting to Know Your Numbers
Knowing your numbers – You need to learn what accounts you have, your assets, your income. This may be all new information to you. You may not have been involved in the financial aspects of the marriage.

Christine's job is to help guide her clients in understanding their current numbers. And helping them decide what they want their financial life to look like after the divorce.

Dispelling anxiety – Knowing your numbers can help you deal with the anxiety surrounding divorce and your finances. It removes some level of the uncertainty.

Learn the difference between things like spousal support, child support, etc. Learning this language can help you feel more empowered when divorce paperwork often makes people feel overwhelmed and unsure.
Dealing with Strong Emotions
People will often have strong emotions surrounding divorce – shame, confusion, embarrassment. Christine says it can be very difficult to gain a client's trust in these circumstances. You need to create a safe space for people to be transparent and honest about their feelings.

Your divorce team – when putting together your divorce team, you need to find the people you think you are going to have the best rapport with. Someone who won't be condescending and won't brush off your emotions.

In the initial stages of divorce, it can be difficult to go through the process of setting up your team and discerning who the right person is for them. Christine coaches her clients to help them ask the right questions of prospective legal counsel, financial advisors, etc., but also to help them find someone they will connect with while in a distressed emotional state.

Avoid the sharks – there will be some people looking to take advantage. Find people who are really on your side.
Christine's Philosophy
Money means options – Financial means gives you more options when it comes to creating the life you want to live and how you can impact your loved ones, community, and the larger world.

Christine helps her clients understand how to get to financial independence.

Being our own accountability partner: We have to take action and treat ourselves with the love we want to receive.

Lean in on your support network – If you don't have one, you need to build it. Let them know you need help during your divorce.
Worthiness vs. Entitlement
Retraining our worthiness muscle – You deserve your share of the finances and to feel whole. How can you part the marriage in such a way that both spouses feel whole?

Do not discount your contribution to the relationship – Even if you were not the main breadwinner, you deserve your fair share for your part in the marriage. Own this. Not from a place of entitlement or anger, but from a place of understand that you deserve it and are worthy of it.

Mandy frames this as "what the law provides" – this is your fair share of the marriage assets. You deserve this money.
The Gap Between Men and Women in Negotiations
Do not underestimate your worth – in Christine's experience, women tend to do this more than men.

Ask for what you really deserve and do not underestimate this

Christine works specifically on this area with her clients – helping women asking for what they deserve financially. This is also how you fight against the gender financial gap!
Free Guide Download
Go to Christine's website to download her free guide to smart money moves.
About Christine Joy Luck Sarno
Christine Joy Luck Sarno left corporate to become a licensed financial advisor and realized that her heartfelt passion was to teach her clients how to be informed and confident stewards of their own money. Her ongoing work as a Financial Coach focuses on education and mentorship, and this includes her unique approach to money mastery to help her clients uncover what's truly preventing them from creating wealth, as well as teaching them how to implement financial strategies so that they can feel empowered about their financial future.
​As your Financial Wingwoman, she supports clients in sifting through the overwhelming world of financial do's and don'ts, and together they develop a clear, effective plan to guide you through their most pressing financial challenges.
//= get_template_directory_uri() ?> //= get_template_directory_uri() ?> //= get_template_directory_uri() ?> //= get_template_directory_uri() ?> //= get_template_directory_uri() ?> //= get_template_directory_uri() ?>
©2011-2023 Worthy, Inc. All rights reserved.
Worthy, Inc. operates from 45 W 45th St, 4th Floor New York, NY 10036