Re-Inventing Yourself After Divorce with Alison Hall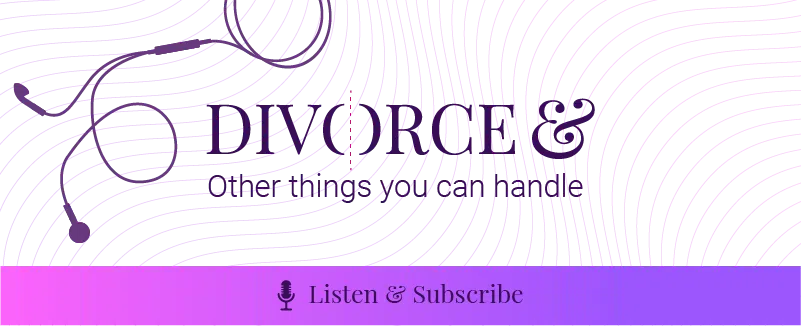 Why Is Divorce a Good Time to Reinvent Yourself?
After divorce you can focus on what you have learned from the relationship and use that to better yourself and improve the relationships you have moving forward. This may take time, so be patient with yourself. During this time it may be beneficial to seek perspective from an objective friend, therapist, or life coach.
In this episode of Divorce & Other Things You Can Handle, I speak with reinvention specialist Alison Hall. Alison is the founder of Change Agent Coaching for Women, and her work is primarily focused on helping women to confidently lean into their strengths, find their purpose, dump the self-doubt, and reinvent themselves to create the lives they want and deserve. In this episode, we discuss how divorce can be an opportunity for growth and reinvention, and the importance of a positive perspective.
How to Reinvent Yourself as You Reenter the Workforce
Many people default to going back to the kind of work they did prior to marriage.
While this may work, it may not be what you are interested in or brings you joy now.
Assess where you are at, what you are interested in, and don't be afraid to ask the people around you for suggestions and feedback.
Reinvention can also be unrelated to your career or job.
Perspective Is Everything
Reframing your mindset about your divorce can open up the possibilities of what you can do and who you can be. This can be a difficult thing to do, but very rewarding.
Reinvention can be something small that leads to something larger. Making changes step by step can be a more achievable approach.
How you look at a situation or challenge can have a huge impact on how you feel about it and your level of success.
Should You Make a List?
It can be cathartic to write down all of the things you like and don't like.
This process can make the reinvention process less intimidating by getting your thoughts down on paper.
Goals for Reinvention
Don't put time constraints on yourself.
Keep in mind that you're never truly done growing or changing.
Make sure the goals you set are things you actually want to do, as opposed to what someone else may be telling you what you "should" be doing.
Your goals may change over time, and that's okay.
About Alison
Throughout her career Alison has been an empowering force for women, both in her leadership roles within large corporations, and as an entrepreneur. She is a serial-learner, and she is passionate about sharing her knowledge with others.
Her 25-year corporate career included roles in investment management, audit, training, and senior-level recruiting and placement. When she branched out to become her own boss, she was able to take advantage of her understanding of processes and systems, marketing and sales, and human behavior to build successful businesses in the fields of fitness, logistics, real estate investment, and divorce mediation and litigation support.
Through her firm Whitehall Divorce Solutions Alison works to help divorcing women, many of whom face economic insecurity as they become single heads of households, reach equitable and informed financial settlements. Over the years she has become an advocate for financial security through self-employment. Via individual training and workshops, she has guided women to overcome obstacles and fear to launch successful businesses and secure their financial futures.
Alison's mission as the Change Agent Coach is to help women with significant life experience identify their dream lives, and empower them to be their own Change Agents to bring big ideas to life. She believes that the world is full of limitless possibilities and ways in which we can feel fulfilled; that it is never too late to reinvent and reach for dreams; and that if we only have the one life to live, we'd better get cracking.
How to Reach Alison
Alison's Website: https://www.changeagentcoaching.com/
Email: [email protected]
//= get_template_directory_uri() ?> //= get_template_directory_uri() ?> //= get_template_directory_uri() ?> //= get_template_directory_uri() ?> //= get_template_directory_uri() ?> //= get_template_directory_uri() ?>
©2011-2023 Worthy, Inc. All rights reserved.
Worthy, Inc. operates from 45 W 45th St, 4th Floor New York, NY 10036