Join Our Worthy Women Virtual Hangout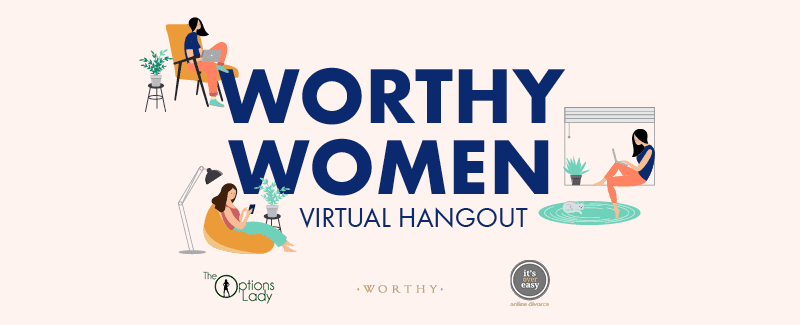 Mar 25th
Are you #shelteredinplace #findingyourbalance #communitygroups ?

Join us on Wednesday, March 25th, at 4 pm ET/1 pm PT, with Laura Wasser, Divorce Attorney and Founder of It's Over Easy and Laurie Itkin, Certified Divorce Financial Analyst, for realistic advice around divorce, your money and you!

We all need a little #Wednesdaywisdom #virtualcommunity #financialhealth
We know that many of you may be in the middle of your divorce process and some of you may even be self-quarantining with your (soon-to-be-ex) spouse and your children. We know that transitioning to the next stage of your life while dealing with a global health crisis is not easy. It's a lot!
We are here to help you learn with experts, answer questions, connect and encourage each other.
This event is perfect for: co-parenting exes, recently divorced, those thinking about divorce or in the divorce process.
Questions such as:
How will the stock market crash impact how much money I will receive in retirement accounts if I divorce?
If my spouse loses his or her job due to a recession, will that lower the amount I receive in alimony or child support? Or will I have to pay support to him or her?
If I divorce, what can I do to generate cash needed to pay legal bills?
What happens to a custodial timeshare during this global crisis?
Should we establish an academic schedule while schools are out?
Do we need an agreement about how to speak with our kids about what is happening in the world?
What do I do if I have concerns about my co-parent's health and safety routines (or the lack of them)?
Send us your questions to [email protected].
This webinar is free of charge and will be hosted on Zoom, a safe and secure environment for hosting video conversations. To sign up:
Visit Zoom.us
If you do not already have a zoom account, you will be asked to make one for free. 
You will be sent a link to the webinar via email. The link will only open properly when the webinar has begun so save the email for Wednesday! 
If you would like to join the webinar from your phone, make sure to download the app to your phone, either from the App Store or Google Play Store. 
Please note: the webinar will only be available to the first 100 participants.
With a global health emergency happening, our sense of community has never been stronger. We are Worthy strong!

//= get_template_directory_uri() ?> //= get_template_directory_uri() ?> //= get_template_directory_uri() ?> //= get_template_directory_uri() ?> //= get_template_directory_uri() ?> //= get_template_directory_uri() ?>
©2011-2023 Worthy, Inc. All rights reserved.
Worthy, Inc. operates from 25 West 45th St., 2nd Floor, New York, NY 10036