Lover's Eye Jewelry
In the whirlwind around Valentine's day, tokens of affection in jewelry can be found in advertisements, magazines features and on all forms of social media. But, as the saying goes "love is in the eye of the beholder" particularly when it comes to one of the most rare forms of romantic period jewelry: the lover's eye, for which both novice and consummate collectors have fallen head over heels. A more intimate spin on painted miniature jewels, "the stories behind these pieces, originally designed as brooches, rings and lockets (with a back compartment that could contain a lock of hair) is what makes them all the more collectible," explains Omar Vaja, sales director and jewelry ambassador of Bentley & Skinner. Varja has sold authentic and masterful pieces to serious collectors, one of who has acquired seventy lover's eyes, he reports.

The legend of these jewels goes something like this—only one eye was painted, sometimes with lashes and an eyebrow or maybe a hint at sideburn or bridge of the nose so only the person wearing it would recognized their secret lover. It was a discreet way to send you paramour a gift of love. It also was reported to have an additional meaning of "I am watching you or I always have you in my sight."


It was said to originate in 1785 when the Prince of Wales (later George IV) was having a scandalous affair with a widower, Maria Fitzherbert. He commissioned portraits of their eyes as discreet love tokens. When the public got wind of it, lover's eyes became a trend among aristocracy and society. Lord Byron was another owner of a secret lover's eye.

"Eyes are the most expressive; they speak volumes about what you are feeling. You can tell something about a person the first time you look into their eyes," Vaja says. "The fact that they were truly works of art in watercolor on ivory or vellum and that they lend an air of mystery in trying to figure out who the person was—all adds to the collectability of this jewel." The most valuable examples of lover's eyes are rings, which are more rare, and examples with more finely detailed paintings.

The early nineteenth century saw eye miniatures evolve into one of the types of memorial jewelry. To remember a loved one, the miniature was painted with an eye looking through clouds or it was detailed with a gemstone drop: pearls for tears, diamonds for strength. There was also symbolism of the gemstones surrounding the portrait, pearls and diamonds meant the same, while coral was for protection of the wearer garnets for true friendship.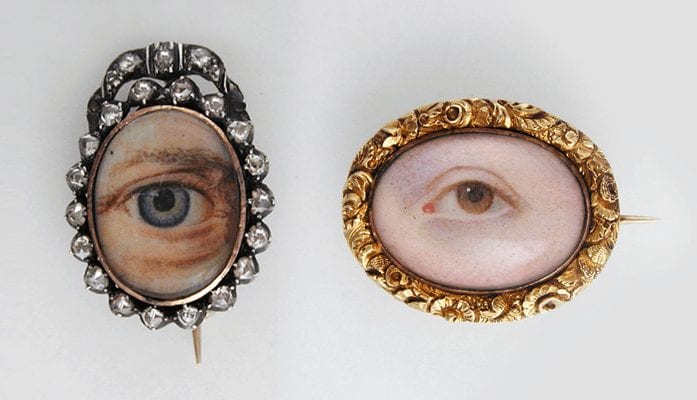 The Look of Love, a book by Graham Boettcher, Elle Shushan and Jo Manning, catalogs David and Nan Skier's collection of 98 eye miniatures along with interesting tidbits and even short stories surrounding the jewels. The book was written in conjunction with an exhibit at the Birmingham Museum of Art. As an ophthalmologist and eye surgeon, David Skier was immediately taken by an eye miniature he found at an antique show and he and his wife continued collecting for years, amassing an amazing collection.

The fact that lover's eyes were in vogue for a short period from the late 18th through early 19th century means that there is a limited number in existence. Edith Weber, a well-known Manhattan antique dealer, who coined the phrase lover's eye approximately 30 years ago, estimated that there are a little over 1000 in existence.


Vaja explains, "It takes a jewelry historian, or an antique shop owner or dealer who has been handling the type of merchandise for years to suss out the really good imitations from the real thing. We all make mistakes in this business and with the amount of lover's eyes out there, it is crucial that you work with a shop or dealer you can trust."

Lover's eyes are being widely reproduced. If you set your gaze upon one and think of receiving or giving it as a gift —make sure that you do your research, inspect the piece as closely as possible, get a certificate of authenticity and look away and towards a different piece of jewelry if you are unsure.
//= get_template_directory_uri() ?> //= get_template_directory_uri() ?> //= get_template_directory_uri() ?> //= get_template_directory_uri() ?> //= get_template_directory_uri() ?> //= get_template_directory_uri() ?>
©2011-2023 Worthy, Inc. All rights reserved.
Worthy, Inc. operates from 25 West 45th St., 2nd Floor, New York, NY 10036