The Story Behind Kim Kardashian's Engagement Ring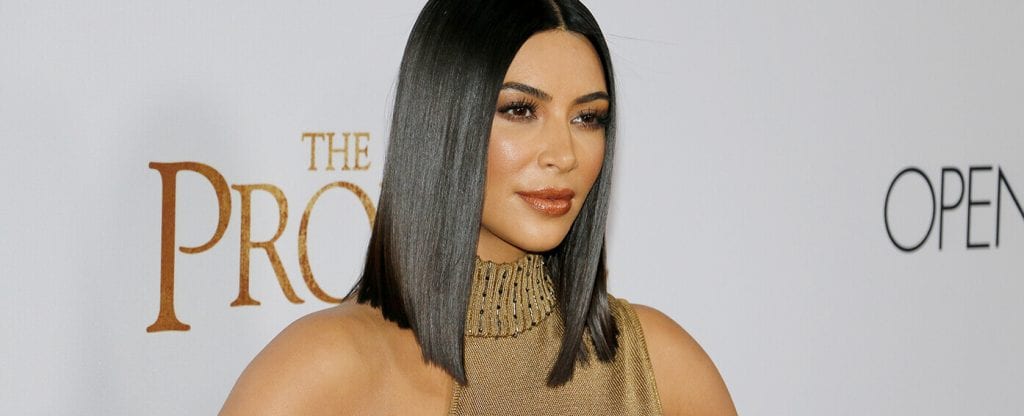 Imagine receiving a beautiful second engagement ring from your husband, and then having it stolen from you at gunpoint. This is what happened to Kim Kardashian during what was meant to be a fun experience at Paris Fashion Week. While she was robbed of approximately $10 million worth of jewelry, the theft of her engagement ring is particularly heart-wrenching. Here's the story.
Kim's Second Engagement Ring
This famous Kim Kardashian ring cost approximately $4.5 million – a nice upgrade from her original Lorraine Schwartz engagement ring, which you might remember from Kanye West's famous proposal during a baseball game at San Francisco's AT&T Park way back in 2013.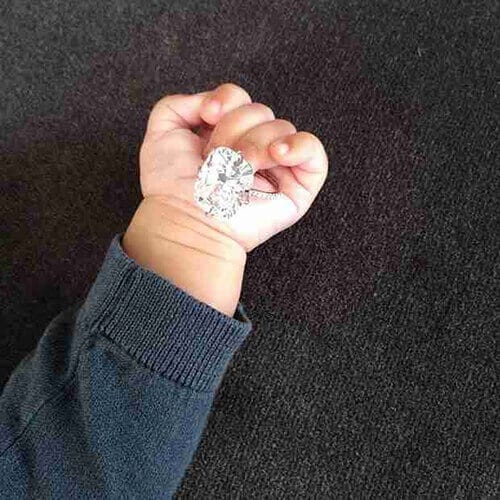 Kim hasn't had her second engagement ring long – she had just recently received it when she gave an interview to Andy Cohen during the Girls Lounge dinner in NYC on September 27, 2016. "My husband was very nice…he did surprise me…it's a really cute story" she told Cohen, when he asked about her new bling. "So I was sleeping and he woke me up in the middle of the night and said, 'Babe, babe! I got you something from Adidas.' And I said 'OK, I'll get the shoes in the morning babe, I'm sleeping.' and then he put the Lorraine Schwartz box on my pillow and I woke up! He said, 'You know I just did that big Adidas deal, so I got you something from Adidas.'
The ring is indeed very special – especially since it has "Adidas" engraved on the inside!
Kim Kardashian Engagement Ring Size
Kim's original engagement ring is truly stunning, at about 15 carats. The new ring is absolutely incredible, with a 20-carat emerald-cut diamond taking center stage. It looked massive on her hand, yet not at all gaudy – the elongated shape complements her style and matches her chic, sophisticated personality.
The Theft: A Nightmare in Paris
Everything was fantastic in Kim's world during the days prior to the now famous hotel invasion. She had been using Instagram and Snapchat as usual, enjoying time with her social media followers and cheering for her sister Kendall Jenner, who was walking the Paris catwalk for the first time. She had been showing off her ring since receiving it, and not surprisingly, it made quite a splash since being debuted at the 2016 MTV Video Music Awards.
According to a number of reports, the horrific robbery took place at approximately 3 a.m. when five men wearing police jackets and ski masks entered the No Address Hotel in Paris, where Kim was a guest for Fashion Week. The men demanded to be taken to her room, and the hotel employee was forced to comply.
Two of the men entered Kim's hotel room, where they used tape to bind her hands and feet before locking her in the bathroom. They left with the famous engagement ring, a jewelry box with another $6.7 million worth of jewelry, two cell phones, and approximately 1,000 Euros. Adding insult to injury, they stole Kim's purse as well – leaving her with only her luggage and a terrifying experience that caused grave psychological damage.
Will Kim ever get her engagement ring back? According to expert Brett Stettner of Stettner Diamond Investments, the odds of recovery are slim to none even though the diamond is engraved with a tracking number. In an interview with US magazine, the robbers are likely to be part of a "sophisticated criminal enterprise, like the Pink Panthers, who will know how to remove the location numbers (i.e. tracking numbers) from the diamond."
He went on to say that "When a diamond is stolen by sophisticated thieves, they have their own people in the underworld who are the cutters. The cutter is not necessarily involved with the crime organization, but they are hired to recut the diamond," Stettner explained. "The thieves would say that their client wants a different shape and to recut the diamond to the client's specifications." This means that the ID number would be removed during the cutting process.
Will Kim's engagement ring ever be recovered? Several suspects thought to be involved in the heist were arrested in January 2017, and two brothers who were accused of helping to dispose of the diamond may have been part of a plan to sell it in Antwerp, Belgium, where undocumented jewels are bought and sold with no questions asked.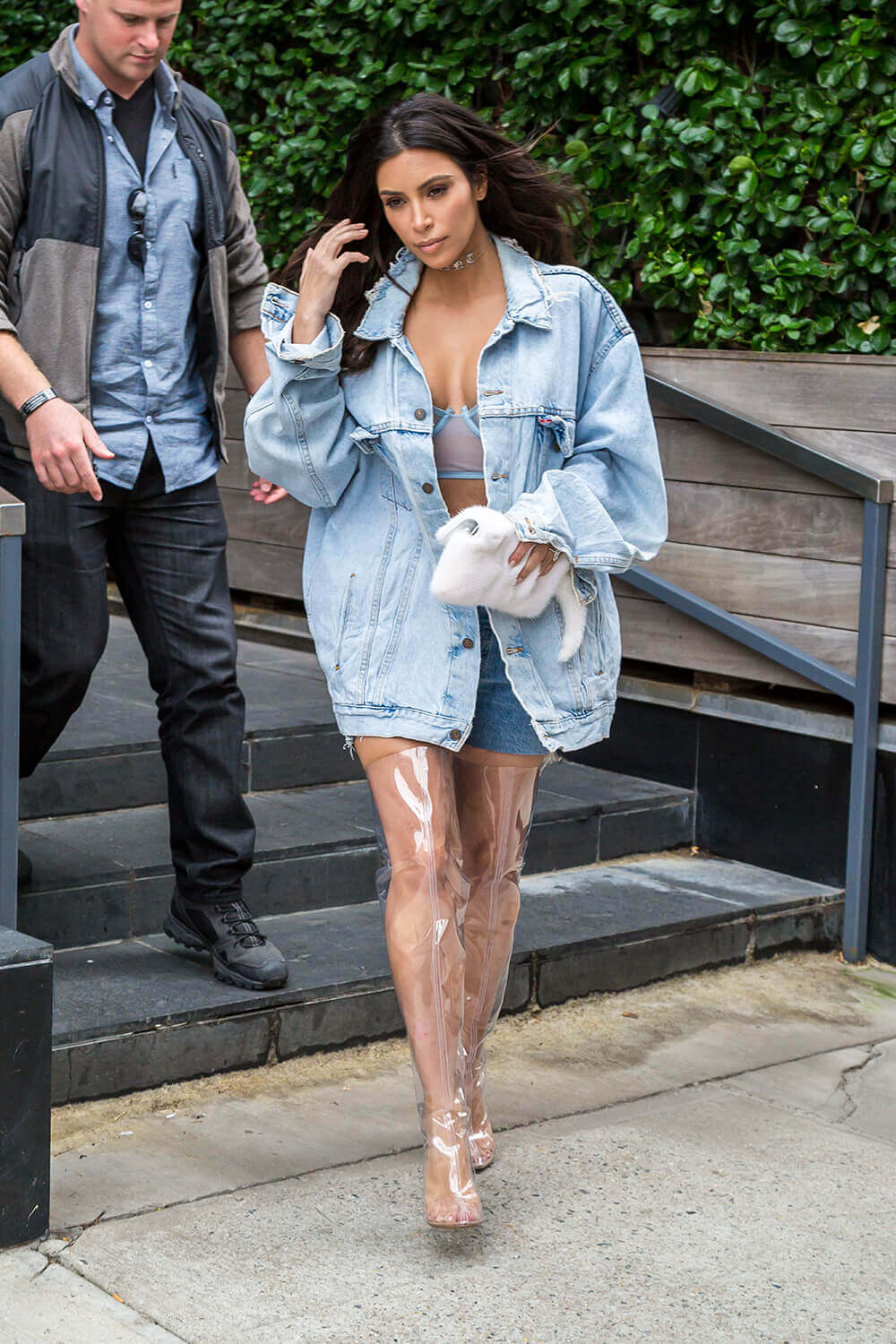 A total of 17 people were arrested in connection with the crime, including Kim's limo driver. According to Le Monde, he was the last person to drive her to her hotel prior to the incident, and Paris police believed that he may have provided information to the thieves who entered her private apartment.
Since the robbery, Kim has been stepping out in simpler jewelry including a personalized name necklace and a gold lip cuff. She still has her original Lorraine Schwartz engagement ring, and there is still hope that she will recover her second engagement ring. Will she ever step out in a Kim Kardashian ring replica? While they're a dime a dozen online, we're not sure whether she has any fakes.
The Kardashian Sisters and Their Diamonds
The Kardashian-Jenner family has had a love affair with fashion for well over a decade, with sisters Kim, Khloe, Kylie, Kourtney, Cassandra, and Kendall rocking styles from top houses and pairing them with luxury jewelry, often containing beautiful diamonds. The sisters launched their own clothing line back in 2009, and at the same time, they released their own jewelry collection for L.A. brand Virgin Saints and Angels. Today, they're wearing plenty of bling, along with some laid-back personalized jewelry. in part, this could be because stars are being targeted by thieves. Kendall Jenner was the victim of a home invasion robbery in which an estimated 163,000 in jewelry was taken from her Hollywood Hills estate. Kendall wasn't home at the time but like her sister, was badly shaken.
We appreciate this beautiful family and their openness. Kim and her sisters often provide us with glimpses into their personal lives, and we wish them all the best.
Sources:
US Weekly Magazine
People Magazine
People Style
TMZ

Header Photo credit: Tinseltown / Shutterstock.com
//= get_template_directory_uri() ?> //= get_template_directory_uri() ?> //= get_template_directory_uri() ?> //= get_template_directory_uri() ?> //= get_template_directory_uri() ?> //= get_template_directory_uri() ?>
©2011-2023 Worthy, Inc. All rights reserved.
Worthy, Inc. operates from 25 West 45th St., 2nd Floor, New York, NY 10036