Watch Evolution – The Progress of Wristwatches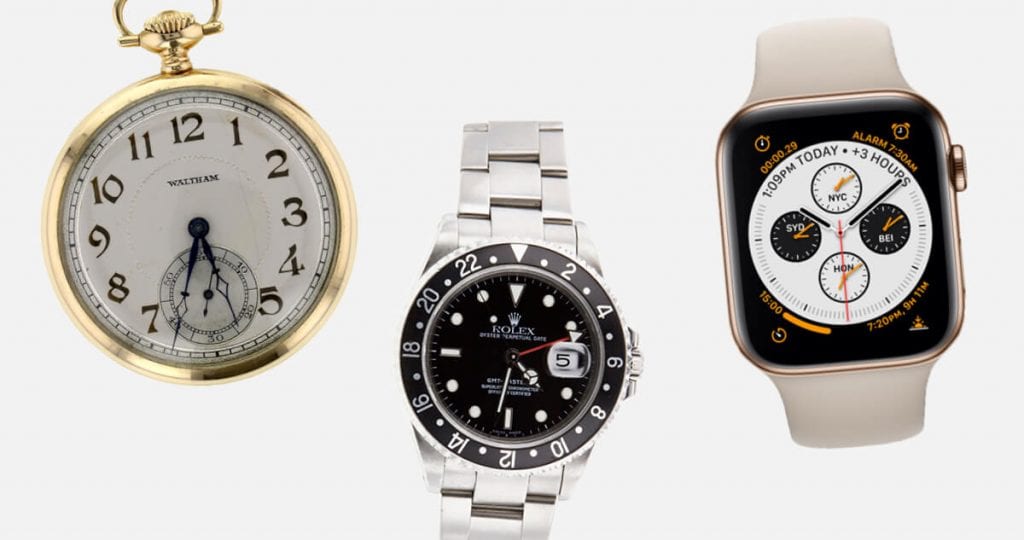 What is a wristwatch? Most people agree that it is a small timepiece which is worn on the wrist – usually the left, although left-handed people often wear their watches on the right wrist instead. With an attractive little clock face and a band made of leather, metal links, or another material, a wristwatch is both an accessory and a useful means of assuring punctuality.
As jewelry goes, the wristwatch is by far the most practical piece one can own and enjoy. Travel back in time with us as we explore the history of the wristwatch, all the way from its early origins as a women's accessory to today's innovative smartwatches. Let's take a closer look at this amazing invention, which was once so rare that the Queen of England possessed the only one in existence.
A New, Fashionable Idea
The first watches were small personal clocks, carried in pockets, pinned onto dresses and aprons, and withdrawn to check the time, often with a flourish and a bit of fanfare. Though ornamental and useful, pocket watches were slightly impractical, causing the user to stop whatever he or she was doing, open the protective cover, and then close it up again when finished.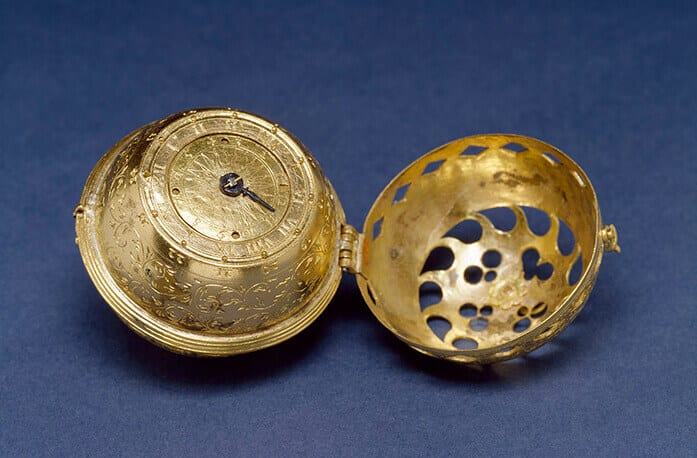 Enter the wristwatch: Its concept dates back to the 16th century, when Queen Elizabeth I of England received a so-called arm watch. When was the wristwatch invented? Most accounts state that this early model appeared in 1571, although Robert Dudley, the 1st Earl of Leicester and perhaps the man who invented the "wristwatch" presented to the Queen, may have created earlier versions. This particular piece was described as a "richly jeweled armlet, having in the closing thearof a clocke, and in the forepart of the same a faire lozengie diamond without a foyle, hanging thereat a rounde juell fully garnished with dyamondes and a perle pendaunt."
Dudley's connection to Queen Elizabeth I is an intriguing one; he was among her many suitors, and he was regarded as a close friend. During his time in her court, he served as Master of the Horse, Privy Councillor, Lord Steward of the Royal Household, and Governor-General of the United Provinces. It is not known, however, whether he had any connection to another famous watch owned by Her Majesty: It was a watch set in a ring, which featured an alarm in the form of a diminutive prong that would brush her finger at the appointed time.
Bracelet watches are mentioned again in 1790, and again in 1809 when Parisian jeweler Nitot was commissioned to create two bracelets, one with a watch and the other with a calendar, for presentation to Princess Auguste-Amelie of Leuchtenbergin by her new mother-in-law, Empress Josephine.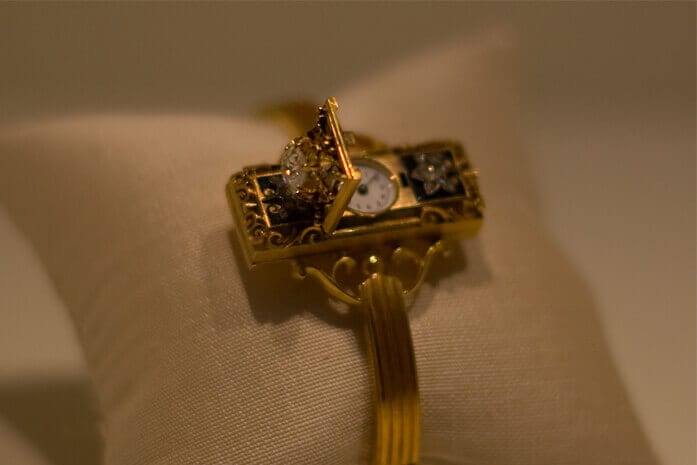 Watchmaker Breguet received a commission for a wristwatch in 1810, and in 1812, that timepiece was presented to the Queen of Naples.
Fast forward in time, and we arrive at the year 1868, when the debate over who invented the wristwatch begins in earnest. That year, Patek Philippe created a stunning bracelet watch with a winding key for Hungary's Countess Koscowicz. In 1889, Albert Bertholet of Bienne registered for and was granted a patent for a simplified wristwatch called the "Montret bracelet simplifiee." This timepiece was wound via a rotating bezel, and its Swiss patent number is CH 576. Soon other watchmakers produced similar pieces, all embellished with enamel, jewels, and ornate flourishes, and all designed to be worn as accessories, by women.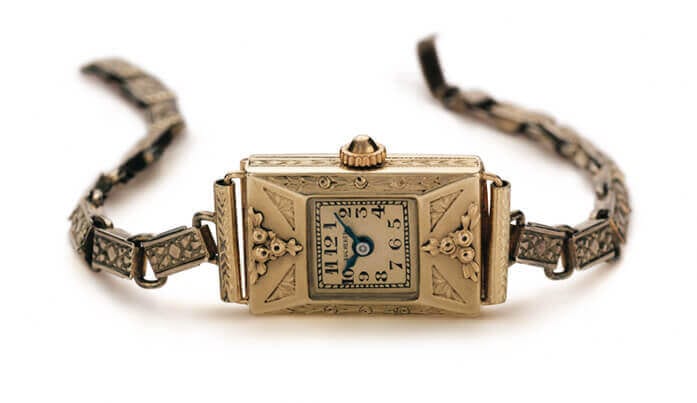 Emergence of the Practical Wristwatch
The earliest wristwatches were prone to damage. They were delicate in appearance and function, and they were not hermetically sealed as today's fine watches are. For this reason, men continued to prefer pocket watches. The pocket watch trend continued even after British Army officers began to wear wristwatches in the 1880s out of a need to synchronize attacks, and because it was far more convenient to refer to one's wrist than it was to pull out a pocket watch during the heat of battle.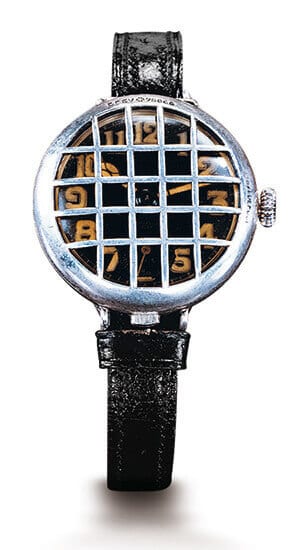 These earliest men's wristwatches looked very much like pocket watches, simply fitted to the wrist with a leather strap. Swiss company Dimier Freres & Cie receved a patent for a wristwatch with wire lugs in 1903, and innovations continued to move swiftly after that. By 1917, the British War Department was issuing wristwatches to combatants; these were specially designed for trench warfare, complete with unbreakable glass and luminous dials.
Not long after, men began to swap their pocket watches for wristwatches, particularly after John Harwood invented the self-winding watch in 1923. By 1930, the once ubiquitous pocket watch had fallen so far out of favor that it was nearly a relic of the past.
The Invention and Evolution of Electronic Watches
Electronic (quartz) movements were introduced by CEH, Switzerland, in 1967. The BETA 1 quartz wristwatch was a sleek, square timepiece that set performance records when it was shown at the International Chronometric Competition. By 1970, 18 different manufacturers had their own quartz watches on offer. This was possible only because technological contributions to the original had come from several sources including Japanese, Swiss, and American watchmakers. While companies almost certainly lost profits, the lack of technology patents fueled rapid innovation as well as exceptional market growth. In the end, watchmakers worldwide benefitted.
Soon after the emergence of electronic watches, new technology became available. Diving watches, aeronautical watches, and even space watches were offered by top manufacturers including Rolex, Seiko, and Omega. The Omega Speedmaster was the choice of NASA, while the Russian Pobeda watch went into orbit on Korabl-Sputnik 4. Yuri Gagarin wore a Shturmanskie watch during his 1961 flight.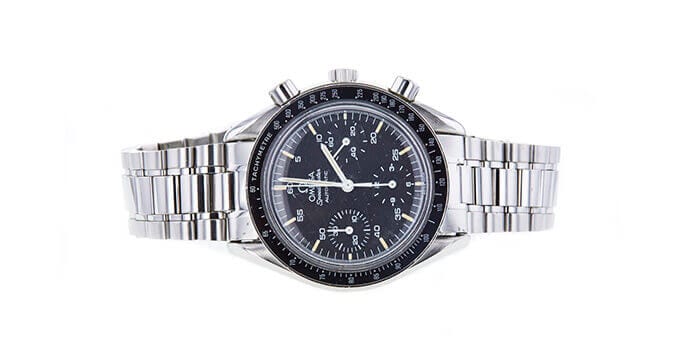 Calculator watches preceded today's smartwatches, as did novelty watches with simple computer games. These were introduced in the late 1970s and remained popular throughout the 1980s. Timex's Datalink wristwatch had the ability to communicate wirelessly with a PC, creating quite a stir when it was released in 1994. Steve Mann designed the first Linux wristwatch in 1998, and in 1999, Samsung offered a watch phone with a full 90 minutes of talk time.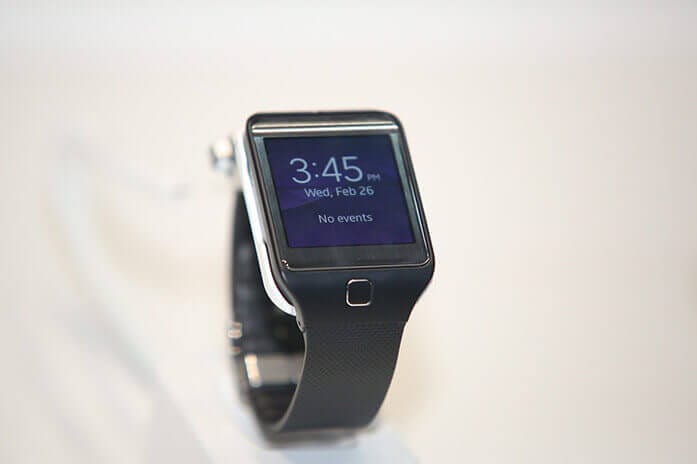 In 2000, IBM offered a Linux Smartwatch, and that same year, the company collaborated with Citizen on a "WatchPad" with a touch display, 16MB of flash memory, Bluetooth, and other features. From 2003 forward to 2010, Fossil, Microsoft, Sony Ericsson, Samsung, and Hermen van den Burg continued to develop new smartwatches. Apple introduced the Apple Watch in 2014, the same year that Microsoft released its Microsoft Band watch.

Today, Apple, Microsoft, Casio, Misfit, Garmin, TAG Heuer, Samsung, and other top manufacturers offer their own smartwatches, all with unique features, cool styles, fitness trackers, and more.
While the trend is here to stay, many continue to appreciate earlier wristwatches for their beauty and style – and fine watchmakers are sure to blend the latest wearable technology with their own attractive designs. What will 2019 bring? We're excited to see what emerges!
//= get_template_directory_uri() ?> //= get_template_directory_uri() ?> //= get_template_directory_uri() ?> //= get_template_directory_uri() ?> //= get_template_directory_uri() ?> //= get_template_directory_uri() ?>
©2011-2023 Worthy, Inc. All rights reserved.
Worthy, Inc. operates from 25 West 45th St., 2nd Floor, New York, NY 10036