Putting Your Kids First In Divorce with Elise Buie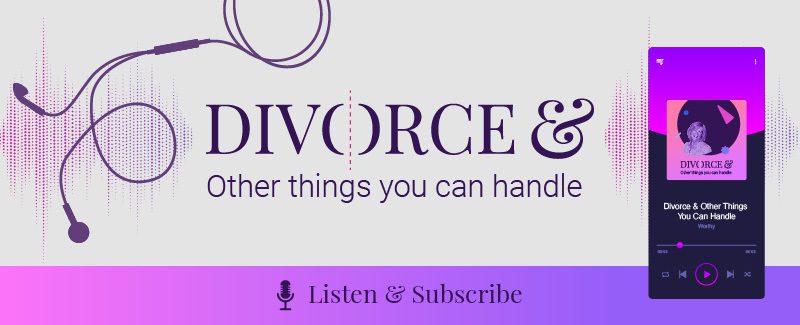 In the long and emotional process of divorce, it's often difficult to keep what really matters in focus – your kids. Elise Buie joins the podcast to discuss how to focus on your kids during divorce, what that means, and how we can support them.

Wherever you are in your divorce process and no matter how old or young your kids are, Elise's honest approach to parenting through divorce and after can help you.

Elise is an attorney based in Seattle where she moved after leaving New Orleans in the wake of Hurricane Katrina. Elise has been through her own divorce with children and now works with divorcing couples with a collaborative philosophy. She is also a huge fan of the writer Eve Rodsky, whose books she mentions throughout her discussion with Mandy.

In This Episode
Our main takeaways from Mandy's discussion with Elise on staying focused on the kids during divorce are:
Remember that divorce is a huge transition for a family. Putting the children's best interests front and center during the divorce can help eliminate negative effects.
Any and every decision that you make about your post-divorce life needs to be made with the following question in mind: "How will this decision impact their wellbeing?"
Living in two separate homes doesn't harm children – what harms them is the conflict between the two parents.
Consider the question of "do you love your children more than you hate your ex?" For most people, the answer is "yes, of course!". Yet they make decisions that don't align with that, making choices that make it seem like they hate their ex more than they love their children
Negotiations and Boundaries – it's hard but you need to keep reminding yourself that whatever happens in your divorce negotiations is going to directly affect your post-divorce life, that of you and your children. Avoid negotiation fatigue or the notion that agreeing more easily to something is good for your kids – you are an advocate for yourself and them so fight for the things you need. Particularly when it comes to finances:

Remember that what's best for the children is to live in two financially stable homes. This translates to preventing either parent from agreeing or being forced to agree to any sort of financial settlement or negotiation that will negatively impact them because it will ultimately negatively affect the children.
Advisors like Elise and Mandy have the ability to educate you on what the outcome of your negotiations will look like and help you make the best choices for your family.
Elise's website has lots of great resources on making some of the most fundamental decisions during divorce.

Keep doing the invisible labor – Invisible labor is the small things that need to be taken care of when running a household, such as taking out the trash, doing the dishes or laundry, making the doctor's appointments, packing lunches, etc.

Elise recommends – Eve Rodski's book Fair Play: Elise loves this book, which comes with a pack of cards with many of the things considered "invisible labor" (a major portion of them are child-related). This book and these cards can be a huge help to co-parents in understanding exactly how much of a person's time and energy is taken up by this labor. Elise notes that she really believes Fair Play to be a key to helping parents successfully co-parent in two homes with as little conflict as possible.
Children are innocent in the process of divorce so anything we do as parents to not put the burden of divorce on them will help. In a co-parenting relationship, it's important to keep doing this invisible labor with a smile on your face, even if you are internally cursing your ex for not taking care of the doctor's appointment or whatever it is. If children see one parent's anger toward the other for not taking care of the child's needs, there can be serious effects later on.
By bringing the invisible labor to the forefront during divorce, parents can make sure their children are being kept front and center during a divorce.

Mandy notes that she often refers to an ex as "your child's other parent".

Try to keep in mind that the things they weren't good at before divorce aren't things they are going to suddenly be good at. We all have strengths and weaknesses so co-parent according to that.
Exes should strive to have conversations about this what they are good at as that can be a major help.

Model positive behaviors is an important part of all parenting, co-parenting included.

Elise's favorite positive behavior – Finding strengths in the other co-parent and highlighting them. This helps children see both parents in a positive, harmonious light.
When you model this behavior and show favor to your ex, as Mandy says, you earn more points in the bank that can be used later when you need a favor or flexibility from the other parent.

Change the way you think about time

If your child has something that will take away from your time with them, such as a play date or birthday party, keep in mind that it is their time.
Time by yourself can be a good thing – you may not initially realize it but you need this time after divorce to find yourself again. It's also good for children to be with their other parent. You'll be a better parent after that time apart.
Elise recommends Eve Rodsky's book Find Your Unicorn Space, which is about helping women get back to the creative things they are passionate about. Helps you get back to yourself.
Focusing on children doesn't mean giving your children decision-making authority – it is not up to them to decide if they go to school or if they go to their other parent's house. Those are choices decided by the parents.
Children are simply not equipped to make decisions
A healthy relationship with both parents is ideal for a child so do not try to pit yourself against the other parent.
Parents try to avoid conflict when their child doesn't want to go to the other parent. You can ask for input but ultimately you need to make the decision.
Be honest and tell your kids why your deciding to do what you're doing but you make the final call.

Elise's final word – co-parenting is not a competitive sport. It is a collaborative venture. Just because your other parent didn't do something for the children during the marriage doesn't mean they can't do it now. The key is to let them do it.
Eve Rodsky's Books
About Elise
Seattle-based attorney Elise Buie, Esq, is a passionate, creative, problem-solving family law attorney who creates solutions, not obstacles. After evacuating her hometown of New Orleans during Hurricane Katrina and surviving a divorce, Elise landed in Seattle and founded her law firm. Elise's practice involves all aspects of family law, guided by a collaborative philosophy and her deep understanding of complex parenting issues. Elise opened her firm during a period of personal adversity. Now in a period of global diversity, Elise's firm has experienced its most significant growth yet, which she attributes primarily to her driving force and mantra: "I can do it." You can find Elise on Facebook, Instagram, and Twitter.
//= get_template_directory_uri() ?> //= get_template_directory_uri() ?> //= get_template_directory_uri() ?> //= get_template_directory_uri() ?> //= get_template_directory_uri() ?> //= get_template_directory_uri() ?>
©2011-2023 Worthy, Inc. All rights reserved.
Worthy, Inc. operates from 25 West 45th St., 2nd Floor, New York, NY 10036