Worthy Reviews, Testimonials & Complaints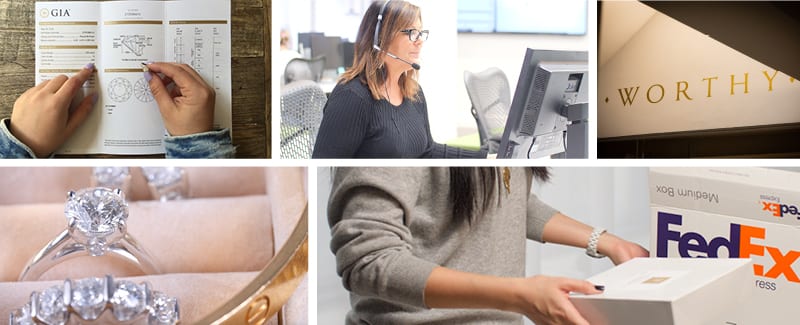 A message from Worthy's Chief Executive Officer, Steven Schneider

Worthy is centered around the goal to help people maximize the value of their jewelry when they are ready to sell. When it comes time to sell an engagement ring, a diamond necklace, it is important to us that you, the seller, feel confident knowing that Worthy is a top solution chosen by hundreds of thousands of women and men today that have successfully used Worthy to sell their jewelry.

We recognize that reviews play a role in helping you decide if a company is a trustworthy business. I joined Worthy in 2018 because I believe that technology and transparency can transform an industry. Worthy is a value-driven company that is transforming how people sell their luxury goods through an intuitive and transparent digital marketplace.

Achieving to date over 2000+ positive reviews, with 4.5-5.0 star ratings across Facebook, Trustpilot and the BBB, is a testament to our commitment to provide a clear, precise and trusted selling experience. Worthy's clients share their experiences so that others looking to sell their jewelry will have the confidence that Worthy is a secure and honest company. Peer reviews showcase how Worthy is directly aligned with each seller as we aim to get the best price for each item at auction.

As a growing, VC backed company, we highly regard and care about our reputation. I personally read every post, the positive reviews, and the complaints. The team thoroughly reviews and reaches out to each client to answer and resolve each issue accordingly. Overall, the number of complaints posted about our business is only a small fraction, less than half a percent, to the hundreds of thousands of clients who find and use Worthy regularly.
"The entire selling process at Worthy is built upon the true facts of each jewelry piece" states Roy Albers, Chief Gemologist Worthy. "We work with renowned grading labs, like the GIA. It is important to us, to be honest, and state the facts found from the grading report to each seller" says Mr. Albers.

Some helpful clarifications:
Appraisals do not represent true market value – they are not an offer to buy but typically used for insurance purposes, often inflated far beyond even the retail replacement cost.
An objective gemological evaluation is critical in helping buyers determine value at auction. In many cases, the grading reveals characteristics that were unknown to the seller at the time of describing their item. When a grading report results in a recommended reserve price that is below the $1,000 listing minimum, we ask sellers if they'd like our buyers to make an offer.
Worthy has a shared success in any transaction – we absorb all costs and only make money if a valuable sells. The seller remains in full control of the process and has the ability to set the price that s/he is willing to take.
Our goal is to help people maximize the value of the jewelry, and we truly want each and every seller to find the most value for their item.

Steven Schneider
---
Listen to Roy Albers on the Worthy podcast as he shares his answers to the top seller questions:
---
//= get_template_directory_uri() ?> //= get_template_directory_uri() ?> //= get_template_directory_uri() ?> //= get_template_directory_uri() ?> //= get_template_directory_uri() ?> //= get_template_directory_uri() ?>
©2011-2023 Worthy, Inc. All rights reserved.
Worthy, Inc. operates from 45 W 45th St, 4th Floor New York, NY 10036