Send my diamond in the mail? Are you crazy?!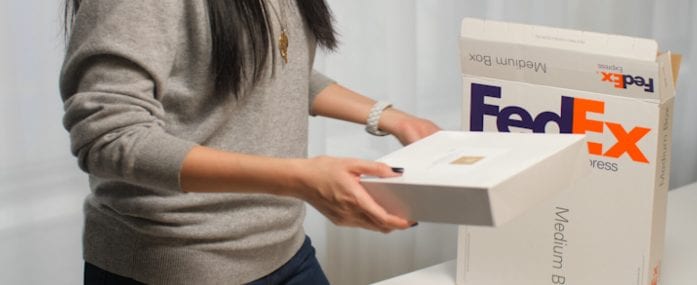 We get it. Shipping your diamond ring sounds quite unsettling. These women were also skeptical about sending their items through the mail. Keep reading to see how their experience turned out.
Katherine J., who sold a diamond bridal ring set in April 2018, was "extremely nervous to go through this process—mailing in jewelry, receiving payment, etc." but very quickly became pleasantly surprised: "I could not be happier with the outcome." We understand that helpful and informative customer service is a top priority for our clients. We strive to provide everyone with the best support to help them get good results from their sale and feel calm and confident about their choice to sell. If you are thinking about selling your diamond, she advises: "By all means, you should strongly consider working with Worthy. I understand you may be nervous or apprehensive to do this, but it was definitely worth it. I am completely satisfied with how it all worked out and respect that fact that I could actually speak with a person throughout the process."

Sissy Williams got a new wedding ring in December 2014. Since then, she had been trying to sell her old diamond wedding ring set. After receiving low offers for her ring, she found Worthy. At first, she was dubious, but seeing our certifications and our Seller Protection Guarantee encouraged her to go on. In her February 2016 review, after her successful auction, she said: "I found Worthy.com and was a bit skeptical but their A+ rating with the BBB and the fact that they insured my ring for shipping, calmed my fears." She ended up selling her diamond bridal set for more than she expected, and having "a wonderful and professional experience from beginning to end".

In her testimonial video, Minnie Dubois, who sold a diamond ring on Worthy.com, says that she was "a little leery about sending my valuables through the mail". But the constant contact with our client success agents set her at ease. She continues, "my point of contact was Jay, he made me feel comfortable and safe from start to finish." She was able to sell her diamond ring and with the money, she took a well-deserved trip to Miami!
Before selling her engagement ring in April 2018, Tania Z. was initially worried about the online auction, but found the constant contact with the Worthy agents reassuring. "The people at Worthy walked me through every step of the way, and were always available for my concerns and questions. I received constant updates regarding the status of my ring which assuaged any worries. The auction process was a great way to go, as I was never offered as much for my ring as I was with Worthy. I highly recommend , but hopefully will be able to keep the next engagement ring I get LOL."
Likewise, Missy Enzor Kimbro says "I was skeptical at the thought of shipping my jewelry to just 'someone on the phone', but Malcolm made me feel like I could trust the process and I'm so glad I did!". Her auction process was quick and easy and she plans to use Worthy.com again in the future.

We hear you
We understand that sending your valuables in the mail can be worrisome. That's why we make sure that the process of selling your diamond jewelry is seamless. We take all the necessary precautions so that you enjoy your peace of mind every step of the way. Here are the answers to some of our most frequent questions about the Worthy process.
Q: How can you make sure my diamond is safe during shipping?
A: Our shipping kit includes a box and a velvet pouch to keep your diamond safe in transit. More than that, every shipment is covered with up to $100,000 in insurance coverage.
Q: How will you retrieve my diamond? I don't want to leave it out for anyone to take!
A: Once you have submitted your item through our site, we will coordinate a courier pick-up at your convenience so you diamond is never left unattended.
Q: Where do you keep my diamond?
A: Once your diamond arrives at our office in New York, it is kept in our high security vault. When your item is transferred to a grading lab, the $100,000 insurance coverage still applies.
Q: How will I get my money after the sale?
A: In order to be easy, safe and simple, we offer three payment options for you to choose from: PayPal, a bank transfer or receiving a check in the mail within 4-5 business days of issue.
Click here to see more client reviews. Feel free to call us at 1-(888)-222-0208 with any questions you might have!
//= get_template_directory_uri() ?> //= get_template_directory_uri() ?> //= get_template_directory_uri() ?> //= get_template_directory_uri() ?> //= get_template_directory_uri() ?> //= get_template_directory_uri() ?>
©2011-2023 Worthy, Inc. All rights reserved.
Worthy, Inc. operates from 25 West 45th St., 2nd Floor, New York, NY 10036