Mariah Carey's Engagement Rings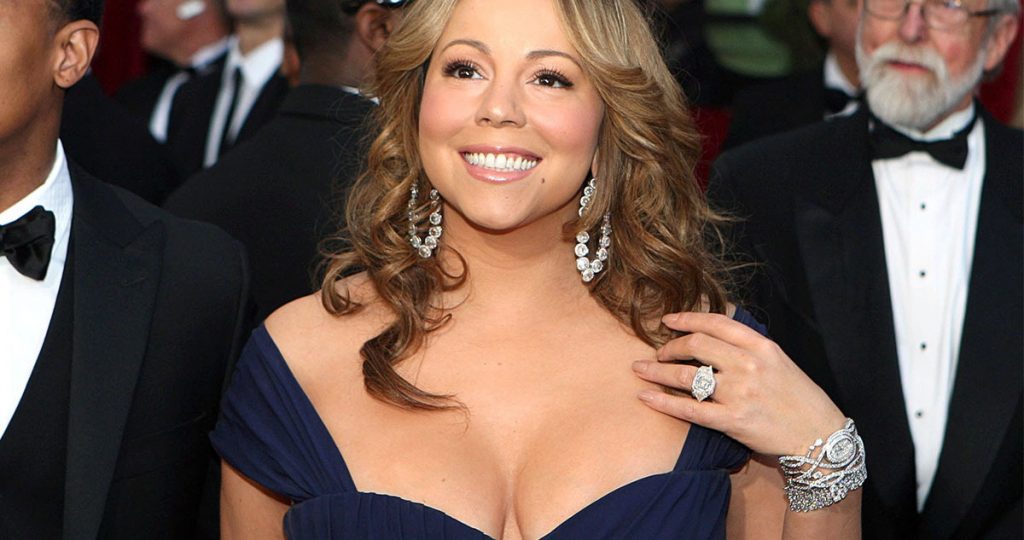 3 Rings, 3 Beaus, 1 Mariah
Tony Mottola
Mariah married her first husband, Tony Mottola, in 1993. Mottola was the head of Sony Music and a mentor to Mariah when her career began. Her engagement ring from Mottola featured an emerald-cut diamond (which would later become a favorite) but we can safely say that it was the smallest of her rings. But while her ring wasn't overly impressive, the wedding certainly was. Back in 1993, a whopping total of $500,000 (equal to $917,000 today) bought the happy couple a wedding in St. Patrick's Cathedral in New York and an over-the-top Princess Di-inspired wedding dress complete with a 10-foot veil and 27-foot train.

Portrait of Mariah from June 1996.
The marriage ended in 1997 when the couple filed for divorce.

Nick Cannon
A little over 10 years after her marriage to Mottola ended, Mariah got married again after a whirlwind romance with Nick Cannon. The couple married six weeks after they started dating and Nick proposed to Mariah in her NYC apartment with a now famous pink diamond ring concealed in a ring pop box. Nick picked out something just as impressive as his bride to be – the total carat weight of the ring was 17 carats and included a 10.02-emerald cut pink diamond surrounded by 58 intense pink diamonds, with two half-moon diamonds flanking the center stone. Nick purchased the ring for $2.5 million from Jacob & Co. jewelers in New York.

Mariah and Nick renewed their vows twice more and Mariah got a new ring each time. For their third wedding, he gave her a pave diamond and pink sapphire ring designed to look like the ring pop he proposed with in 2008. (When proposing to a jewelry-lover like Mariah, a wise man lets her design her own ring.)

Mariah and Nick have two children together, Moroccan and Monroe. The two separated and divorced in 2014.

James Packer
In early 2016, Mariah became engaged to Australian billionaire James Packer. However, by October the couple had called off the wedding. However, when James proposed he gave Mariah one of the largest celebrity engagement rings to date: $10 million, 35-carat ring featuring a MASSIVE emerald cut diamond flanked by two tapered baguettes.

To put it into perspective, that's larger than the engagement rings of Beyonce and Kim Kardashian West combined. It's even two carats larger than the 33-carat Elizabeth Taylor diamond, which sold at auction for $8.8 million in 2011.

Embed from Getty Images
The ring was designed by Mariah's long-time friend Wildredo Rosado. The ring designer told Vogue, "I really wanted to create something for her that was about new beginnings. I wanted to give her something super sophisticated and something that took away all of the embellishments that a lot of people use when they design engagement rings these days. But it is epic. It's an epic ring for an epic time in her life."

"I took the standards super high, and I wanted to create a ring that could not be measured up to," says Rosado.
And while the couple did end up splitting up, in 2018 Carey sold the ring to an LA-based jeweler for $2.1 million.
//= get_template_directory_uri() ?> //= get_template_directory_uri() ?> //= get_template_directory_uri() ?> //= get_template_directory_uri() ?> //= get_template_directory_uri() ?> //= get_template_directory_uri() ?>
©2011-2023 Worthy, Inc. All rights reserved.
Worthy, Inc. operates from 25 West 45th St., 2nd Floor, New York, NY 10036