Courier Pickups: Sell Your Ring Without Leaving Your Home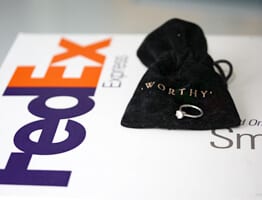 What if we told you that it's possible to sell your diamond jewelry without leaving your home? No joke. You can literally get rid of that ring while wearing your favorite PJs. And eating ice cream at the same time, if you wish.

Once you've decided you're ready to send in your item, our client success agents will send you a beautiful velvet pouch, to help keep your diamond protected during shipment, along with a FedEx shipping label. Yep, you don't even need to print it.

Because we want the process to be as seamless as possible, we coordinate a courier pick up at your convenience, so that you don't have to go out of your way to send in your diamond. And because we only trust the very best for every step of the process, we've chosen FedEx for transporting your item.

These are some of the benefits you will enjoy with our complimentary courier pickups:
Save time. No need for you to waste time going to a Fedex office. With the courier pickup, you can send in your diamond without wasting a minute of your time. Whether you prefer to hand it in at work or at home, we make it happen for you.
Save money. Just like the GIA grading reports, the courier pickups are completely free to all of our clients. We also insure your item for 150% of its value with UPS Capital Insurance. Because your peace of mind is priceless, we don't charge for it.
Avoid stress. You won't need to worry about your diamond sitting in a drop box. From the moment the courier picks up your package, it is in safe hands and transported to our New York headquarters in the most secure way.
Once your item arrives at our New York headquarters, we have it graded by GIA, the world's leading diamond grading institute. Then we take professional photographs of your diamond and write a detailed description for our buyers. Once the auction starts, the only thing you need to do is sit back, relax and watch the bids roll in. We find you a buyer in 7 days.

So now you know. You can sell your diamond without leaving your home. If a whole new season of your favorite series has just been released and you're planning not to leave your apartment. Or if you have a terribly busy week at work and have no time to waste. Or if you simply believe — like we do — that selling your diamond jewelry should be easy, now you know Worthy makes it hassle-free for you.

Ready to sell your diamond ring? Find out how much is your item worth.
Are you skeptical about sending your diamond ring in the mail? These women have done it and they have something to tell you.
//= get_template_directory_uri() ?> //= get_template_directory_uri() ?> //= get_template_directory_uri() ?> //= get_template_directory_uri() ?> //= get_template_directory_uri() ?> //= get_template_directory_uri() ?>
©2011-2023 Worthy, Inc. All rights reserved.
Worthy, Inc. operates from 45 W 45th St, 4th Floor New York, NY 10036