Best Careers for Single Moms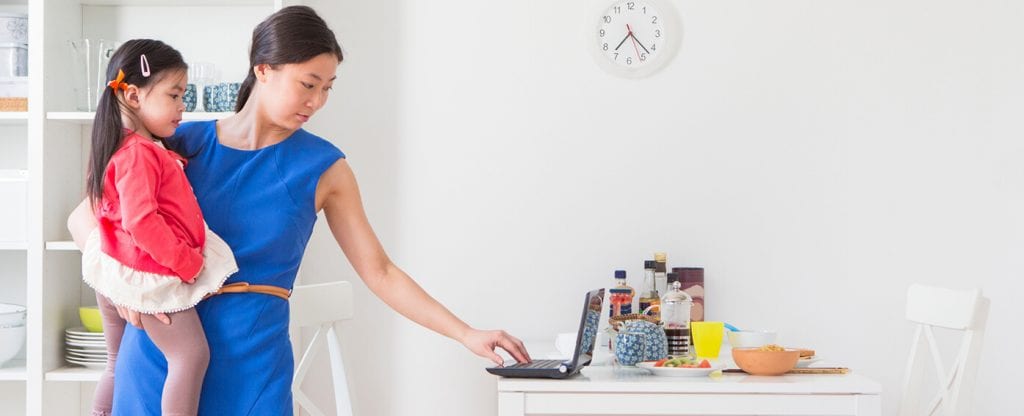 In 2015, I straight up quit my job. My infant daughter was getting sick quite often so every time I had to take time off to care for her, I would return to a reprimand for taking so many days off. On top of that, I wasn't spending much quality time with my daughter who had just turned one. My employer at the time had mandatory overtime so there were weeks that I would literally only get a few solid hours to enjoy her and be her mom! I talked to my parents and they agreed to support me financially so I could enjoy the next year with my little girl. The bond we created was magical and remains that way to this day.
However, the pressure of a long distance relationship and a mate who used distance as a reason to cheat on me became too much. I decided to go back to work so we could move in together. I know, dumb idea! Not to worry, the universe had my back and prevented that from happening. However, I took the first job that was offered to me. Never once did I consider what an hour plus commute would do to my wallet or my overall health. I didn't consider how far away I would be from my child if something happened. I didn't ask myself if I would love the job. I didn't consider the opportunities for me to grow there. Basically, I didn't consider anything other than the paycheck that I thought would fix my broken relationship.
Fast forward to today, I'm still working the same job and I'm miserable AF…and single so I guess money wasn't the answer! It's definitely time to dust off my resume and this time, I'm a little bit wiser when it comes to career planning.
Here are 5 things every single mom (or married mom) should consider when job hunting:
1. Working from Home
Even before COVID-19, the workforce had been changing so much in the last decade. More women are creating six-figure businesses from their phones! One of the biggest things that attracted me to network marketing is that I want more time with my daughter. She is growing so fast. I feel like I am missing so much. She goes to daycare now and calls her daycare provider "Aunty." The way my heart breaks when she calls me "Aunty" and then has to correct herself..it's unbearable. There are so many work from home and entrepreneur opportunities that can give you more time with your family. I am currently working to build my health coaching business. My dream is to have a whole team of single moms working together to build their business and hit their fitness goals.
2. Flexibility
One of the major issues for me in the workplace has been that my daughter tends to get sick often. She has severe allergies and typically gets a nasty ear infection any time the weather changes. As a single mom, I don't have another parent to trade sick time with. It's just me. So when my daughter gets sick, I lose time (and money) at work. I have been lucky enough that my employer has been understanding but I have been denied other opportunities that would help gain some work/life balance like the ability to work from home. I asked for one day out of the week to save on gas since all of my duties can be performed remotely, I was told no immediately. When I decide to change jobs, flexibility will have to be a talking point because I need to know I can be the parent I want to be and maintain my job.
3. Regular Hours or Create Your Own Schedule
As much as I loved being an emergency medical technician before I became a mom, the hours were all over the place. My shifts changed about every 6 months, with some schedules at odd hours which I could not fight because I did not have seniority. I would need to stay beyond my scheduled hours because, as a healthcare professional, you can't turn down patients who need your care. All of those things were fine when I was a single girl with no care in the world but once I became a mom, I knew the office life would have to be mine. Working a set, 8 am to 4:30 pm schedule, Monday through Friday helps me maintain some sort of balance. I get the weekends to spend with my daughter. She calls them our "off days". In reality, it's her off day…I'm still mom! If all of that 9 to 5 business doesn't work out, see number 1. It might be time to be your own boss and monetize your passion!
4. Benefits
I've come to understand that nothing is promised when it comes to benefits. I hadn't had many reasons to use my health insurance before I got pregnant. The crappy benefits I had in my first trimester left me with thousands of dollars in lab and imaging bills. I've learned to pay attention to benefits before I even apply for a position. If I don't see paid holidays listed, I assume that I will be working those days or not being paid for them. Either of those options isn't feasible for me. Some companies will offer medical and dental but no vision…but I'm a four eyed nerd! Malia is my exactly my twin so I'm pretty sure she's going to join the glasses gang. Vision coverage is important to me. Some companies offer a savings account for dependable care with a preloaded card while others offer an account you can pay into and then apply for reimbursement. All of these details matter when you're a mom.
5. Your Tribe
One of the things I always preach in any area of mom life is the importance of building a tribe. That whole "it takes a village" thing is more than a cute saying. It's the honest-to-God truth! There will be days when you need to call your favorite nanny in so you can go to work and not worry about your baby. But you can't call her though if haven't found her. It's something I keep putting off but definitely need to do. There will be times when you need to negotiate a higher salary or the option to work remotely. Instead of going in alone, it's better to have picked the brain of a mom friend who's been there done that! They say success leaves clues. So surround yourself with successful moms who have found a semblance of balance and pick their brains every chance you get. Build a tribe…one you can trust and one that will have your back!
Here are some career paths/options that might work perfectly for you as a single mama:
Teacher/School Employee – This works because you will have the same hours and vacations as your little one. This is often an issue for me personally because I work a 12-month schedule so I am constantly looking for someone to "cover" me when she has vacation.
Virtual Assistant – This is a growing field for moms who want to work from home and have tech and clerical skills. There are courses available online that teach you how to market yourself and your abilities to grow your business.
Traditional Clerical/Office Work – These jobs typically offer a more fixed schedule that allow for you to better manage your time with your children. Find a position that offers paid holidays and you don't have to worry about missing holidays or income.
Marketing Professional – This field includes copy or content writing and social media management which are all jobs that can easily be done from home or by doing some hours from the office as well. Even if you don't have a background in marketing, chances are you can pick up the skills through an entry-level job and make your way through the ranks quickly.
Corporate Travel Consultant – While most people are using cheap travel websites for their own vacations, credit card companies, travel firms, and other businesses are keeping travel agents in business. The work can easily be done remotely.
//= get_template_directory_uri() ?> //= get_template_directory_uri() ?> //= get_template_directory_uri() ?> //= get_template_directory_uri() ?> //= get_template_directory_uri() ?> //= get_template_directory_uri() ?>
©2011-2023 Worthy, Inc. All rights reserved.
Worthy, Inc. operates from 25 West 45th St., 2nd Floor, New York, NY 10036