Not Your Average Diamond Solitaire: Exploring Alternative Rings
It's no secret that the solitaire ring is the most popular ring style and has been for generations. The solitaire is a classic style that has been worn by everyone, including the rich and famous. However, you may be the type to throw tradition to the wind and look for something more alternative. Or you may just want to spice up your jewelry collection. No matter if you are adding on a ring or replacing an old one, there are some simply gorgeous alternative rings out there that shine just as bright as a diamond.
Alternative Rings:
Diamond Alternative Engagement Rings
While it's easy to get caught up in the hype of diamonds (thank you advertising), diamonds are not always an option. If you love the look of diamonds but are looking for an alternative (whether it be due to a tight budget, environmental, or political concerns), there are plenty of other options out there.
Moissanite
If you are looking to get as close to a diamond as you can, Moissanite is your rock of choice. Moissanite is a silicon carbide that compares well to diamonds, with a similar hardness (9.25 of the Mohs scale), as the ability to produce the appearance of doubled facet junctions, giving Moissanite more "fire" than diamonds of the same size and cut. But be aware that Moissanite is quite rare and most of the Moissanite available on the market is synthetic.
Lab-Grown Diamonds
Lab-grown, synthetic, or man-made diamonds share all of the same chemical and physical properties of a natural or mined diamond but they are created in a simulated environment and grown over a short period of time. Only a trained eye will be able to tell a lab-grown diamond from a natural diamond. But because lab-grown diamonds are far more available, they are much less expensive than their natural counterparts. For those on a tighter budget, lab-grown diamonds can be your little secret.
White Sapphires
While Moissanite is colorless and durable, it is rare to find it sourced naturally which is why White Sapphire should be another diamond alternative on your radar. White Sapphires have the same makeup as their colored cousins, but they do not contain trace elements that give the color and they are considerably less expensive. Compared with diamonds, White Sapphires are almost as hard (9 on the Mohs Scale), but they sparkle less than diamonds and will appear whiter.
Colored Diamonds
For those looking for an alternative to the tradition "white" diamond but still want the qualities of the real thing (think durability), colored diamonds such as yellow or black are a good option. Yellow diamonds are traditionally very glamorous and glitzy and range from pale yellow to canary yellow. Black diamonds create a more modern style so they are a good choice for those looking for an alternative look.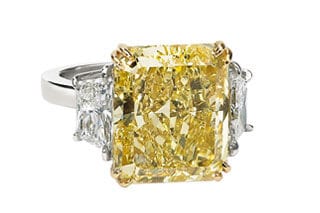 Gemstone Engagement Rings
While you may envision a ring sparkling with diamonds, gemstone rings have always been a favorite and if you're looking to bring some color and pizazz to your fingers, gemstones are where it's at.
Morganite
If you are looking for a pink diamond, Morganite is a beautiful alternative, coming in many lovely shades of pink and peach. Morganite is a form of beryl, like emeralds and aquamarine, and therefore more delicate than a diamond. If you decide to go with a Morganite ring, be careful not to wear it while handling chemicals and know that it can scratch or break. However, Morganite rings can be gorgeous, and an especially popular style for Morganite includes a rose gold setting with small diamonds. This enhances the look and color of Morganite.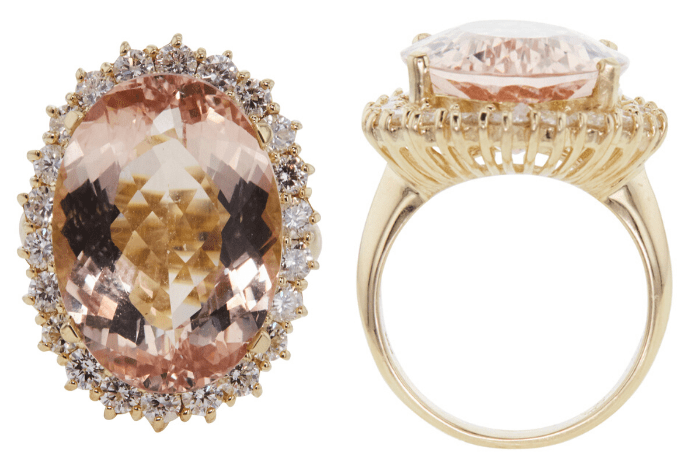 Sapphires
Blue Sapphires have been the star of many famous rings, including the late Princess Diana's ring now worn by the Duchess of Cambridge Kate Middleton. But sapphires come in many beautiful hues, including pink and yellow. Tiffany & Co. has created many rings that are styled like traditional diamond engagement rings but offer a little extra something with a large pink sapphire set in the center.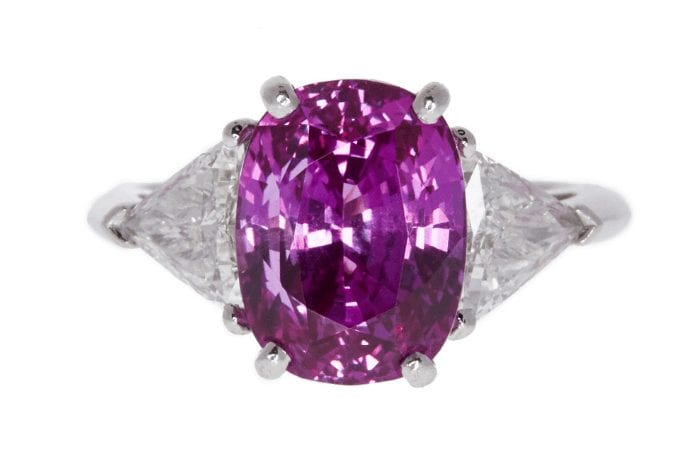 Rubies
Another gemstone full of vibrant color is Ruby, which is in the same family of minerals as Sapphires. Rubies run the color spectrum of pink to blood-red and pigeon's blood. Rubies tend to be found in classic settings, sometimes including a halo of diamonds to make the color really pop. If you choose a ruby ring, the gem does require some special care but it is a durable gemstone that should look good for a long time.
Amethyst
Amethysts have been the purple gemstone of choice for many regal artifacts and are still popular in rings and other jewelry today. Since Amethysts are a type of quartz crystal, they are an inexpensive option for jewelry, being commonly found and easy to grow in labs. They are not as hard as other gemstones (a 7 on the Mohs Scale) and require some extra care to keep the color vibrant.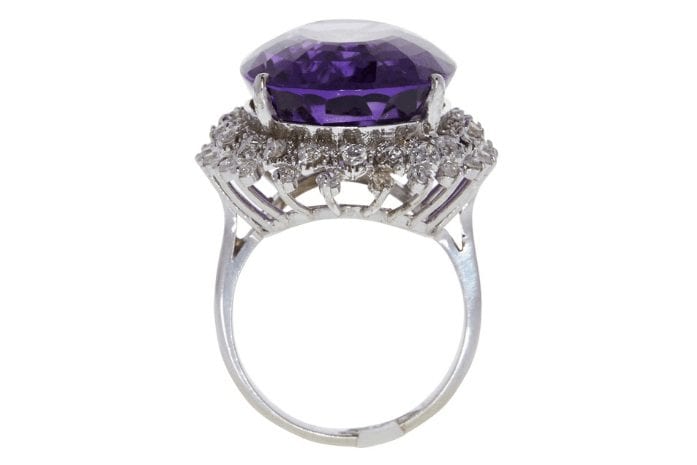 Pearl
If you are looking for something really unique, consider a pearl ring. In past generations (think early to mid-1900s), pearl rings were popular, both in regular and bridal jewelry. Today, it's much rarer to see pearl rings but they are just as beautiful as ever before. Peals set on their own or with diamonds create a look that can be both retro and modern, depending on the design. However, remember that peals don't just look delicate, they are delicate, and therefore require extra care not to scratch them. If you are a person who works with your hands or leads an active lifestyle, a pearl ring is not ideal for everyday wear.
Alternative Diamond Cuts and Settings
If you want to stick to the traditional diamond ring but still was something out of the ordinary, there are plenty of unique diamond shapes and settings to choose from.

Diamond Cuts
Round diamonds are the most common because a good cut on a round diamond will give you the most sparkle and shine for your money. But to create an eye-catching ring, consider the marquise, cushion, emerald, or pear-cut to bring something different to your look. Jewelers can advise you on the best setting for each cut in order to enhance the look of your diamond.

Marquise

Cushion

Emerald


Pear
Ring Settings
Like the round diamond, prong settings are the most common because they allow the most amount of light to touch your diamond, making it sparkle. Do not feel restrained, however, when it comes to settings since there are many other types that are less common such as the by-pass setting, bezel settings, and gypsy settings

While diamonds may last forever, ring styles come and go. If you are looking to switch up your jewelry style by replacing a ring that's no longer "you", consider selling it and using the money to purchase something uniquely you!

//= get_template_directory_uri() ?> //= get_template_directory_uri() ?> //= get_template_directory_uri() ?> //= get_template_directory_uri() ?> //= get_template_directory_uri() ?> //= get_template_directory_uri() ?>
©2011-2023 Worthy, Inc. All rights reserved.
Worthy, Inc. operates from 45 W 45th St, 4th Floor New York, NY 10036