5 Things to Consider Before Selling Your Watch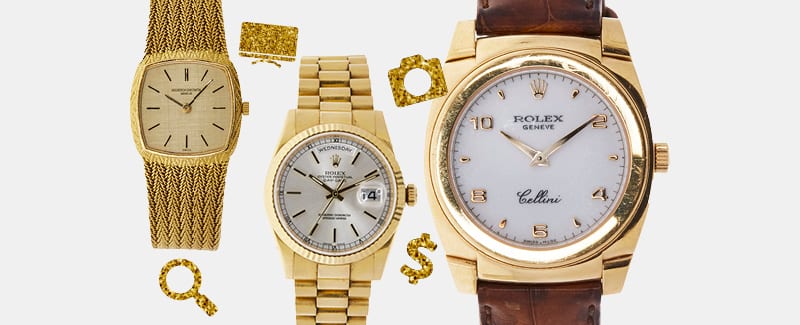 We all seem to have a little too much clutter. Maybe we have old accessories, jewelry or watches that are taking up space. We don't wear them anymore either because our tastes changed, or maybe even because they're from an ex. Today, buying and selling watches and jewelry has become an "in" thing, and if you have pieces you don't wear, it may be a good idea to lighten the load a little. Before you jump right in and start selling, though, here are five things you may need to consider before selling that watch (or watches).
1. Be Sure
Before selling, you need to be sure you want to. The last thing you want to experience is "seller's remorse." If the watch has a special history that is personal, you may want to think again. On the other hand, if your ex gave it to you – letting it go can give you another burst of independence and freedom. There is a rule of thumb that when you touch it if you feel nothing, it's time to let it go.
2. Determine if the brand/watch is in demand
Once you've decided to sell, there are some strategic things to consider. One of the most important factors is determining if the brand, or even the watch, is in demand. Some brands (such as Rolex, Audemars Piguet, Omega) are highly sought after by new collectors and watch lovers, while others may sit around on the 'for sale" listing for a while, much like it sat in your jewelry box. Additionally, even if your watch is from a coveted brand, the model may not be desirable. However, if it was part of a limited-edition collection, or if it was a special dial or had other special attributes, it could hold more value. The best thing to do to find out is a little bit of homework. Study some online watch and jewelry selling platforms to see the brands/models that seem to sell out like hotcakes and those that don't really move. Alternatively, you can ask a reputable retail platform for help.
3. Be sure the watch is in good shape and see if you have original boxes
When you are planning to sell your watch, be brutally honest with yourself. You will need to examine the condition of the piece. If your watch is gently worn, it may command better pricing than one that has been bruised during wear – showing scratches and strap wear and tear. You may think it looks fine, but will a buyer? Another factor that comes into play here is whether or not the watch has been serviced and if it has been altered in any way. Alterations that could affect the value of the watch include things like changing/replacing old components (such as hands, dial or bracelet) with new ones that did not reflect the original parts. Also, look around for your original boxes and paperwork. If you have the box the watch came in, the receipts, instruction manual or even warranty paperwork, this will help a little when it comes to pricing
4. Determine if the watch is genuine and not a fake or counterfeit
Granted, this is a difficult thing to know by just looking at a timepiece. If you received a watch as a gift, and you suspect it could be counterfeit or fake, it won't be saleable. Sometimes the dial logo doesn't look exactly as it should, other times the hands or markers look disheveled. However, with today's fakes getting better and better, it is best to consult an authoritative source such as Worthy's watch experts, that specialize in detecting genuine & fake timepieces.
Read also:
5. Pick the right place to sell your watch
As you have been doing some research about your watch, you may have seen just how many selling sites there are out there — many of which will do some of the legwork for you. Some help with photography, others take your pictures and listing and post it to their thousands of visitors. Others help with everything involved in the selling process from the description, to authentication, cleaning and even photography. Generally, the fees for this are built into the service provided to the customer. The key is to look for a reputable on-line site where you are freed up from the burden of dealing with potential buyers and have peace of mind.
//= get_template_directory_uri() ?> //= get_template_directory_uri() ?> //= get_template_directory_uri() ?> //= get_template_directory_uri() ?> //= get_template_directory_uri() ?> //= get_template_directory_uri() ?>
©2011-2023 Worthy, Inc. All rights reserved.
Worthy, Inc. operates from 25 West 45th St., 2nd Floor, New York, NY 10036