See How This Woman is Building a Financial Fresh Start After Divorce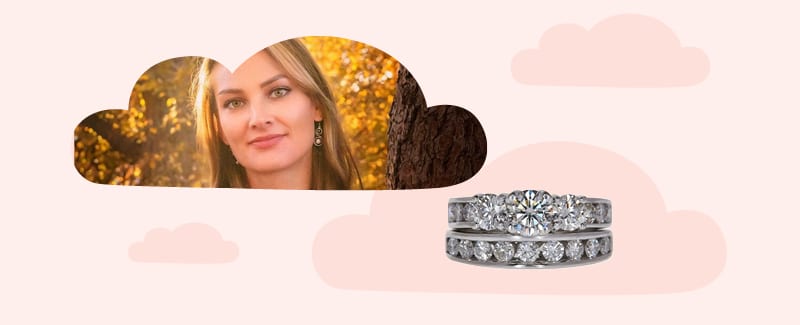 In September 2019, we launched a new edition of our 2018 financial survey, this time focusing on how divorce finance professionals can help in the divorce process. We were eager to hear from women in our community if they had considered using certified divorce financial analysts (CDFA®) during their divorce and how involved they had been in their household finances before their marriages ended.

Each participant in our survey was entered to win $250 and a financial session with a CDFA® and we are thrilled to congratulate our winner, Julie B.

Julie is a recently divorced woman from Wyoming. She sold her ring with us earlier this year and is treating herself to a wardrobe update to match her new life. Channeling Marie Kondo, Julie told us that she's a firm believer in ridding yourself of clutter that doesn't bring joy or purpose to your life. After selling it, Julie says she felt a release, no longer having something to remind her of a "negative chapter" in her life, and is ready to move on.

When it comes to her finances, Julie says she is still not sure about her post-divorce financial journey. But she is optimistic and knows there are professionals out there to help women just like her.

How did you feel while taking our survey about personal finances after divorce?
I actually felt a little ashamed and perplexed. I never thought about financial advice previous to learning about it through you!

After taking the survey, how do you feel about your post-divorce journey?
I still feel apprehensive, not sure that I'm on the right path, but also I feel optimistic and hopeful knowing there are people who specialize in helping those such as me ?

You recently sold a diamond ring through Worthy. Can you tell us a little about this item?
The ring I sold was my wedding set, absolutely gorgeous. I'm not sure of the carats anymore, but everyone who ever saw it said it was on fire.

How long have you been holding onto the ring?
About a year, from the time I had filed for divorce

Did you have any hesitations about selling it?
Not at that point.

Why did you decide to sell it now?
I am a believer that if it doesn't bring you joy and it doesn't have a purpose, that you shouldn't clutter your life with it.

How did you find Worthy?
I saw your ads on Instagram.
Did you try selling your ring elsewhere?
No. I felt worthy had a really good system and was honest about their purpose.

How would you describe the auction process?
Simple and exciting.

What would you say to other women looking to sell their jewelry?
Do it when you're ready, you will feel a ton better!

In what ways selling your ring has helped you move on after divorce?
Having less to remind me of a very negative chapter in my life, has been wonderful. It was a symbol of commitment, for me, to him. Selling it gave me a sort of release.

What did/will you do with the money?
I am going to use it to splurge on some new clothes to make myself feel more beautiful. I have lost 15lbs since the divorce and my wardrobe doesn't fit like it should anymore. Yay!!

//= get_template_directory_uri() ?> //= get_template_directory_uri() ?> //= get_template_directory_uri() ?> //= get_template_directory_uri() ?> //= get_template_directory_uri() ?> //= get_template_directory_uri() ?>
©2011-2023 Worthy, Inc. All rights reserved.
Worthy, Inc. operates from 25 West 45th St., 2nd Floor, New York, NY 10036